Discover the Power of Networking
The next Career Mentoring events are:
| Event | Description | Date | Time | Location |
| --- | --- | --- | --- | --- |
| Connect: Meal with a Mentor | Graduate student to mentor one on one breakfast. Students matched with mentor according to information included on application. Note: Must attend workshop prior to breakfast. | Dec. 5, 2017 | 7:00 AM - 8:20 AM | By application only |
---
Career Mentoring offers many educational, hands-on learning events that introduce students to the benefits of networking and mentorship relationships.
Get the experience and connections you need to get noticed in the job market.
---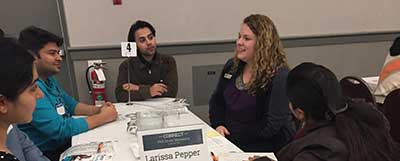 Mentor students and show them now, what you wanted to know then!1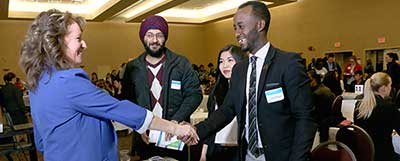 Meet working professionals and learn about the link between education and career.
---
The Importance of Mentors!
​ In the following Ted Talk, Tai Lopez reminds us of the importance of engaging with the mentorship process.
Tai Lopez - The Law of 33%
---
Interested?
If you are interested in the Career Mentoring program, please send an email to careermentoring@tru.ca.