Discover the Power of Networking
The next Career Mentoring event is:
| Event | Description | Date | Time | Location |
| --- | --- | --- | --- | --- |
| Physics and Engineering Panel | Panel discussion by Mentors working in industry who have an education background in physics and/or engineeringMore details to come | Feb. 28th, 2018 | 5 PM Start | Science Building - Room S375 |
Click here to view all Winter 2018 Career Mentoring Events
---
Career Mentoring offers many educational, hands-on learning events that introduce students to the benefits of networking and mentorship relationships.
Get the experience and connections you need to get noticed in the job market.
---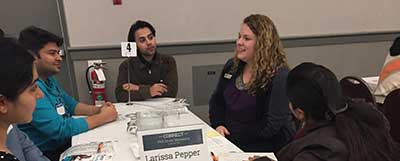 Mentor students and show them now, what you wanted to know then!1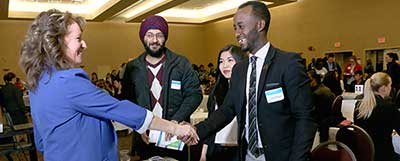 Meet working professionals and learn about the link between education and career.
---
The Importance of Mentors!
​ In the following Ted Talk, Tai Lopez reminds us of the importance of engaging with the mentorship process.
Tai Lopez - The Law of 33%
---
Interested?
If you are interested in the Career Mentoring program, please send an email to careermentoring@tru.ca.