Law Menu
Faculty of Law Valedictorians, Medal Winners
Valedictorians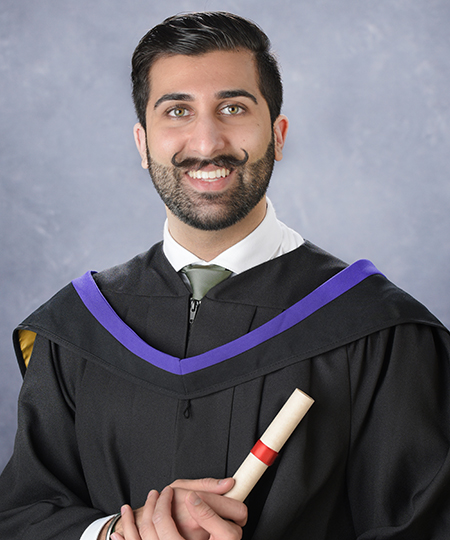 2018 - Steven Shergill for the Faculty of Law. Steven Shergill completed his Juris Doctor and holds a Bachelor of Commerce from the University of British Columbia. He chose law as his way of giving back to the Canadian legal system, which not only provides stability and protection for citizens, but also allowed his forefathers from Punjab to make a home here. During his time at TRU, Steven assisted law faculty member Katie Sykes with her research on First Nations businesses in Kamloops and on access to justice. He was the academic director of TRU's Society of Law Students, where he advocated for the student voice on various faculty committees. After graduation, he articled with the City of Surrey's in-house counsel.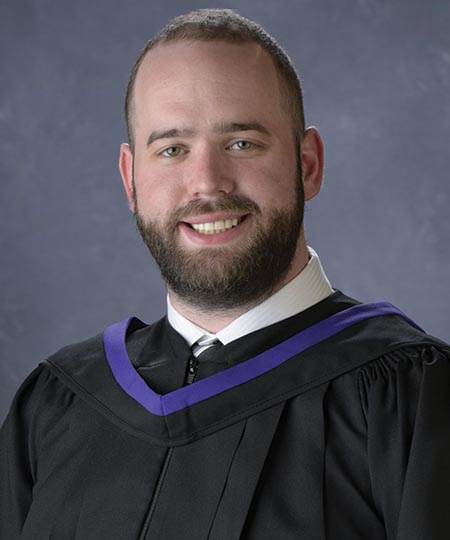 2017 - Eli Zbar for the Faculty of Law. Eli Zbar completed his Juris Doctor and holds a bachelor's degree in philosophy from the University of British Columbia. His passion for working with people led him to choose law school, as the practice of law is fundamentally about helping people. Zbar was the first TRU Law student to conduct a self-directed qualitative research project, which focused on improving student training in the Clinical Legal Education program. He received the Dean's Course Prize for Clinical Practice in Winter 2016 and the 2017 Law Foundation of BC Public Interest Law scholarship. He started his career as a lawyer in downtown Vancouver and pursuing graduate-level legal studies.
Medal Winners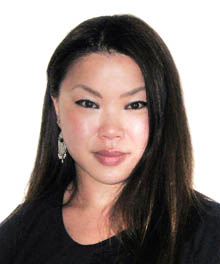 Law Society of British Columbia Gold Medal: Danielle Charmaine Ching. Danielle Charmaine Ching was inspired to pursue law after working as a legal assistant and paralegal in Toronto. After seeing an emotional exchange between a young woman and a prosecutor, she recognized the power law has over ordinary lives and wanted to pursue a career in such a dynamic and challenging field. After joining TRU Law, she continued to develop a love for the law by working as a teaching and research assistant and volunteering with the John Howard Society. She was awarded multiple Dean's Course prizes and worked as a judicial law clerk with the BC Supreme Court in New Westminster after graduation.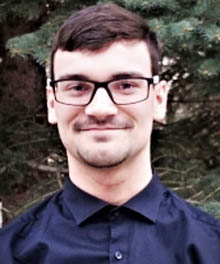 Law Society of British Columbia Gold Medal: Brandon Harrison. Brandon Harrison's undergraduate studies in criminology ignited an interest in law, and he continued on to pursue a Juris Doctor. He served as a teaching assistant for a course in Legislation, Administration and Policy, was a member of the Faculty of Law's Oral Advocacy club from 2015 to 2016, and played on the Faculty of Law Soccer Club from 2016 to 2018. He was awarded the Shaver Scholarship in Fall 2016 and won Dean's Course Prizes in Advanced Legal Research, Conflict of Laws, and Creditors' Remedies. He says the young, engaging faculty helped his class develop practical and innovative solutions to legal issues.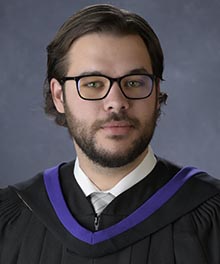 Law Society of British Columbia Gold Medal: Simon Meijers. Simon Meijers chose law because he wanted a career that would be interesting and continually present new challenges and opportunities. During his studies, he enjoyed the practical aspect of learning about the law, participating in the 2016 Wilson Moot and the 2017 MacIntyre Cup Moots. He was also an editor of the Canadian Journal of Comparative and Contemporary Law in 2016/17. His awards include the Shaver Scholarship, the TRU Law Second Year Scholarship and numerous course prizes. After graduation he began a clerkship at the British Columbia Supreme Court in New Westminster, and following that, he articled with the Department of Justice in Vancouver.
Law Society of British Columbia Gold Medal: Cole Rodocker. Cole Rodocker received a Bachelor of Arts in English from UBC Okanagan before obtaining his Juris Doctor from TRU. Consistently among the top students throughout his years at TRU, he made the Dean's List in his second and third year and received numerous Dean's Course Prizes, awarded for achieving the highest mark in a course. In addition, he has received over $35,000 is scholarships and awards, including the Alvin and Lydia Grunert Scholarship in Law, ScotiaBank Course Prize in Business Associations, Norma Quinn Memorial Prize in Law for Real Estate, TRU Law Scholarship, and TRU Law Second Year Scholarship.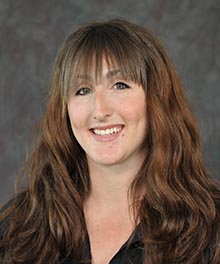 Law Society of British Columbia Gold Medal: Lou Hamill. Louise Hamill earned the The Law Society of British Columbia 2015 Gold Medal for attaining the highest academic standing in all three years of her law degree. She joins an illustrious group of students at every law school in Canada who have attained the gold medal.
Lou joined the first year class at TRU Law in September 2012 having graduated from Queen's University with a Bachelor of Arts Honors Degree in Human Geography. Her commitment to her chosen career path in the legal profession is clearly evident in her academic studies, having been on the Dean's list for all three years. She served as an elected representative on the Society of Law Students Executive, participated in many social activities, co-authored a research paper with Professor Chris Hunt, was selected as a student editor for the Canadian Journal of Comparative & Contemporary Law, and was selected to represent TRU Law in the National Wilson Moot in Toronto this year.
After graduation Lou clereked at the British Columbia Court of Appeal and articled at Bull, Housser & Tupper LLP in Vancouver.
Law Society of British Columbia Gold Medal: Taylor-Marie Young. Taylor-Marie Young was raised in Kamloops, and completed a Bachelor of Journalism and a TESL certificate at TRU. After teaching English in Japan, she obtained a Master of Arts in Linguistics from the University of Victoria. An active and engaged student and volunteer, she was the external representative of the TRU Society of Law Students (SLS). She co-edited the first TRU Law yearbook, participated in the BC Law Moot in Vancouver, worked with faculty on independent research projects and presented an academic paper at a student law conference. Taylor-Marie began her articles in August at Guild Yule in Vancouver.