Law Menu
Christine Anderson
Content Specialist
BA (TRU), Diploma of Technology (Broadcast Journalism, BCIT), MA (Royal Roads)
Christine is a content specialist with TRU's Marketing and Communications department, and works on content and communications for TRU Law. Christine develops, writes and implements a variety of content for print, web and other digital channels.
Christine has worked at TRU for 10 years in a variety of domestic and international marketing/communications and recruiting positions, most recently joining the marketing and communications content team in 2015.
Christine's role includes covering events and writing stories for the TRU Newsroom and the TRU Law news feed, media and communication planning, developing content for marketing, recruitment and advertising pieces and support with maintaining the TRU Law website.
Christine enjoys planning, creating and publishing information that supports TRU Law and highlights the many stories of faculty programming and research, student success, hands-on learning and other unique TRU Law events and initiatives.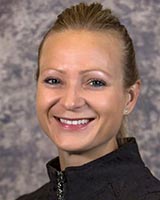 Contact
Office:
CT 203, OM 4753
Email:
canderson@tru.ca
Phone:
250-852-7291