Law Menu
David Bilkey, Q.C.
David Bilkey is the senior partner of the firm of Bilkey Law. Located in Kamloops, B.C., his law firm has been devoted to the field of insurance law and litigation throughout B.C. and Western Canada since the 1980's.
Mr. Bilkey is a graduate of the University of Toronto and Osgoode Hall Law School at York University. He was a member of the Law Society of B.C. committee for the creation of the Professional Legal Training Program and has been a guest lecturer in the British Columbia Bar Admissions Program, the Continuing Legal Education Program for the Law Society of B.C., the University of British Columbia, the University College of the Cariboo, the Canadian Defence Lawyers' Association (at Vancouver, Calgary, Toronto) and now at Thompson Rivers University's Faculty of Law.
He is the author of papers on Liquor Liability, Employer Host Liability, Commercial Host Liability, and Insurer Bad Faith. He has appeared as counsel on various precedent setting cases in the courts such as Bains v Dominion of Canada General Ins. Co; Chretien v Jensen; Crown West Steel v Wally's Roofing; and Browne v Fairview Mountain Golf Club. In 2012, Professor Bilkey was the recipient of the Canadian Bar Association's award for Insurance Practitioner of the Year and in 2013 he received the designation of Queen's Counsel. He is the proud father of three accomplished children and lives with his wife Carolyn and their English bulldogs in Kamloops, B.C.

Mr. Bilkey teaches Insurance Law in the upper year curriculum.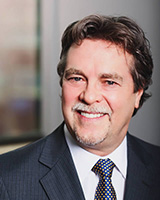 Contact
Office:
OM 4773
Phone:
778-471-8456
Courses
Insurance Law
(LAWF 3500)