Law Menu
Tesh Dagne
Associate Professor
LLB (AAU), LLM (Calgary), JSD (Dalhousie)
Prior to joining TRU, Dr. Dagne was Schulich Research Fellow and part-time Faculty member at the Schulich School of Law, Dalhousie University. As graduate student at Dalhousie University and University of Calgary, he has won numerous scholarships and awards. He worked as Research Assistant at the Canadian Institute of Resources Law and the Law and Technology Institute. Dr. Dagne was also Visiting Scholar at the United Nations Commission on International Trade Law in Vienna.
Dr. Dagne has been frequently invited to speak at different conferences and proceedings on intellectual property in Canada, South Africa, Kenya, England, the United States, Brazil and India, among others. He has widely published in highly regarded national and international journals. He has diverse interdisciplinary research interests in the legal and policy dimensions of intellectual property law in in the areas of technology, development, indigenous knowledge, biotechnology, biodiversity, agriculture, and environment. Dr. Dagne also conducts research on data governance models and on the regulation of emerging technologies, with focus on the regulatory, ethical and legal issues surrounding 3D Printing technology.
Dr. Dagne teaches Property Law in the first year curriculum, and Intellectual Property Law, International Intellectual Property Law, and International Trade law courses in the upper year curriculum. He is a member of the Law Society of British Columbia (the BC Bar).
Publications
Book
Tesh W. Dagne, Intellectual Property and Traditional Knowledge in the Global Economy: Translating Geographical Indications for Development (London: Routledge, 2014).
Book Chapter
Tesh W. Dagne, "Subsistence of Copyright over CAD files in 3D Printing: The Canadian, the U.S. and European Outlook" in Enrico Bonadio & Nicola Lucchi, Non-Conventional Copyright (Cheltenham, Northampton: Edward Elgar, 2018)
Tesh Dagne and Chidi Oguamanam, "Geographical Indication (GI) Options for Ethiopian Coffee and Ghanaian Cocoa" (with Dr. Chidi Oguamanam) in De Beer, J., Armstrong, C., Oguamanam, C. and Schonwetter, T. (Eds.) Innovation and Intellectual Property: Collaborative Dynamics in Africa (Cape Town: UCT Press, 2014)
Journal Articles
Tesh Dagne and Chidi Oguamanam, "ICTs in Agricultural Production and Potential Deployment in Operationalising Geographical Indications in Uganda" (2018). Ottawa Faculty of Law Working Paper No. 2018-24.
Tesh W. Dagne, "Protection of Biodiversity and Associated Traditional Knowledge in Canada: Ensuring Community Control in Access and Benefit Sharing" (2017) 30:2 Journal of Environmental Law and Practice 97-122
Tesh W. Dagne and Gosia Piasecka, "The Right to Repair Doctrine and the Use of 3D Printing Technology in Canadian Patent Law" (2016) 14:2 Canadian Journal of Law and Technology 263-287.
Tesh W. Dagne, "Geographical Indications as Tools for Knowledge Governance in Select Eastern and Southern African Countries" (2016) 19 AJIC 143-152.
Book Review: Neil Wilkof & Shamnad Basheer, Overlapping Intellectual Property Rights (Oxford: Oxford University Press, 2012), (2016) 28:3 Intellectual Property Journal 437-450.
Tesh W. Dagne, "The Narrowing Transatlantic Divide: Geographical Indications in Canada's Trade Agreements" (2016) 10 European Review of Intellectual Property Law 598-609.
Tesh W. Dagne and Chelsea Dubeau, "3D Printing and the Law: Are CAD files Copyright-protected?" (2015) 28:1 Intellectual Property Journal 101-135.
Tesh W. Dagne, "Overview of Implications of 3D Printing upon Canadian Intellectual Property Law" (2015) 31 Canadian Intellectual Property Review.
Tesh W. Dagne, "The Left Shark, Thrones, Sculptures and Unprintable Triangle: 3D Printing & Its Intersections with IP" (2015) 25:3 Alb. L.J. Sci. & Tech. 573-591.
Tesh W. Dagne, "Beyond Economic Considerations: (Re) Conceptualizing Geographical Indications for Protecting Traditional Agricultural Products" (2015) 46:6 International Review of Intellectual Property and Competition Law 682-706.
Tesh W. Dagne, "Protecting Traditional Knowledge in International Intellectual Property: Imperatives for Protection and Choice of Modalities" (2014) 14:1 The John Marshal Review of Intellectual Property 25-49.
Tesh W. Dagne, "The Identity of Geographical Indications and their Relation to Traditional Knowledge in Intellectual Property Law" (2014) 5:2 The World Intellectual Property Organization Journal137-152.
Tesh W. Dagne, "Acting Locally to Participate Globally in A Rights-Based Approach to Development: Place-based Intellectual Property Strategies in Traditional and Local Agricultural Production" (2013) Drake Journal of Agricultural Law 565-595.
Tesh W. Dagne, "The Search for Protection of Traditional Knowledge in the Knowledge Economy: Cross-Cutting Challenges in International Intellectual Property Law" (2012) 14:2 International Community Law Review 137-178.
Tesh W. Dagne, "Harnessing the Development Potentials of Geographical Indications for Traditional Knowledge Based Agricultural Products" (2010) 5:6 Journal of Intellectual Property Law and Practice 441-459.
Tesh W. Dagne, "Law and Policy on Intellectual Property, Traditional Knowledge and Development: Protecting Traditional Knowledge Based Agricultural Products through Geographical Indications" (2010) 11:1 The Estey Journal of International Law and Trade Policy 78-127.
Tesh W. Dagne, "The Debate on Environmentally Motivated Unilateral Trade Measures in the World Trade Organization: The Way Forward" (2010)9:3 Washington University Global Studies Law Review 427- 456.
Tesh W. Dagne, "Building on the Canadian Approach to Resolve the Stalemate on the Trade and Environment Agenda in the World Trade Organization" (2009) 8:2 Journal of International Trade Law and Policy 159 – 180.
Tesh W. Dagne, "The Application of Intellectual Property Rights to Biodiversity Resources: A Technique for the South Countries for Control over their Biodiversity Resources?" (2009) 17:1 African Journal of International and Comparative Law 150-165.
Research
Dr. Dagne's current research interest encompasses issues-linkages of intellectual property in traditional knowledge, biodiversity protection, and international trade law. He also explores governance models in 3D printing, emerging technologies, and ICTs. He has the following works in Progress:
Governance of 3D Printing Applications in Health in Canada and the United States: Between Distributed Innovation and Precaution
3D Printing in Canada: Proliferation of Applications and Emergent Arenas of Legal Intersection
Data Governance Models for TK and Entrepreneurship in Africa
Conferences
Selected Presentations
Subsistence of Copyrights Over CAD Files (15th Annual Intellectual Property Scholars Conference, DePaul University College of Law) August 6 and 7, 2015, Chicago.
The Intersections of 3D Printing Technology with Intellectual Property Law (2nd Annual Conference on Intellectual Property and Information Law, University of Cambridge) 13-15 July 2015, Cambridge.
Geographical Indications and Traditional Knowledge (CIGI International Law Research Program: First Consultation Workshop on Emerging International Law Issues Related to Biodiversity, Traditional Knowledge & Cultural Expression: From Community Knowledge to a Knowledge Community) 14 May 2015, Toronto
IP and 3D Printing: Challenges and Prospects for Intellectual Property Law, (Social Justice Monday Workshop, Seattle University School of Law), February 9, 2015, Seattle.
The Theoretical Conceptualization of GIs in Intellectual Property Law, Pacific Intellectual Property Scholars Conference III (Organized Jointly by Seattle University and Washington University Schools of Law) February 6, 2015, Seattle.
IP Law and Policy-making in the Global Knowledge Economy: Forum Shifting and Counter-shifting in International Law Process (2015 TRU Society of Law Students Conference, Trending Now: #NewLaw) February 4, 2015, Kamloops
From the Public Domain to Proprietary Protection of Traditional Knowledge, The Second Thematic Conference on Knowledge Commons, September 4-6 2014, NYU School of Law.
Common Strategies to Protection Common Property (3rd Global Congress and Open A.I.R. Conference, December 9, 2013, Cape town, South Africa).
Food Sovereignty and Farmers' Rights: Reconceptualizing Models of Food Security in Intellectual Property Law and Policy (Presentation at the Food Secure Canada's 7th Biennial Assembly in collaboration with Growing Food Security in Alberta, Nov. 1-4, 2012, Edmonton).
Place-based Intellectual Property in Ghanaian Cocoa and Ethiopian Coffee (Open AIR Project Interim Report, 26-29 March 2012, Fairview Hotel, Nairobi, Kenya).
Rights-based Agricultural Development in International Intellectual Property Law and Policy (Global Congress on Public Interest Intellectual Property, 2011, American University Washington College of Law, August 25-27).
Acting Locally to Participate Globally in a Rights-Based Approach to Development: Place-based Intellectual Property Strategies to Differentiate Traditional and Local Agricultural Products (The Canadian Association for the Study of International Development Conference Theme: Place and Space: the Local and Global in International Development, My 31- June 1).
Place-based Intellectual Property in an Open Development Paradigm: In Search of an African Model (With Professor Chidi Oguamanam) (Launching Workshop for the Open Air Research and Training Project on the Role Of IP in Open Development, Cape Town, South Africa).
Intellectual Property, Agrobiodiversity and Traditional Knowledge in International Law: Critical Issues (International Journal of Arts & Sciences (IJAS) Conference for Academic Disciplines, Ryerson University, Toronto, Canada, May 24 – 27, 2010).
Curriculum Vitae
Grants:
2017 SSHRC Insight Development Grants. $43,000.00 Research Project: 3D Printing, the Canadian Consumer and Intellectual Property Law
Joint recipient of the 2014 SSHRC Aid to Small Universities (ASU) Grant. $17,000.00 Research Project: Community Participation in the Utilization of Biodiversity and Traditional Knowledge
Open AIR Research Funding, ZAR 150,000.00
Recipient of the 2013/14 TRU Internal Research Fund, $5,000.00
Joint Recipient of the Open African Innovation and Research Training (Open AIR) Consultancy Fund (2011/12), ZAR 100,000.00
Recent Scholarships, Awards/Fellowships:
Schulich Fellowship (Sept. 2011)
Schulich Doctoral Scholarship for Academic Excellence (Sept. 2010)
James Dunn Law Scholarship (Sept. 2009)
Nova Scotia Law Foundation Scholarship for Academic Excellence (Sept. 2008)
Faculty of Graduate Studies Scholarship for Academic Distinction (Sept. 2008)
PhD Entrance Scholarship (Sept. 2008, Declined upon acceptance of admission at the University of Dalhousie)
Law Dean's Tuition Support (Sept. 2008, Declined upon acceptance of admission at Dalhousie University)
International Partial Tuition Fee Award (Sept. 2008 Declined upon acceptance of admission at Dalhousie University)
Alberta Law Foundation Scholarship for Academic Excellence (Sept. 2006, renewed in Sept. 2007)
Graduate Research Award for Academic Distinction (Sept. 2006)
Links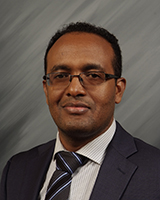 Contact
Office:
OM 4761
Email:
tdagne@tru.ca
Phone:
778-471-8368
Courses
Intellectual Property Law
(LAW 3440)
International Intellectual Property Law
(LAWF 3780)
Property Law
(LAWF 3050)
International Trade Law
(LAWF 3450)