OneDrive for Business
OneDrive for Business is a part of Microsoft Office 365 and provides a place in the cloud where you can store, share, and sync your work/school files. You can update and share your files from any device with OneDrive For Business. You can even work on Office documents with others at the same time. OneDrive for Business is managed by TRU's Office 365 administrator.
OneDrive for Business is different from OneDrive, which is intended for personal storage separate from the workplace.

Note: TRU's Office 365 OneDrive for Business is an excellent alternative to Dropbox or Google Drive as data is safely stored on Canadian servers.
Caution: At this time, TRU is unable to backup data stored in MS Office 365. MS Office 365 provides recycle bins to recover deleted files for up to 90 days from the time of deletion provided the recycle bins are not emptied. Previous versions of documents can be restored provided they have not been removed. Please take this into consideration when storing data in MS Office 365.
Signup for Office 365
All current TRU employees and students are eligible to register and install Office 365 for free. This service offering is available through TRU's Microsoft Campus Agreement. Sign up is required from the links below. An Microsoft Office365 account is required. Note: Use a secure (strong) password that is not the same as your TRU network/email password.

If you have not setup an Office365 account, use these links to create a new account:
Password/Account Information for Office 365
How much space is provided with Office 365 OneDrive for Business?
1 Terabyte (1024 GB) of space is provided with your Office 365 account.
If you sync your OneDrive data with your computer, be aware your hard drive space is used for your OneDrive data. Your hard drive may be smaller than the 1 Terabyte of storage space provided with OneDrive for Business. Choose NOT to sync all files and folders rather than choosing to sync all of your data.
Track how much space you have left
Set up your computer to sync your OneDrive for Business files in Office 365
How to sync only some of your OneDrive folders to your PC
Sharing files and folders
When you store a file in OneDrive for Business it's only accessible by you, unless you share it with others. When you share files, you can choose individual people to share with, or share with everyone. You can also create separate folders in OneDrive for different purposes such as public, personal, or for individual projects. Each folder can be shared with a different person or group, or nobody else at all.
When you want to share a file with someone external to TRU, within the browser be sure to click on "Only people in Thompson Rivers University with this link can edit this item" and change it to "only people in the To: line can view and edit this item". Then enter the email address of the person with whom you wish to share the document.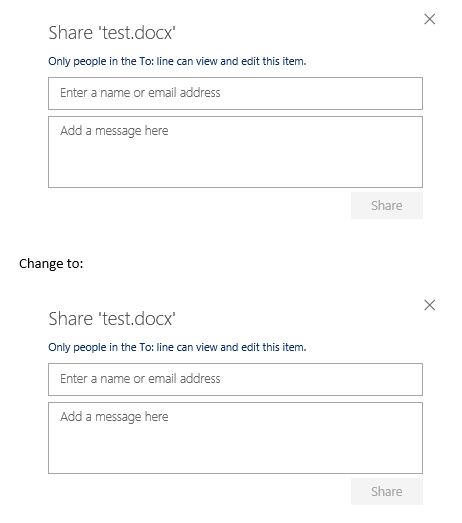 Note: The external person must have a Microsoft personal or Office 365 account in order to access the document. If they do not have a Microsoft personal account, they can get one free by signing up at: https://signup.live.com
What file types can be stored on OneDrive for Business
While you can upload almost any format file, some files may not be allowed for two reasons: security and invalid characters in the file names. OneDrive for Business security policies block certain file types and a small set of characters. For more information on what file formats and invalid characters aren't allowed, see
Invalid file characters and file types in OneDrive for Business
.
Use OneDrive on iOS (iPhones and iPads)