Student Wireless Printing
Wireless printing is available to students and faculty with your network accounts. The printers are the same printers that computer lab users are utilizing.
You are required to provide your own paper.
When you print to one of the listed printers your print job does not go directly to the printer but is held in a queue and is displayed in the Print Release Computer Station that sits beside the printer.
Your login name and document name will be listed along with print jobs sent by other users.
Your print job will be held for 60 minutes in the queue.
---
Wireless printing instructions
(iPhone and iPad devices are supported via AirPrint)
Supported software includes Microsoft Office, OpenOffice, and the following file formats: pdf, jpg, gif, png, tif, and bmp.
Start by clicking here.
You are directed to the following login page where you must enter your TRU network login credentials (same as logging in to lab computers and TRU wireless networks).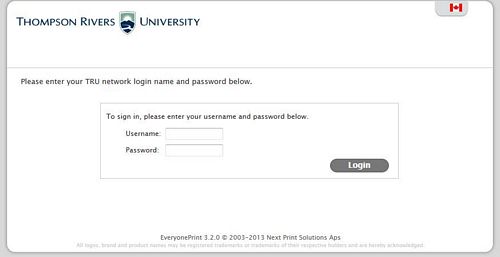 Browse to the document on your computer and mobile device to upload, click next.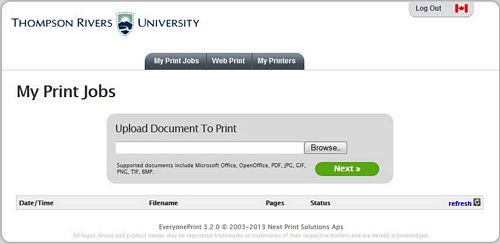 You will see a message to say the print job has been added successfully. Then you are given a choice of printer.
Click in the Advanced checkbox for additional printer options beside your chosen printer, select the options, and click on the button with the Printer Name to send your file to the print queue where it is held for a maximum of 60 minutes.
Take paper with you to the lab where the printer is located (the printer name contains the room number) and find your print job on the Print Release Station beside the printer, then print.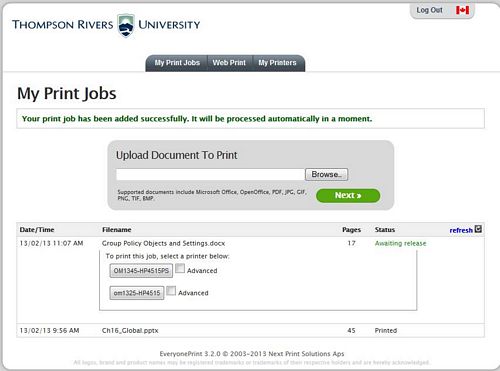 In the Web Print tab, upload a website URL to print. In the My Printers tab, you may select which printer(s) are your favourite to print to and apply a nickname to them.