Printing in Student Computer Labs
Students are required to provide their own paper. Paper is available for purchase on campus at the Printshop or the TRU Bookstore.
Students have the ability to manage their own printing in the labs using a "Print Release Station". There is a Print Release Station located in each lab beside the laser printer. It runs a program called PCounter that manages print jobs.
To print:
Once you are satisfied with your document click on "File", "Print".
(To print single sided on a duplexing capable printer follow these instructions)
Proceed to the Printer and Print Release Station location for the lab.
Check on the printer's LCD display and ensure it says "Ready".
Place your paper in the printer's paper tray (the default tray is the bottom tray - tray 2)
If the print server screen is blank, press the space bar to activate the screen. Please do not press the power or reset button on the computer. If there is a problem, call Lab Support Services (250-828-5332).
Find your print job on the screen (displayed with the computer name or your TRU ID)
Click on the check box next to your print job to select it, then click on the Print Button.
Simplex (Single Sided)
When you are ready to print a document single sided, click on Print as you normally would from the File menu in the application (eg. Word, Powerpoint, etc.) You will see the dialogue box shown below . .
Click on the Properties button.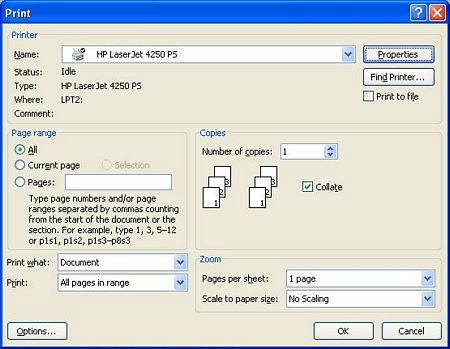 The dialogue box below opens. Click on the "Finishing" Tab
Uncheck in the box "Print on Both Sides" then click on OK. Make any other selections you require such as number of copies, which pages, and then click on OK to print.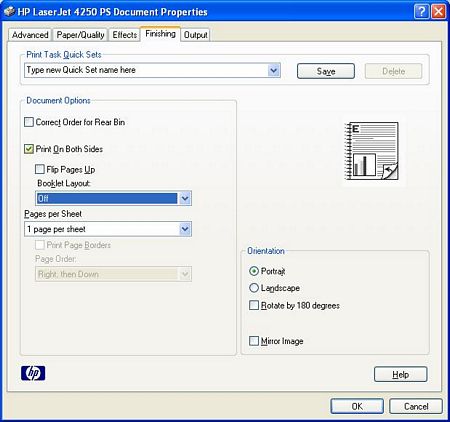 If you require any assistance please contact Lab Support