Student Outlook Web Access
Login Information:
In order to log into Outlook email, select the option below that applies to you.
Please note: You must be either admitted into a program or registered in a course to have an Outlook email account.
Self-Service Password Portal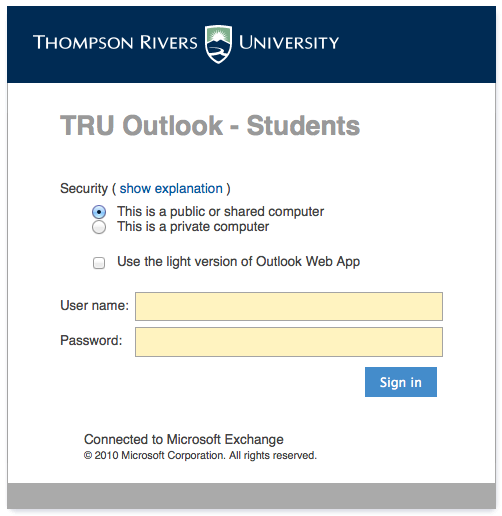 Tutorials
How do I find out what my TRU Outlook email address is?
Your Outlook email address can be found by logging into the Outlook Web App at https://mywebmail.mytru.ca and clicking on Options > See All Options under your name in the top right corner of the window. This takes you to your Account Information where your display name and email address are listed.
How long will my Outlook account work after I complete my courses at TRU?
Your Outlook Email Address will be valid for two years after you completed your last course at TRU
Will myTRU mail from prior to August 10, 2014 be migrated to my new Outlook mail?
No, unfortunately copying the mail was not possible.
Can I setup my mail account on my smartphone?
No, we do not have our student mail configured to permit mail delivery to devices. However, you can redirect your mail to another email address that synchronizes with your smartphone.
Why can't I attach a file to an email?
There is a known issue with attaching a file in Google Chrome. If you are using this browser, attachments will only work if you log in with the "light" version of Outlook Web App. Alternatively, you may use another browser - Internet Explorer or Mozilla Firefox.
Why can't I turn off light mode on the login page?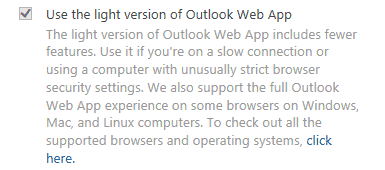 If your browser is defaulting to the "light" mode as show above, it is because the Internet Explorer 11 and/or Safari browser does not support the full feature version of our Student Outlook web access. You will need to use another browser or run Internet Explorer in compatibility mode for myTRU. The latest version of Mozilla Firefox can access all of the features and can be downloaded for free from mozilla.org.
---
Account Type
User Name
Password

Network login to lab computers

Wireless access (TRU or Eduroam)

Outlook email (mywebmail.mytru.ca)

Remote access to your private storage drive

Moodle

myTRU

TRU ID

Starts with a T

Example:

T00123456
The initial password for new students is: TRUddmmmyy (birthdate). Example: TRU01sep96. The change your password, log into the Self-Service Password Reset Portal