Recognizing Fake Websites
A fake or "spoofed" website can look just like a company's real site. Look for these signs to spot a fake site.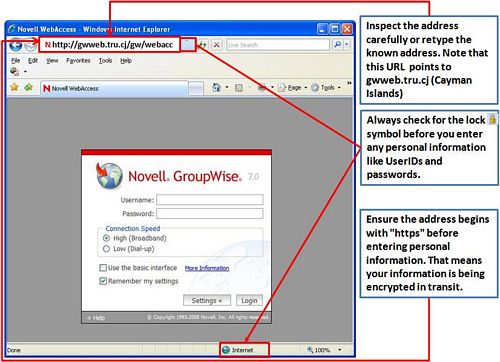 Be wary of security alerts or unusual pop-up messages requiring input while you are on a website.
If you are unsure if the website is valid, play it safe. Do not sign in or enter any personal information.
For phishing e-mails, please notify us by forwarding the suspicious e-mail to itservicedesk@tru.ca.
Report fake websites masquerading as TRU websites by sending an e-mail to infosecurity@tru.ca with the subject "Fake TRU website." Remember to copy the full URL (website address) into the body of the e-mail.
If you believe you may have provided confidential information in response to a phishing e-mail, call us immediately.
IT Service Desk - 250-852-6800 or email: itservicedesk@tru.ca
Information Security Office - 250-852-6351 or email: infosecurity@tru.ca
Follow these tips to avoid being a victim to phishing:
Never provide confidential or financial information over the Internet in response to unsolicited e-mails.
Play it safe! If you're not sure of the source of an e-mail or if it looks suspicious, don't open it.
Be cautious! Even if you recognize a sender's e-mail address, do not rely on that alone because addresses may be faked.
Pay attention to the contents of the e-mail and be careful of any embedded links.
Never click on a link in an e-mail that you suspect may be fake.
Be sure! If you are unsure whether you are on a legitimate website, reopen your internet browser and type the company URL in the address bar yourself.
Before you enter confidential information online, check for the lock icon on your browser. Ensure the URL in the browser address bar starts with "https."
Be alert! Just because an e-mail or website appears to be from a legitimate company doesn't mean it is. Phishing schemes are designed to look real to trick users into divulging personal information for the purpose of financial fraud or identity theft.