Enrollment Walkthrough
Two-factor authentication is simple to set up. There are six simple steps to going live with DUO.
Once you click on the link in the email you will see this screen
Step One: Welcome Screen

Click Start setup to begin enrolling your device.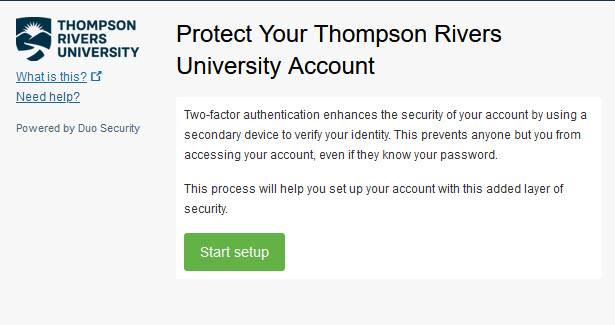 Step Two: Choose Your Authentication Device Type

Select the type of device you'd like to enroll and click Continue. We recommend using a mobile phone for the best experience, but you can also enroll using your iOS/Android tablets or a landline telephone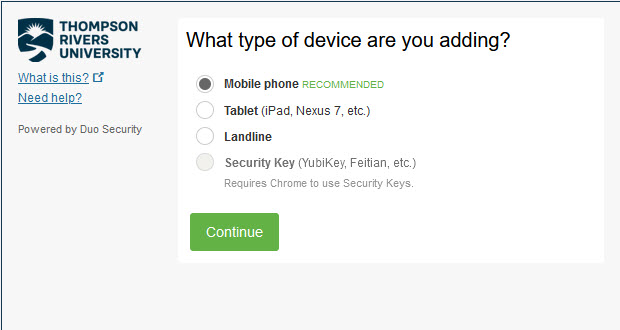 Step Three: Enter Your Phone Number
Select your country from the drop-down list and type your phone number. Use the number of your smartphone, landline, or cell phone that you'll have with you when you're logging in to a Duo-protected service. You can enter an extension if you chose "Landline" in the previous step.

Double-check that you entered it correctly, check the box, and click Continue.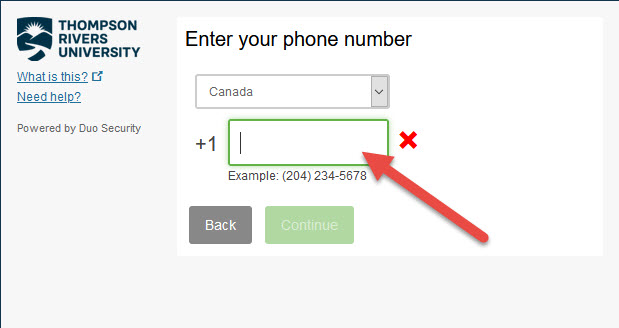 Step Four: Verify Ownership
Select the way you would like to get a verification code. Type the 6-digit verification code and click Verify. The system automatically verifies the code. Click Continue.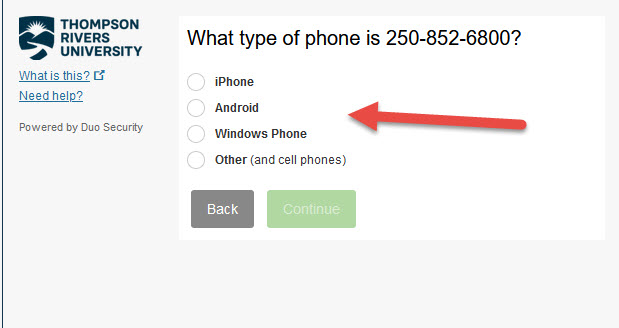 Step Five: Install the DUO Mobile Application on your phone

The current version of Duo Mobile supports Android 7.0 and greater and IOS 11.0 and greater. If you have an older mobile device, you will not be able to install the DUO Mobile Application. In both cases, click I have Duo Mobile installed and proceed with the next step. Please, notify the TRU IT Service Desk, if you were not able to install Duo Mobile Application.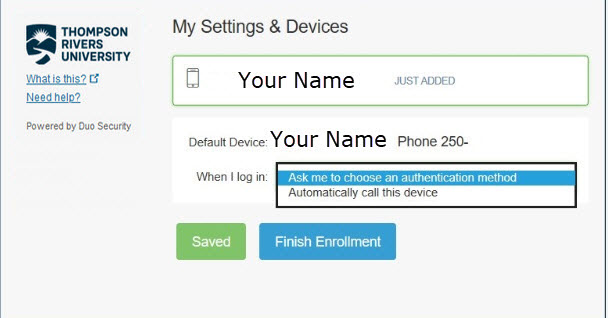 Step Six: Configure Settings & Devices

Select the preferred method you would like to use every time you log in into applications secured by DUO. If you choose "Ask me to choose an authentication method", you will be asked if you prefer a text message, a call or DUO Push. Otherwise you will be called. We suggest to choose "Ask me to choose an authentication method." Click Finish Enrollment.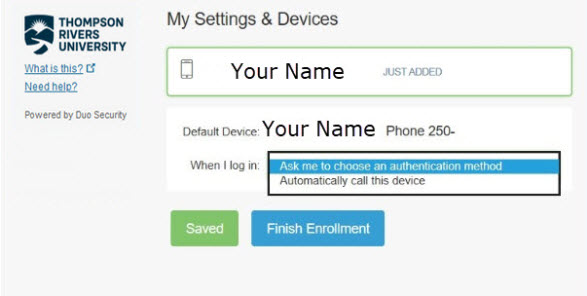 You successfully enrolled your device in DUO!