Blackboard Access myTRU
myTRU
Students will find many resources in myTRU. In addition to My Calendar, Campus announcements, and Services on the Home tab. There is a Student Resources tab that provides access to "Online Services" for your student records, Moodle, and Blackboard, as well as other Student related information and services.
Using myTRU to access BlackboardGo
to the
Student Resources tab
, under
Online Services
you will see Blackboard. Once you have successfully logged into Blackboard through this channel, your login will be automatic from that point on.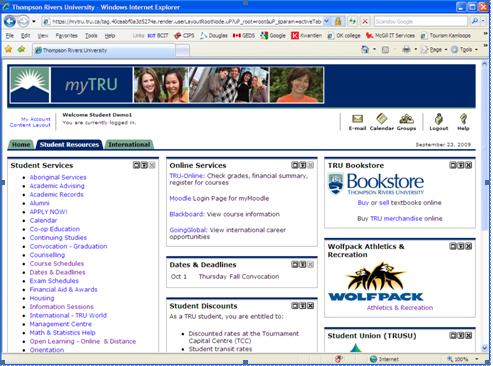 The first time that you go into Blackboard through Online Services you will see the following screens. Please make sure to follow the instructions so that your single sign-on is setup properly so that it will automatically sign you in each time.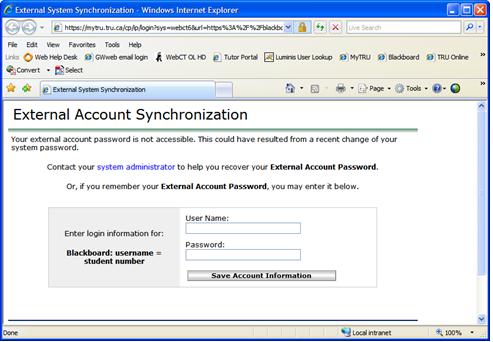 Important Note: The username must be your student number. (This will only be for the first time) Password: When you first log in, your default password is your birthday: yymmdd i.e. January 31, 1980 = 800131
If you used any other username or had typos your username can be reset. Contact the IT Service Desk at 250-852-6800 or emailITServiceDesk@tru.cafor assistance.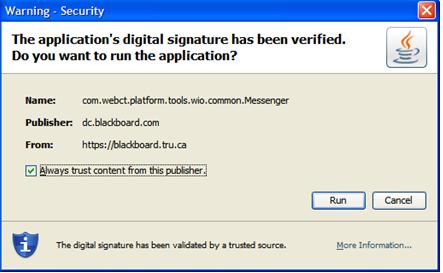 Click on Run (This will only be for the first time through.)
After this is complete you should be logged into Blackboard and see your course information.
Very important note: Once you have successfully logged into Blackboard using Single Sign On, Always Close your browser with the "X "in the upper right corner, do not use the Blackboard "log out" option.
Other ways to access Blackboard
From TRU website, under QuickLinks, click Blackboard link to go to Login page, OR type inhttp://blearn.tru.ca
If you have previously used the Single Sign-on through myTRU, you may get error messages with this method. It is best to go through myTRU as indicated above.
Perform a Browser Check

An important function to perform before you login to your first Blackboard session is to do a "Check Browser" on your computer to ensure that Blackboard will work. If there is a failure, this will need to be resolved. The "Check Browser" option may appear in the upper right hand of your screen if it is not as displayed above.
Also check the information in "Having Problems accessing Blackboard? Check Pop-up Blockers and Java" section below.
Log in:
User Name: your Student ID#
Password: When you first log in, your default password is your birthday: yymmdd i.e. January 31, 1980 = 800131
(It is important that TRU knows your birthday in order for this to be set – Email admissions@tru.caif the date is incorrect on your student record).
If you mistakenly used your myTRU username or typed your student number incorrectly, you will need to contact the IT Service Desk to remove your username in our synchronization database. Then you will be able to re-enter your Student number for correct synchronization.
If you are having difficulties with access or need your password reset, contact Computer Lab Support in OM1326 labsupport@tru.caor the IT Service Desk atITServiceDesk@tru.ca.
Successful login brings you to your own TRUdesk page.
TRUdesk
TRUdesk is the first screen you see after logging in. The primary function of the TRUdesk screen is to provide a single point of access to the courses in which you are enrolled. It's also where you will see messages and resources sent to all Blackboard Learning System users at TRU.
The TRUdesk screen contains three areas:
the channels: the Course List channel provides links to your courses. You may also see other channels, which contain campus, course, or personal information.
the TRUdesk toolbar: above the channels is a toolbar that contains links to customize the channels, as well as icons to access the Mail and Calendar tools.
the logo bar: above the TRUdesk toolbar are links to change your settings, check your browser, access online help, and log out of the Blackboard Learning System.
Features of TRUdesk
TRUdesk page displays information in "channels". Click Channels link from the right-hand menu bar options to choose which channels you want to show, or Colour or Layout to change display features.
Click the TRUdesk tab to return to the main page
At top right, click My Settings link to add an e-mail address to your Profile, add a photo, or to Change Password. Enter a Security Question & Answer!
Click the TRUdesk tab to return to the main page
The main screen shows your page location. "Breadcrumbs". Your location: Home Page.
The menu at left allows you to navigate among the various features of this 'course'.
Course Content is the default view once you get into your course. This is the course home page, which displays all the folders containing information on programs, as well as general information:
General Information: Resource Links, Style Guides, Web links, etc.
Assignments: assignments to complete that contain the detail that the tasks require. The student then will create the assignment response and submit it in the Assignments tool.
A text with attachment assignment requires one of two response options. The student may respond by typing directly into the HTML Creator or by attaching a file.
A website assignment requires the student to create a zip file that contains a series of HTML pages that are linked, similar to a website.
Calendar: The calendar tool is a calendar that is shared by the students, designer, and instructor across the section. Important entries like test dates or assignment dates can be placed in the calendar as reminders. Entries can be viewed for a day, week, or month.
Private entries as well as public entries can be added to the calendar. Private entries will only be viewed by the person entering the private entry. Public entries can be viewed by all the course participants.
The global calendar is integrated into the section. The designer may select what calendar view he or she requires. The global calendar links all the different section dates into one global calendar. If a user is involved in three different courses / sections, the global calendar merges all the dates for the three sections into one global calendar. This enables the designer to see the section calendar entries in relation to one another.
Discussions: bulletin boards on various topics to communicate with the School at large. Use e-mail if contacting a small group. "reply" versus "reply privately" some messages are better off being replied to privately which means you reply to the sender privately and not to the bulletin board.
Learning Modules: Content Files, Quizzes, Assignments, Media Library Collections, Web Links, etc. that the instructor uses in the course.
Mail: if you added your most-used e-mail address to your Profile in TRUdesk, then your messages in Blackboard mail will be forwarded to that address. Recommendation would be to use your user-name@mytru.ca email.
Sending Email correspondence
E-mail correspondence to your instructor can to be sent through the Mail program in Blackboard. Here are the instructions for locating your instructor in the Recipients list, and for attaching your files.
Click on your Course link
Click on the Mail icon on the left hand side of screen in toolbar (picture of an envelope)
Click on Create Message
Click on Browse for Recipients, and the Address Book will come up.
The default view only shows the first 10 participants, so go to the bottom right corner of the page, and where it shows Page select "All" then click on the green arrow to the right of the box. Now you will see the whole list.
Search for your instructor in the list
Select the far left check box by the instructor's name
Click SAVE
Type in a subject and message (required)
Click add attachment
Click on the My Computer icon (picture of a Computer) on the left side of the screen and browse to the assignment file that you saved earlier
Once you find the assignment, select it and click Open. This will attach the assignment to the e-mail message to your instructor.
Click send on the e-mail message and this will submit the assignment to your instructor.
Content Manager - My Files
Click on the Content Manager tab to use My Files to create and store your personal files. Each client has their own My Files that is always private and cannot be accessed by other users.
You can use My Files to locate and view files and folders; you use the folder tree in the left frame and the list view in the content display area at the center of the screen. The breadcrumbs, at the top of the screen, display your current location in the course.
Having Problems accessing Blackboard? Check Pop-up Blockers and Java
Blackboard requires the ability to open pop-ups within the program. We do not want to disable the pop-up blocker, as it provides valuable protection.
Instead we can set an exception for Blackboard in the pop-up blocker settings. In Internet Explorer, click the Tools menu, put your mouse over Pop-up Blocker, and another menu will show to the right. Select Pop-up Blocker Settings. Type in blearn.tru.ca and click Add. This will add Blackboard to the list of allowed sites, and then you can click Close to exit the settings.
Blackboard is also very dependent on Java. Not having the latest version of Java, or having more than one version installed can cause login and/or other problems with Blackboard. You can use Add/Remove Programs in the Control Panel to remove the older versions of Java. The latest version can be downloaded at www.java.com
Some computers may have problems updating Java or may not have an acceptable version available for their operating system. This causes the My Computer icon not to appear.
Instructions to attempt to upload without Java
When you first log into Blackboard, you are requested to run a digital security certificate. You have to accept the certificate or Blackboard will not behave properly. To correct this, you will need to close all open browser windows, click on the Start Menu and select the Control Panel. Once in Control Panel, locate the Java icon and double-click it. This will open the Java Control Panel.
On the General tab, in the lower right corner, click on Settings, click the Delete Files button, and then click OK. Once that is finished, go to the Security tab, and click Certificates. Remove any certificates Issued to Blackboard. It will give you a warning message, but you really do want to remove them.
Now close everything, re-open your browser, and log back into Blackboard. You will be offered a new digital security certificate, which you must accept and run.