Blue Jeans Video / TeleConferencinig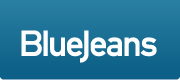 Please email ITServiceDesk@tru.ca to schedule a BlueJeans call.
TRU offers video conferencing service called BlueJeans. This service provides for the delivery high-quality face-to-face video meetings for up to 25 participants, where you can:
make calls
take notes
chat
share documents
The easy to use video conferencing bridge improves meeting participation, reduces travel time and improves your ability to communicate effectively with faculty, students and staff across multiple locations, institutions and technologies.