BlueJeans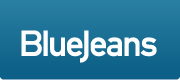 How do I Get Access?
TRU Employees, students, and community members can all join Bluejeans meetings by following the meeting invite link. However, only TRU employees will be granted accounts to schedule BlueJeans meetings.
TRU employees can request access to schedule BlueJeans meetings by emailing the ITServiceDesk@tru.ca and including their full name, full TRU phone number, and TRU email address.
All TRU administrative assistants have already been set up with BlueJeans access and can assist you if you'd like meetings scheduled on your behalf.
What is BlueJeans?
BlueJeans is a self-service online collaboration platform and facilitates on-demand, real-time, collaborative meetings and conferencing utilizing a variety of endpoint platforms.
BlueJeans allows participants to:
Join via phone audio or computer audio
Collaborate online via multiple platforms
Share computer desktop and PowerPoint presentations
Collaborate utilizing the chat feature
Record a meeting for future reference and transfer to the archive of your choice
What are the Technical Requirements for Joining a BlueJeans Meeting?
Participants can connect from their desktop, notebook, smartphone, tablet computer, or MS Teams client.
Voice Participants may join the conference via phone dial in.
BlueJeans works with Windows, Linux via WebRTC, Mac OS, & Videoconferencing Endpoints. Native apps are available for iPhone, iPad & Android.
How can I Learn More About BlueJeans?
BlueJeans has created many great training guides to help you learn more about BlueJeans. A few of our favourites are: