Elder in the House Program
In the Elder in the House Program, elders are available at the TRU Kamloops and Williams Lake Cplul'kw'ten. They provide personal consultation, conversation, guidance and mentorship to Indigenous students.
To engage with students, elders use traditional Indigenous life skills perspectives and methods such as the 'talking circle' and elder knowledge. TRU Elders have a demonstrated belief in the value of education and a record of supporting Indigenous students in their educational success.
What is an Elder?
An elder is an older Indigenous person who adopts the role of a surrogate grandmother or grandfather. Elders possess a wealth of knowledge and life experiences with specific expertise in Indigenous culture that they are eager to share with the younger generations.
What is the Elder in the House program?
Elders are available at Cplul'kw'ten and provide personal consultation, conversation, guidance and mentorship to Indigenous students. Elders engage with students using a variety of traditional Indigenous life skill methods including: the 'talking circle' and elder knowledge. TRU Elders have a demonstrated belief in the value of education and a record of supporting Indigenous students in their educational success.
These elders rotate days so there is an elder at Cplul'kw'ten every day of the week. If you would like to spend some time with an elder, drop into Cplul'kw'ten.
---
Our elders
Doreen, Margaret, Mike, Cecilia and Sandi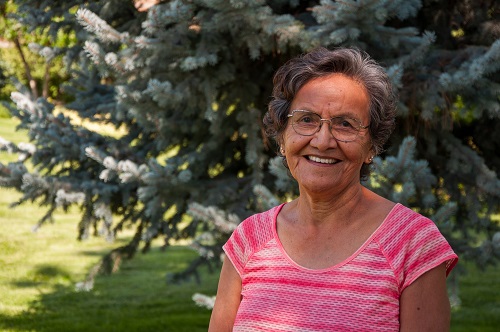 Skilled in beading, knitting and birch-bark basket making, Elder Doreen enjoys meeting new students and watching them graduate and go on to successful careers.
---
Mike Arnouse, Adams Lake Indian Band
KAMLOOPS CAMPUS
Elder Mike speaks softly but has lots to teach about the history of Indigenous people and ancestral teachings.
---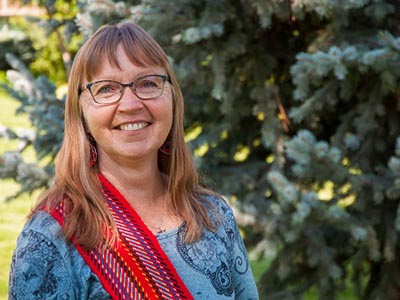 Sandi is eager to share her knowledge and experience as a Métis person and be an example of a strong, resilient Métis..
---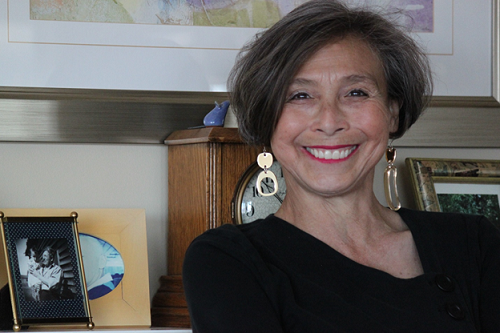 Joanne Brown is a member of the Cheslatta Carrier Nation, L'silu clan, born and raised in her home territory near Burns Lake, British Columbia. She moved to Secwépemc'ulucw from Prince George in 1996. Joanne's previous work with Employment and Immigration Canada, as well as her studies in geography and anthropology (TRU) made a natural fit with an occupation in Indigenous post-secondary education. She is grateful for her amazing community, especially working with neighbours and friends. Joanne strives to make sure that everyone is welcomed and ensures they feel special in a way that is unique and unforgettable. In her free time Joanne kayaks, gardens, cooks, and loves spending time with her precious friends and family.
---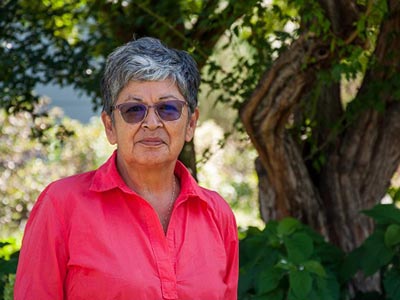 Leona (Doe) Thomas is a member of the Tk'emlúps te Secwe̓pemc (TteS) band.
She is a mother and grandmother. She has been retired for several years working with Alberta First Nations with developing, implementing and reporting on health programs.
She is currently an elder with the Kamloops First Nations court and generally enjoying retirement.
---
Diena Jules (Tk'emlúps te Secwe̓pemc)
KAMLOOPS CAMPUS
Weykpt,
I am Diena Jules and am a member of Tk'emlups te Secwepemc. The traditional names that I have been given over my lifetime are: Sundance Pipe Woman, Yellow Flower Woman, and Black Wolf Woman. I am proud to say that I have two daughters and five grandchildren.
Parents:
Late Clarence Jules (former Chief and Band Councilor for many decades), Canadian Governor General award, 2009-Cowboy Hall of Fame
Mary Delores Jules, nee Casimir, founder Kamloopa Pow-Wow, Silver Jubilee Award Recipient
Siblings: Manny, Jeanette, Felicity, Freda and Raymond Jules. Deceased: John, Cindy and Geraldine Jules.
Paternal grandparents:
Late Joe Jules (1885-1962), former KIB band councillor for many decades, fluent in several FN languages, farmer, horse logger, storyteller, hunter, fisher
Late Agnes Jules, nee Duncan, (1900-1967), herbalist, fluent in several FN languages, basket maker, horticulturalist
Maternal grandparents:
Late Thomas Casimir (1907-1968), former KIB band councilor, spoke Secwepemcstin, farmer, horse logger, trapper, hunter, fisher
Late Sadie (Felicity) Casimir (1907-1959), nee Leonard, farmer, spoke Secwepemcstin, hunter, trapper, taught traditional Secwepemc songs and dances
I was raised up in the mountains while my dad was a horse logger. We later moved onto the reserve and I attended the Kamloops Indian Residential School as a day scholar until I was in Grade 6. All Indigenous children were integrated into the public school system in 1967. In 1971, I lived at the KIRS for one year. I consider these years as the dark ages of my life.
As a teenager, I was a member of the Paul Creek Tribal Dancers and we performed our traditional songs and dances across BC and Alberta and, in 1975, we went as far as Quebec. I was a traditional dancer at pow wows primarily in BC.
In my younger years, most of my employment was with my band as a labourer, lifeguard, librarian, welfare financial officer and welfare department coordinator, home school coordinator and cultural and educational researcher. With my determination to improve the quality of life for my daughter and I, I decided to enroll in the NITEP at UBC where I graduated with my BEd and went on to to compete my MA at UBC. My thesis was: Traditional Ways Shuswap People Identified and Nurtured Gifted and Talented Girls.
While completing my graduate degree at UBC, I worked as a librarian, educational researcher and did a contract as a Native Indian Teacher Education Program instructor. After I returned to Kamloops I worked as at Sk'elep Elementary School teacher as a primary school teacher, then from 2004 until 2017 I was the Education Department Manager.
After I retired, I moved to northern Ontario and, after 18 months, I returned to my home community and family and began a term position in the natural resource department and worked part time in the cultural heritage study and genealogy research project. In July in began to work as the administrator of the SMHP.
I try to be a good role model in healthy living, I bike, ride and walk daily, I pray to the Creator for the health, safety and protection of our land, water, animals and ice, I live my values of showing respect and caring to all living things, but most of all, I take time to show my loved ones, especially my grandchildren, how much I love and value them. It is everyone's responsibility to be the change we wish to make in the world.
Jo-anne Gottfriedson (Tk'emlúps te Secwe̓pemc)
KAMLOOPS CAMPUS
Weytk ren skwest es Kiye'y7e Qwisp Nu'xwenxw ell
I am extremely proud to be Tk'emlu'psemc. I am a proud mother of two daughters, and a grandmother of five grandsons and a beautiful granddaughter; I also have many adopted children, grandchildren from various nations across the country and U.S. I am married to Reverend James Isbister from the Cree Nation, Ahtahakakoop Sandy Lake, Saskatchewan.
Formally educated at Simon Fraser University (BGS and Post Baccalaureate Programs graduate), Certified Provincial Adult Instructor/Teacher- I am a member in good standing with the BC College of Teachers-BC Adult Instructor Certified, Language Proficiency Diploma SFU.
I credit my 'traditional' education to the persistence and commitment of my parents, grandparents and various other elders/teachers that I have met along my journey. My accomplishment and work are testimony to my belief that formal education compliments 'traditional' education, and that the traditions, beliefs, teaching and language of our ancestors is just as, or more important than any other education First nations can achieve.
I believe in the traditional approach to teaching, which is holistic, and combines both traditional and modern approaches to passing on the language and culture. My commitment and respect for my culture and traditions is of the utmost importance in all aspects of my life, and I am proud of my family support and commitment to maintaining this along with me; as I not only teach it, but live it with my family, community and nation.
I am a retired Teacher and I instructed the Secwepemc language and culture at the Sk'elep School of Excellence for five years, where I taught over 300 students as well as a staff of 22. In addition, I also was a part time faculty member at the Nicola Valley Technology Institute in Merritt British Columbia; I was also a contract Instructor for Aboriginal Tourism BC. I was enrolled in the (SFU) Masters Program, as I recognize the need to continually build upon and enhance my skills and knowledge that will assist me in my mission and dream, to continually pass on the language, culture and wellness of my people. In addition, I feel strongly that we must ensure that all future generations have access to the knowledge, healing, traditions and language of our ancestors. I believe that language and culture is not stagnant, that we need to continue to learn, adapt and evolve in our approaches to teaching, and learning, so that we will keep our culture and language alive; this is my calling and passion!
For the past 11 years I was the Day Scholar Coordinator of the Tk'emlups te Secwepemc and I was the Executive Chair of the Day Scholar Certified Class Action for Tk'emlúps te Secwepemc, Sechelt First Nation and James Cree. Over the past 10 years- I have been fully responsible for the overall organization, budgets, planning, negotiations, administration and delivery of our day scholar file and coordination of Day Scholar Certified Class Action. My role is to manage and coordinate the goals and objectives of our Litigation Process and Executive. I am a advocate and a firm believer of my cultural ways and to ensure that our Indigenous people obtain the justice and wellness that we so deserve.
Cecilia DeRose, Alkali Lake Indian Band
WILLIAMS LAKE CAMPUS
An expert in Secwépemctsin language and culture, and in traditional and medicinal plants, Elder Cecilia is also known for her handiwork with hides, birch-bark baskets and beads and for sharing that knowledge with others.