Business Menu
Gaglardi Student Associate
The Bob Gaglardi School of Business and Economics Student Associate program is designed for a select group of business students to help enhance the TRU Gaglardi student experience on and off-campus.
We are looking for Gaglardi Student Associates (GSAs) to provide key support during TRU Gaglardi events, produce engaging content on TRU Gaglardi's social media pages, and whatever else possible to create a holistic and engaging experience for our student community on campus and around the world.
We encourage students with a strong academic record, critical thinking skills, communication skills, organizational skills, and leadership skills to apply. Upon completion of the program, Gaglardi Student Associate will receive a financial award, and gain professional skills that will aid them in the future.
GSA duties may include:
Social Media
Connect with faculty and students to interview them for stories (updates on research, special achievements).
Complete 1 blog post per month and promote it on social media in creative formats, including graphics and video/audio
Provide content for 1 'day in the life' social media takeover during the semester
Maintain a personal presence on Twitter, Facebook, Instagram, and LinkedIn, and be comfortable responding to inquiries, questions, and discussions as directed by TRU Gaglardi Supervisory Staff, (i.e. hashtags, branded pages, and incoming student groups)
Provide content for important days and events around campus
Attend other TRU Gaglardi and TRU events and help promote them on social media
Events
Help generate ideas for and coordinate monthly TRU Gaglardi events
Provide assistance for TRU Gaglardi events planned by TRU Gaglardi faculty and/or staff
Connect with TRU Gaglardi-related TRUSU Clubs
General:
Work closely with staff, faculty, other GSAs
Relay questions, concerns, and ideas to the GSA Coordinator, Communications & Engagement Coordinator, and Events & Marketing Assistant.
Attend bi-weekly, 1-hour meetings with the TRU Gaglardi GSA Team
Attend a monthly one-on-one meeting with the TRU Gaglardi Supervisory Staff, where you can discuss ideas, feedback, and receive coaching
Communicate with the TRU Gaglardi GSA Team via email, MS Teams, and in-person
Complete a bio for the TRU website and TRU Gaglardi social media
Use your existing connections and your networking skills to build and strengthen TRU Gaglardi's partnership with clubs and other organizations
Uphold TRU's COVID-19 guidelines and maintain professional conduct within TRU and the Kamloops community
Provide assistance with other duties as requested by the TRU Gaglardi Supervisory Staff
Skills and Qualifications
Must be a full-time student (minimum of nine credits undergrad courses or six credits graduate courses) at TRU for the semester appointed as GSA
Must maintain good academic standing throughout the semester
Be able to commit to 65 hours over the semester which may include up to 10 hours in a given week (as discussed with your supervisor ahead of time)
Demonstrated experience with event planning and/or
Active social media presence and experience with digital publishing platforms, including but not limited to, Facebook, Twitter, Instagram, LinkedIn, and Youtube. Bonus if you are active on WeChat.
Basic knowledge of social media, graphic design, photography, and video production
Strong interpersonal, verbal, and written communications skills
Project management skills such as organization, file, and document management T
Training (Mandatory)
You must attend a minimum of 7 hours of training that will be provided (details to be shared with the successful candidate(s)
Benefits and Opportunities
A financial award of $1,000
Increased exposure to TRU faculty, alumni, and the business community
Professional development (including a recommendation letter upon request)
Make an impact as a voice of TRU and influence prospective students' decision to apply and attend TRU
Become a TRU Gaglardi Student Associate
Recruitment of TRU Gaglardi Student Associates is now on for the Winter 2022 Semester. Apply here
For more information about becoming a Future Student Associate, email the TRU Gaglardi Communications and Events Office at SoBEevents@tru.ca.
Winter 2022 TRU Gaglardi Student Associates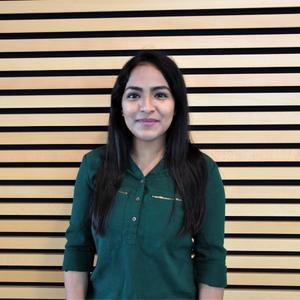 Joyce Samkutty
Joyce is a second-year Post Baccalaureate student in Business Administration. She is passionate about conducting events and taking care of their overall management, involving in various student activities, and cherishes having quality conversations. Apart from her studies, she has experience in international marketing and customer service. She has an affinity towards topics of environmental concerns and equality.
Her advice to students is, "Be yourself, let no one take that away from you. Make the most of every opportunity not just to build yourself, but to build others as well. Make use of the immense number of services provided by TRU."
In her leisure time, she enjoys singing, listening to music, and playing Ukulele. She also loves exploring new places.
You can connect with Joyce on Instagram or Facebook.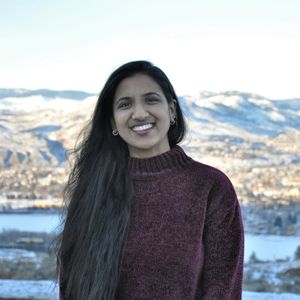 Adeline Rowena
Adeline is a second-year MBA student completing her course at TRU this year. She is also a member of the Academic Integrity Committee in the Student Caucus and was one of the organizers for last year's MBA Games. Adeline is originally from India but was born and raised in Oman. She loves meeting new people from around the world, sharing her experiences, and providing support to help students grow.
Adeline's advice to her peers is, "Life will only change when you become more committed to your dreams than you are to your comfort zone. Focus on your goal, get involved on campus, and make the most out of the many services offered by TRU."
If you are looking for Adeline on campus, you will most likely find her volunteering at an event or chatting with friends at the House of Learning library.

You can connect with Adeline on LinkedIn and Instagram.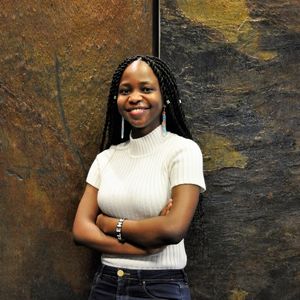 Shirlene Ndenga
Meet Shirlene, one of the TRU Gaglardi Student Associates this winter.

Shirlene is a first-year MBA student who is passionate about writing, content creation, and networking. To nurture her passions, Shirlene is also a Social Media AmbaGSAdor @truworld and a Resident Advisor @trumcgillresidence. This being said, feel free to reach out to Shirlene if you need to seek any clarification.

Shirlene's advice to her peers is inspired by Sheryl Sandberg (COO of Facebook): "find out what is important to you, what inspires you, what influences you, and this will, in turn, develop your voice. With your voice, you can bring authenticity and change to the world through everyone you encounter."

Wondering where you can spot Shirlene? She is either at the Graduate Commons in OLARA Building, in the International Building or at McGill Residence.

You can connect with Shirlene on Instagram and LinkedIn.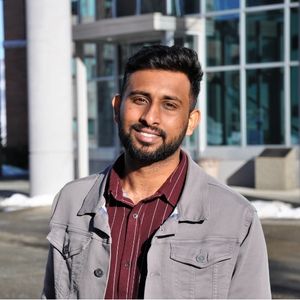 Godfrey Rayan
Godfrey is a first-year student pursuing a Post-Baccalaureate in Supply chain. He has had the privilege of joining TRU to hone his skills in a structure that would aid in achieving his goals. Spontaneity and critical thinking are two aspects that he constantly tries to practice, as it has helped him land life-altering opportunities. Video making and editing, content creation, traveling, dancing, cricket, and football are some activities that he uses as stress busters. Godfrey's favorite quote is "Never let success get into your head and never let failure into your heart" and strives to live by it.
Godfrey's advice to his peers: "A person may see you struggle, but make sure they never see you quit. Beginnings are the hardest, but after that, your process runs on autopilot. Also, in the rush of the hustle, make sure to breathe and take in the beauty of nature and the colors of the sky. Nature Never Waits."
You can find Godfrey casually chatting away at a coffee spot or hooked on to a conversation at the Old Main
You can connect with Godfrey on Instagram.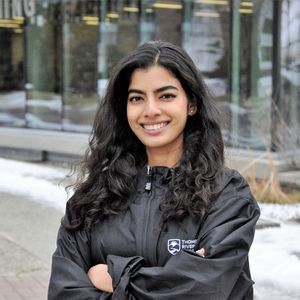 Andrea Fernandes
Meet Andrea, one of the TRU Gaglardi Student Associates this winter.

Andrea is a first-year MBA student. She is a marketing and advertising aficionado. She has worked with a Think Tank to promote gender equality in the workplace. Andrea is also a member of the MBA club and serves as the student caucus member for the Business and Economics Faculty Council.

Her advice to students is as follows: "Step outside of your comfort zone and take advantage of all the opportunities TRU and TRU Gaglardi have to offer. This will enhance your educational and personal experience while also allowing you to meet like-minded people in the community."

Andrea enjoys adventure sports and swimming in her spare time.
You can connect with Andrea on LinkedIn or Instagram.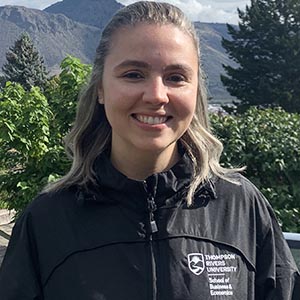 Michelle Amaral
Michelle is a second-year Post-Baccalaureate in Human Resource Management student, as well as the Co-President of the Human Resource Management Club, and a CPHR Student AmbaGSAdor. She was also previously a Social Media AmbaGSAdor for TRU World.

Michelle is originally from Brazil but started her TRU journey studying virtually from New Zealand. Michelle loves meeting students, sharing her experiences, and providing support to help students grow. One of her favourite books is Dare to Lead by Brené Brown, and her favorite quote is "Daring leaders work to make sure people can be themselves and feel a sense of belonging." And that's exactly what she tries to do when interacting with people!

Michelle's advice to her peers is: "Always have the courage to start something new, and don't wait until you're 100% ready. You're capable of doing incredible things, but you must believe in yourself. Dare to live the life of your dreams."

When she is on campus, you can find Michelle at Starbucks grabbing a coffee with friends or working out at TCC.
You can connect with Michelle on LinkedIn and on Instagram.
---
More information
Cole Hickson
Communications & Engagement Coordinator - TRU Gaglardi
chickson@tru.ca