Education and Social Work Menu
Bachelor of Social Work Courses
Please see the Degree Planning page for Degree Completion Requirements.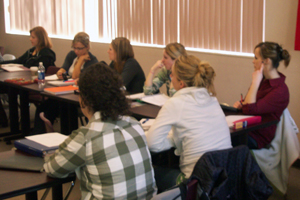 Third Year
Students in their third year of study normally take SOCW 3000, 3010, 3040, 3060, 3530, 3540, and Social Work or Arts electives chosen in consultation with the Program Coordinator. If students have not completed the human development requirement prior to admission, they may choose to complete SOCW 3550 in year 3.
Summer Semester
The course offerings for BSW summer session vary from year to year. Please ensure you check with the Program Coordinator for current summer offerings.
Fourth Year
Students in their fourth year typically will take SOCW 4020, 4540 and 18 credits of SOCW electives chosen in consultation with the Coordinator of the program.
Social Work Core Courses

| | |
| --- | --- |
| Course | Title |
| SOCW 2060 | Intro to Social Work Practice (formerly 200A) |
| SOCW 2120 | Intro to Social Welfare in Canada (formerly 200B) |
| SOCW 3000 | Canadian Social Policy |
| SOCW 3010 | Introduction to Social Work Research |
| SOCW 3040 | Social Work Field Practice |
| SOCW 3060 | Theory and Ideology of Social Work |
| SOCW 3530 | Social Work Practice with Individuals |
| SOCW 3540 | An Introduction to First Nations Issues and Human Services |
| SOCW 3550 | Human Development |
| SOCW 3590 | Social Work Practice with Diverse Populations |
| SOCW 4020 | Social Work Field Practice |
| SOCW 4540 | Aboriginal Decolonizing Social Work Practice |

Social Work Elective Courses

| | |
| --- | --- |
| Course | Title |
| SOCW 3300 | International Field Studies |
| SOCW 3570 | Social Work, Law and Social Policy** |
| SOCW 3760 | Family and Child Welfare Practice ** |
| SOCW 4000 | Policy in Human Services |
| SOCW 4200 | Family Violence and Social Work Practice |
| SOCW 4300 | Sexual Diversity and Gender Expression |
| SOCW 4400 | Social Work and Mental Health |
| SOCW 4500 | Leadership Practice in Social Service Organizations |
| SOCW 4520 | Educating for Social Change |
| SOCW 4550 | Social Work Practice with Communities |
| SOCW 4600 | Special Topics in Social Work |
| SOCW 4610 | Social Work With Groups |
| SOCW 4650 | Older People, Aging, and Society |
| SOCW 4660 | Addictions and Social Work Practice |
| SOCW 4760 | Family and Child Welfare Policy** |
| SOCW 4770 | Social Work Practice with Families |
| SOCW 4780 | Introduction to Disability Studies |
| SOCW 4800 | International Social Work |
| SOCW 4900 | Directed Studies |
| | ** Child Welfare Specialization Required Courses |

Child Welfare Specialization Required Courses

| | |
| --- | --- |
| SOCW 3570 | Law and Social Policy |
| SOCW 3760 | Child Welfare Practice |
| SOCW 4760 | Child Welfare Policy |