Education and Social Work Menu
Bachelor of Social Work Admissions
The BSW program admits approximately 60 full- and part-time students to TRU and 30 students to NVIT each fall. There are separate application packages for the TRU and NVIT programs. Students are admitted to the Bachelor Social Work program at Year 3 and must have 60 credits of university transferable coursework (typically Humanities and Social Sciences) to enter the program. Students with 54-57 credits may be considered.
The BSW program recognizes that there are institutional processes and cultural differences that present barriers to some applicants in gaining equal access to programs.
Given the program's commitment to diversity, equality, and social justice, 25 percent of seats in the TRU BSW program are reserved each year for students from groups including, but not limited to, Aboriginal people, persons from racialized groups, gay and lesbian persons, and persons with disabilities.
Students admitted to these reserved seats must meet all requirements for admission to the TRU BSW program.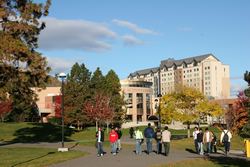 Start Date
All admitted Social Work students will begin their program studies in September.
Academic requirements
To be eligible for admission to the Bachelor of Social Work program, applicants must have 60 credits of transferable coursework. The credit requirements for admission can be met by:
General university studies: 54-60 credits. This must include 3 credits of academic English composition (ENGL 1100 at TRU) or 6 credits of English literature, and SOCW2060 (formally SOCW200A) and SOCW2120 (formally SOCW200B or equivalents.)
Combined Human Service Program and general university courses: At least 54 credits. This must include 3 credits of academic English composition (ENGL 1100 at TRU) or 6 credits of English literature, and SOCW2060 and 2120 or equivalents, and a completed and approved Human Service Worker/ Social Work Certificate or Diploma with a GPA of at least 2.67 (B‐) Students with a certificate or diploma may receive up to 12 discretionary credits.
Students entering with less than 60 credits will take more than two years (or four full-time semesters) to complete the BSW degree.
To obtain credit for entry to the BSW Program a minimum GPA of 2.33 (C+) on general university coursework is required.
Applicants are advised that the BC Government requires a criminal record search as a condition of field placement.
Credit for up to 25% (15 credits) of the BSW degree may be granted through Prior Learning Assessment and Recognition (PLAR). To be eligible for PLAR assessment, students must be admitted to the BSW program. To be awarded PLAR credit, applicants must demonstrate how their skills, knowledge and competencies match the learning offered in course(s) for which they seek credit.
As part of the admission process, you will be expected to supply an admission statement in which you express your ideas, experience and expectations about social work. Details concerning the admission statement will be supplied after application.
Application deadlines
TRU BSW program application deadline is the end of February for September 2022 admission.
Late applications may be considered if seats remain available.
Please contact the NVIT Admission Office toll free, 1-877-682-3300 or e-mail info@nvit.bc.ca for application deadlines for the NVIT BSW Program.
Admission decisions
Admission to the TRU BSW Program is limited. Applicants with the highest ratings on grade point average, related experience, and the admission statement are offered admission first.
Admission decisions are made in April for the September program start date.
Registration for 3rd year students occurs in June. All new admitted students start classes in September.
Admission procedures
Individuals applying to the TRU BSW program must complete the TRU BSW admissions package and an admission statement that is evaluated as part of the admissions process.
Questions regarding admission can be directed to TRU Admissions:
Admissions
Thompson Rivers University
805 TRU Way
Kamloops, BC V2C 0C8
Tel: 250-828-5036
Email: admissions@tru.ca
Individuals applying to the NVIT BSW program must complete an NVIT BSW Admissions package. Applications to the NVIT BSW program are available from the NVIT Admission Office at each campus:
NVIT Admission Office, Merritt Campus
4155 Belshaw St.
Merritt, BC V1K 1R1
Tel: 250-378-3300
Fax: 250-378-3332
NVIT Admission Office, Vancouver Campus
200 - 4355 Mathissi Pl.
Burnaby, BC V5G 4S8
Tel: 604-602-9555
Fax: 604-602-3400
Toll free: 1-877-682-3300
Email: info@nvit.bc.ca
Program requirements
Completion of the TRU BSW degree requires 120 credits of study, including:

a minimum of 48 credits in the humanities and social sciences
a minimum of 60 credits in social work
12 credits may be discretionary for completed human service and social work certificates or diplomas.

Students in the TRU BSW program must maintain a sessional grade point average of 2.33 (TRU), or they may be required to withdraw from the program.
Students are required to adhere to the BCASW Code of Ethics during their participation in this program.
A criminal record check is a pre-practicum requirement. Please be advised that a criminal record may limit practicum placement and preclude program completion.
Provincial legislation requires that TRU collect criminal record checks of all new BSW students. Please be advised that a criminal record may limit course work and assignment opportunities.
Internet access to the World Wide Web may be required of students in some social work courses, and for correspondence within the BSW Program.