Early Childhood Education Admissions
Admission Requirements
Educational Requirements

B.C. Grade 12 OR Mature Student status (or equivalent).
BC English 12/English 12 First Peoples with a minimum of 73% (or equivalent).

Specific Requirements

25 hours of volunteer and/or work experience in a licensed group full day or half day program and under the supervision of a certified Early Childhood Educator.
It is expected all applicants will attend an Applicant Readiness Interview (Information Session) with the ECE faculty.

Health and Safety Requirements

Students that have met all educational and specific requirements will be requested to complete the following after acceptance:

Submit a completed health questionnaire and immunization record
Submit a completed Criminal Records Review Clearance form to ECE Program Coordinator
Part time Students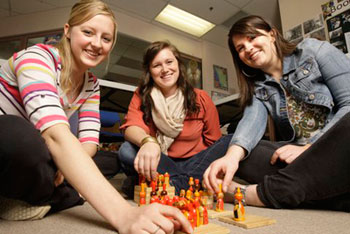 For students wishing to complete the ECE diploma program on a part-time basis, a limited number of spaces are available. Please indicate your interest in this option on your application form.
Prior Learning Assessment and Recognition (PLAR)
PLAR is a concept that permits the student to earn credit for post-secondary level knowledge regardless of where or how the learning occurred. A student may be assessed for prior learning for some of the courses in the ECE program. Applicants must meet all program prerequisites, and be admitted to the program prior to applying for PLAR. Please see the program ECE Program Coordinator for more information about PLAR.
Costs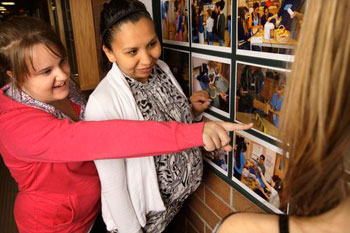 Tuition is subject to change from year to year. Please see Tuition and Fee Details for up-to-date information.
Books and supplies are about $800 per semester.
A camera plus costs related to developing photos is required for some courses.
Practica: Students must be prepared to bear the costs of travel to and from practica placements. All attempts will be made to accommodate students without vehicles in practica sites that are accessible by local public transportation.
Apply for admission
Profs are approachable, encouraging and so helpful. A very in-depth course centred around a shared love for children. Very beneficial, worthwhile, eye-opening and a total learning experience. Classmates become your support group. ECE graduate
Transferability
TRU Bachelor of Education (Elementary) Degree (BEd)

The Bachelor of Education (BEd) (Elementary) degree prepares you to teach in elementary schools. As a successful graduate, you receive a Bachelor of Education (Elementary) degree and qualify for a professional teaching certificate issued by the BC Ministry of Education, Teacher Regulation Branch (TRB). This degree and certification qualifies you to teach grades Kindergarten to 12 (K-12) in BC public and private schools. You can also teach in any province or territory in Canada, and in many other countries. The program integrates theoretical study with experiential learning. It begins in September of each year and runs for two successive years. You are eligible for admission provided that you have at least 90 credits; of which the majority may be used from the ECE Diploma and Post-Diploma certificates. Students interested in pursuing this option should contact the Education Advisor at edadvising@tru.ca

Visit Bachelor of Education (Elementary) for more information

TRU Bachelor of Interdisciplinary Studies Degree (BIS)

This is a two-year degree program open to undergraduate university students and diploma graduates. The TRU BIS is a unique program that allows students to design their own curriculum customized to their interests and goals.

Admission of Diploma Graduates
Successful completion of the TRU ECE diploma with one of the post-diploma specialties

(60-90 credits) with a minimum GPA of 2.5.

The admission process is selective. This means all applications with be reviewed, and credits from other institutions will be evaluated for transfer according to established standards determined by appropriate articulation committees, or the Office of the Registrar. Applicants may be requested to attend an interview with members of the BIS Steering Committee.

Admission Deadline
March 30th for admission to the Fall Semester

October 30th for admission to the Winter Semester

Visit Bachelor of Interdisciplinary Studies for more information

TRU Bachelor of Social Work (BSW) or Human Service (HUMS) Diploma

Students interested in continuing their education may consider laddering into the Bachelor of Social Work or the Human Service Programs.

TRU ECE Diploma graduates may be eligible for block credit into the BSW or HUMS Diploma.

Visit Bachelor of Social Work for more information

Capilano University Bachelor of Early Childhood Care and Education (ECCE)

This unique degree builds upon the ECE Diploma/certificate and post-diploma specialties to provide students with advanced competencies and knowledge required to work with children under the age of five, including those children who require extra support, in licensed preschools and daycare centres. Graduates will be prepared to assume leadership roles as advocates, policy specialists, administrators, researchers and early childhood educators.

Courses offer students further opportunities to pursue their understandings of the changing global context of child care, education, families, and childhood. They offer advanced perspectives on ECCE practice, encouraging graduates to continue to develop their abilities as outstanding educators and partners in children's lives.

TRU ECE Diploma graduates may be eligible for block credit into the Bachelor of ECCE program.

Capilano University is located in North Vancouver, BC.

Visit capilanou.ca/ecce for more information.

University of Victoria Bachelor of Child and Youth Care (BCYC)

The School of Child and Youth Care provides education, training, professional development and research for the care and support of children, youth, families and their communities. The work of the School of Child and Youth Care is grounded in the principles of inclusion, social justice and ethical practice.

The Early Years Specialization is designed to meet the growing demand for early years practitioners who can work across a range of services for young children (up to 6 years of age) and their families. Its focus is to promote leadership and the skills needed to build capacity within communities. Social justice and cultural diversity are threads that underlie all the courses in the Specialization.

TRU ECE Diploma graduates may be eligible for block credit into the BCYC program.

The University of Victoria is located in Victoria, BC.

Distance option:
The School of Child and Youth Care's Distance and Distributed Education Program distance program allows you to complete your Bachelor of Child and Youth Care degree entirely at a distance, with the exception of one 10-day on-campus seminar course in the 4th year.

Visit cyc.uvic.ca for more information.