Adaptable degree in General Studies supports community passions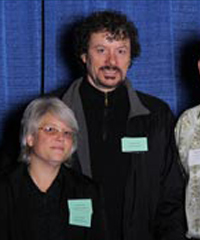 In order to utilize my previously earned credits, I switched my degree to General Studies and was able to concentrate on environmental studies, social issues and sustainable community development.
Self-sufficiency is Samara Sonmor's modus operandi. It is her approach to life, from family and community to environment and education. But this independent 40-year old mother of two young children (four and 11) who fills her days working towards a degree with Thompson Rivers University (TRU) through the Open Learning Division (TRU-OL), running her small hobby farm and actively volunteering in her community, has found it is much easier to get by with a little help from some friends. Much of this help has come in the form of endowment funds from TRU.
In 2013, Sonmor was the first ever recipient of the Cameron Beddome Endowment fund (visit Annual Awards and Bursaries for more information) in addition to the annual recipient of the Rosemary Keene Zonta Club Bursary Endowment fund. "These funds have made a huge difference to me and my family," Sonmor said. "Before, every semester was a new financial struggle; deciding whether to take on more debt. Now it's easier to face."
It is due to Sonmor's familial responsibilities and volunteer commitments as well as her self-sufficient and therefore time-consuming lifestyle, that she has been unable to pursue a more traditional style of post-secondary studies. "Open Learning has allowed me to return to school while caring for my daughter and remaining on our small hobby farm, as moving to be nearer to campus was not an option," Sonmor explained. "If Open Learning was not available I would probably never have gone back to school."
While online and distance studies through Open Learning has facilitated Sonmor's ultimate success in education, her first foray into the world of post-secondary did in fact begin in the traditional fashion. Her first years in university also begin to paint the picture of a woman whose self-sufficiency and independence was born not only of necessity but also of passion for knowledge.
Sonmor's first two years of university were spent at the University of Calgary working towards a Bachelor of Arts, English degree. "It was a torturous part-time process that I did slowly, with no loans while working full-time as a paralegal," Sonmor recalled. Her education was however cut short when she became pregnant with her first child, as at the time, remaining in university was not really an option for a single parent who had already been working full-time to fund her part-time studies. However, her passion drove her to continue on her post-secondary path and after returning to Kamloops to be closer to family, she enrolled in TRU and resumed her part-time studies. A year later, her circumstances changed once again after Sonmor met her future husband and moved to Salmon Arm for work. She left her studies behind and entered the work force to help support her family and her new self-sufficient lifestyle as a hobby farmer. Unfortunately, the 2008 financial crisis led to the ugly reality of unemployment for both Sonmor and her husband. Sonmor however took this as an opportunity to return to school and address not only her financial concerns by increasing her job marketability but also follow her passions for the environment and sustainable living.
"TRU-OL provided the opportunity I needed to get back to my degree," Sonmor said. "In order to utilize my previously earned credits, I switched my degree to General Studies and was able to concentrate on environmental studies, social issues and sustainable community development."
Sonmor has found that her education with TRU-OL supports her passions and lifestyle while driving her volunteer commitments as a member of the Land-use Advisory Planning Committee and the local community garden/farm, Advisor for the Official Community Plan and contributing writer and assistant editor for a local paper. Not only do Sonmor's studies through TRU-OL provide her with information directly related to her passion for sustainable community development, their flexible nature also allows her the time to incorporate her volunteerism and sustainable living into her schedule.
"It's really different returning to school as an adult," Sonmor said. "I think I work a lot harder at it. Perhaps that's because I have a goal and want to learn the material for a distinct purpose."
Sonmor's purpose is to follow her passion and work with her local government to focus on sustainable development in her community. She has already created a social enterprise, which she hopes to launch after her degree is finished, that will provide both locally grown food and social development education to the community.
And because education is like "brain-candy," Sonmor may just continue her post-graduate studies and pursue a Masters now that she knows anything is possible with the flexible educational options offered through modern post-secondary institutions like TRU.
Samara Sonmor
Sorrento, British Columbia