Susan's Story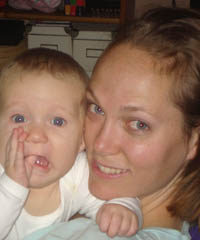 "Having the Bachelor of Health Science from TRU-OL allows me to consider other paths both within and outside of my profession."
Exams often cause the stomach to knot and churn with nervous butterflies, but Susan Jenner's jitters may have been more symptomatic of the kicking and growing going on in her belly.
"By the time I was writing my last exam in August 2007 I was seven months pregnant," Open Learning graduate Jenner said. "It is one thing to come home after a full day of work and refocus your mind to critical thinking for coursework but it's another thing to do that and deal with the fatigue and other physiological changes pregnancy throws at you."
Despite the physical challenges Susan Jenner faced, in just one year she was able to upgrade her Registered Massage Therapy education to a Bachelor of Health Science degree through Open Learning.
"I was a Registered Massage Therapist who had been practicing for six years at the time I started the TRU program," Jenner said and further reflected on her original intent to complete a Bachelor of Science degree through traditional on-campus university and college courses at both Camosun College and the University of Victoria."
Rather than continue her plan to complete a degree through an on-campus format, Jenner was directed to TRU-OL through a partnership formed between her former school, the West Coast College of Massage Therapy, and TRU.
"Having the Bachelor of Health Science from TRU-OL now allows me to consider other paths within and outside my profession," Jenner said. "The Bachelor program opens up many doors for me and the HEAL courses I took opened my eyes to the challenges my colleagues in the health profession face daily and I have greater respect for their work."
Susan Jenner
Kamloops, British Columbia