Niched course load pairs perfectly with an artistic flare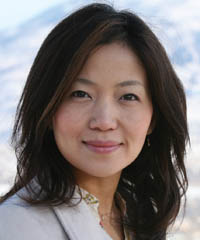 Shima Iuchi
It was not easy, but I believed in myself and I was very enthusiastic about what I was doing.
Experience defines us; it makes us who we are, helps us to interpret life and gives life meaning. Shima Iuchi, a Thompson Rivers University, Open Learning (TRU-OL) alumni, communicates her life experiences – her memory, movement and learning – through art, creating her own existential masterpieces.
Iuchi's experiential, multi-media approach to artwork has helped her build a successful career as an internationally exhibited artist and teacher while her online and distance approach to education through TRU-OL fuelled her artistic ambitions and allowed her to achieve her goal of gaining a Bachelor of Fine Arts degree in 2003.
While Iuchi blossomed as an artist upon arriving in Canada in 1998 and studying through TRU, her educational and artistic journey began in her native Japan, where she graduated with a diploma in Art Management from the Seian University of Art and Design. However, it was in Canada where her artistic experience and calling grew exponentially.
Studying through Open Learning allowed Iuchi to complete coursework while creating her artwork, exhibiting her installations across North America and co-curating local exhibits, which all helped buttress her burgeoning career as an internationally exhibited artist.
"[While studying through TRU-OL] I was the co-curator organizing a Japanese contemporary art exhibition, Kyozon, at the Kamloops Art Gallery (KAG)," Iuchi recalls. "I was also doing a lot of volunteer work at KAG as well as at TRU. At the same time, I started showing my works at galleries and different venues across North America and Japan."
In addition to co-curating Kyozon while studying through TRU-OL, in 2002 Iuchi presented solo exhibitions of her work Transient's Voice in Kyoto, Japan and Surrey, BC. In 2003, she was part of group exhibitions including Beyond Borders 2003 – Eighth Annual International Art Competition at the Whatcom Museum of Art and History in Bellingham, Washington (which won first place) and Artropolis 2003 at CBC Studios in Vancouver, BC as well as Borderland at the Campbell River and District Art Gallery in Campbell River, BC. How did she manage to complete her online and distance coursework while creating her masterpieces and exhibiting internationally, one may ask.
"I just worked hard on my art to manage my life, educational and artistic career goals," Iuchi said. "I did not want to loose any opportunities for my art resources, so I attended conferences and workshops and I went to as many art galleries and museums as I could. It was not easy but I believed in myself and I was very enthusiastic about what I was doing."
Studying through Open Learning helped Iuchi excel in time management in all aspects of her life and she in part credits these skills for her ability to so completely commit herself to her education, work and art creations.
After graduating, Iuchi worked as an artist in residence at The Cooper Union School of Art in New York in 2004 where she focused on photography and at The Banff Centre in 2008 and 2009 in the New Media Institute. Currently, Iuchi works as a member of the Lab Faculty in TRU's Visual Arts department.
Perhaps, in the future, she will choose to accept the past offers of enrolment into the Masters of Fine Arts programs provided by both the Art Institute of Chicago and Concordia University.
In recognition of Iuchi's multitude of achievements, TRU awarded her a TRU 2011 Distinguished Alumni Award, Arts and Culture.
Shima Iuchi
Kamloops, British Columbia