Stephanie's Story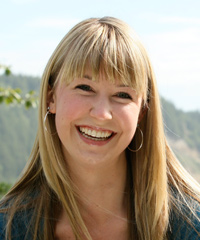 "Online education allows me to apply the skills and knowledge in a practical manner in my current profession. I often find myself reading a chapter or completing a course assignment that directly relates to my work tasks and position, so I can apply my skills to the workplace."
The course of one's life can only be predetermined by the truly determined; a reality embodied by Stephanie Beerling, student and full-time government employee. Quickly climbing the ranks of municipal government, 22-year-old Beerling preplanned her career with post-secondary education carving her path.
"I have established a great career, beginning as Administrative Assistant and working my way up to Deputy Director of Corporate Services for the Village of Burns Lake, and my education will help me continue to grow and move up in local government," Beerling said.
Beerling, a TRU-OL Bachelor of Public Administration (BPA) student, is the epitome of organization; she has to be, juggling a full-time job with post-secondary studies at not one but at three universities consecutively. Believe it or not, working on three different credentials at the same time was not some horrendous administrative mistake, it was all part of Beerling's post-secondary plan to ladder her way up using transfer credit, ending with five credentials including a degree through TRU-OL and arriving at her ultimate goal; the position of Director, Corporate Services for the Village of Burns Lake's Municipal Government.
In preparation for her degree and her career ambitions, Beerling completed her Applied Business Technology Certificate through TRU in 2009 with plans to return to the local government field while continuing her education.
Beerling knew she couldn't arrive at this goal while working full-time through traditional educational means. She had to carefully plan her route through post-secondary education utilizing online and distance studies.
"Open Learning allows me to complete my degree while working full-time in my career field of choice," Beerling said and explained that she chose to study through TRU-OL in particular because of its "well-established transfer credits."
In order to obtain her BPA through TRU-OL, Beerling knew she had to first obtain a certificate and then a diploma in the field. So, putting her plan into action, Beerling kicked off her post-educational agenda by enrolling in a Public Administration certificate through Capilano University (as well as a 'non work related' Event Management certificate through TRU's distance studies). From there she will enroll in the Public Administration Management diploma program through UVic, which directly transfers into TRU-OL's BPA program.
"When I found out that I could complete a diploma program through UVic that would directly transfer to my degree program through TRU-OL, I enrolled," Beerling said.
Even better, Beerling found out that she could transfer all the credits from her Applied Business Technology certificate into TRU-OL's BPA and consecutively work on the required diploma through UVic while completing required courses through TRU-OL for the BPA.
So, where does this currently leave Beerling? Working full-time, completing two certificates through two different institutions and enrolled in her dream BPA through TRU-OL; one step closer to her ultimate goal to become Director, Corporate Services for the Village of Burns Lake and gaining upward momentum in her government career.
Stephanie Beerling
Burns Lake, British Columbia