Meghan's Story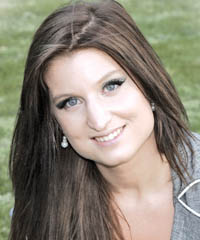 "Working independently with distance education gave me a real advantage in a career field where self motivation is key."
Meghan Pacheco is in the business of bricks and mortar, but her livelihood is not just based on selling and developing walls, it is also based on breaking them down.
Pacheco works full-time as a Land Development Administrator with Hangingstone Properties and a Realtor with MacDonald Realty Kelowna. However, working two jobs is not the only thing she does with her time. She is also a Bachelor of Arts student at Thompson Rivers University, Open Learning (TRU-OL) and a mother of one.
While nobody thought she would finish her degree after giving birth to her daughter in August 2004, just after completing her first year of University at the University of Victoria (UVic), Pacheco knew she would.
"I refused to give up," Pacheco recalled. "To me, finishing was not an option, it was a certainty."
Open Learning allowed Pacheco to realize her convictions and break through the barriers that could have blocked her educational success. "Balancing the challenges of a full-time job and single parenthood rendered a traditional degree impossible," Pacheco said. "Open Learning gave me the opportunity to finish a credential that would have been impossible a decade ago."
"The barriers imposed by traditional schools are transcended by this medium (open learning), making many more people able to gain a new credential, a higher income and a better life. Moreover, the content is equal to or better than traditional schools with comparable course variety. I have found the Open Learning Faculty Members to be tough yet fair, challenging students and bringing the material to a new level."
The accessibility of Open Learning programs allowed Pacheco and "countless other working mothers," to achieve an educational credential that would not have been possible in the past through traditional postsecondary methods. The openness of Open Learning also allowed Pacheco to get credit for the learning she had completed prior to enrolling in TRU-OL by transferring credits she had gained from her time at UVic, and applying them to her OL degree, making it much easier to reach her educational goal.
"Without Open Learning the path to my degree would have been even more challenging than it already has been," Pacheco said. Pacheco has not only utilized Open Learning to break down the barriers that hindered her educational development, she has also flourished with the personal skills she has developed as a result of her educational career with TRU-OL.
"Working independently with distance education gave me a real advantage in a career field where self motivation is key," Pacheco explained. "Due to my experience in open, distance learning I was able to finish my Real Estate course in six weeks, as opposed to the six months that it takes people on average to finish."
And why stop there? After graduating with her degree through Open Learning, Pacheco intends to continue breaking new ground by completing her Graduate Management Admission Test and applying to a Masters of Business Administration program.
Meghan Pacheco
Kelowna, British Columbia