Mariah's Story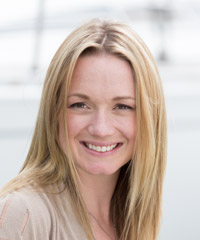 "I immediately enrolled in both courses through Open Learning and finished them in a matter of weeks and gained acceptance into the four-year Bachelor's degree and Watchkeeping certification program."
Tradition dictates that, while still in our teens, we graduate from high school, enroll in post-secondary studies and set out an educational path for our future careers. This tradition, however, does not work for everyone and is being challenged by informed young adults who are aware that what they like today may not resemble their future passions. Mariah McCooey was one such student who challenged the norm and designed her own unique educational path.
Like many others, McCooey began university fresh out of high school, however it took her a mere semester to realize that the bricks-and-mortar experience was not for her.
"I love to learn, but after doing only one semester (on-campus) I decided it was not the way I needed to learn," McCooey recalled. "I decided to take correspondence courses that interested me, while working, until I really knew what I wanted to go for."
McCooey has been taking online and distance courses for the past ten years. She took whatever appealed to her at the moment from Mass Communication and Canadian Government and Politics to the Sociology of Crime, BC History and Macroeconomics. Her intention was to remain a course-taking student through the Open Learning Division (OL) of Thompson Rivers University (TRU) and eventually enroll in a two-year Communications program through Royal Roads University. However, her rule to follow her interests and go with her instincts landed her a job on a sail-training ship where she developed a love of the sea life. At this point, years after graduating from high school yet maintaining her love of learning through online and distance studies with TRU, McCooey had a solid idea of what a lifelong career could look like for her.
Back on land, McCooey applied to the Coast Guard Officer Training program based out of Sydney, Nova Scotia. Unfortunately, she lacked a couple of the prerequisites (Physics 11 and 12) required for acceptance into the program. Not to fear, McCooey knew just where to go to promptly begin working on these requirements for entry. "I immediately enrolled in both courses through Open Learning and finished them in a matter of weeks and gained acceptance into the four-year Bachelor's degree and Watchkeeping certification program," McCooey said. Not only was Thompson Rivers University, Open Learning (TRUOL) instrumental in getting McCooey into the program quickly and on time, TRU also provided her a high quality experience with post-secondary studies. "The process was easy, fluid and flexible," McCooey said of her engagement with online and distance studies through TRU. "Student services was amazing and the course formats and delivery were simple and uncomplicated." After graduating from the program in 2011, McCooey has enjoyed working as a Navigation Officer in the Canadian Coast Guard aboard a 200' Fisheries Patrol/Search and Rescue Vessel but once again found herself following her interests and instincts back to the virtual classroom.
"I felt like I would only find the challenge I was looking for in a shore-side, maritime policy or operations position," McCooey explained. In order to get there, McCooey needed to return to her online and distance studies through TRU-OL and begin working towards the prerequisites she required to upgrade her education through Memorial University of Newfoundland (MUN)'s Masters in Maritime Management program. "Every step of the way, Open Learning has made my next move possible," McCooey said explaining that in addition to getting the prerequisites required, one Open Learning Faculty Member she worked with took the time to write her an incredible academic reference that she is certain was a big part of her successful acceptance into the graduate program.
"Looking back over the past decade of my life I have to say TRU has been hugely instrumental in bringing me to the position educationally and professionally that I am in today," McCooey said. "Without Open Learning, I would not have been able to get into the Coast Guard College program in time and without completing that program, the Masters program would have been inaccessible to me. Even the credits I did a decade ago turned out, miraculously, to be prerequisites for the MUN program."
Mariah McCooey
Torbay, Newfoundland and Labrador