Morgan's Story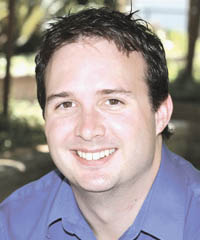 "Enrolling in the TRU Bachelor of Arts, Psychology program has helped me improve and diversify my academic competitiveness."
With an impressive resume that includes coordinator for the Canadian Cancer Society, high school sports instructor as well as volunteer work at a Kenyan medical clinic, a South African wildlife reserve, as a ski patrol medic with the Canadian Ski Patrol System and as the coordinator of a youth leadership program for Rotary International in Northern BC, one would expect the world to be your oyster. However, with the acceptance rate for medical school below 15%, Morgan Evans has had to make every effort to remain competitive.
Evans, a Bachelor of Science Honours graduate from Queen's University, began his Open Learning career with Thompson Rivers University (TRU) in order to broaden his academic knowledge and increase competitiveness for entrance into medical school.
"The non-paced nature of the Open Learning courses allowed me the freedom to study around my other commitments such as work, travel and volunteering opportunities," Evans said, describing the multitude of endeavours outside of formal education that he engaged in to supplement his CV for medical school.
"I've had to strive to improve myself in all areas," Evans said. "Enrolling in the TRU Bachelor of Arts, Psychology program has helped me improve and diversify my academic competitiveness and the open learning format reinforced my independence in study techniques, time management and dedication."
Transitioning from traditional instructor-led courses where didactic lecturing is the norm to the independent nature of Open Learning was initially quite difficult for Evans. However, the course format and faculty member support helped him become quickly acquainted with the open learning method of learning.
"The method of course delivery is great," Evans said. "Everything you need arrives in a small, neat package and there's no standing in line for books, or to see instructors. Course help is available when you need it, the academic counsellor support is very knowledgeable and acquiring transcripts and official documents is quite effortless."
While Evans completed many courses in less than a month, others required him to take the full amount of time allotted for course completion. However, expedience was of less significance to Evans, who was able to gain two years of credits towards his TRU-OL BA, Psych, which meant he could complete his degree in half the time expected.
"Especially valuable, both academically and personally, was the research component of the Psych degree," Evans said, citing his work with his OL Faculty Member to write a paper on the psychological problems underlying Parkinson's Disease, a common neurodegenerative disorder. "My goal when I began with TRU, Open Learning was the completion of my Bachelor of Arts in psychology and admission to medical school," Evans recalls.
Evans accomplished his goal in August 2008 when he entered the University of British Columbia MD Undergraduate program. Evans credits his Open Learning Faculty Member in psychology for writing an academic reference letter to UBC that helped "immensely" in his receipt of admittance to the program of his dreams.
Morgan Evans
Vancouver, British Columbia