Michael's Story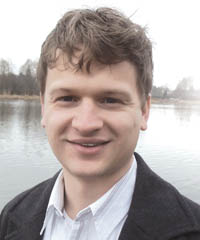 "If anyone wonders what you can do with a Diploma in General Studies, well, it got me into law school."
Opportunities are boundless when flexibility and altruism are the guiding ethos. This is what Michael Drouillard discovered while studying at Thompson Rivers University, Open Learning (TRU-OL); the fourth and "best" post-secondary institution he has attended.
"No other university I've attended has displayed such reasonableness and flexibility," Drouillard said. "TRU-OL isn't trying to squeeze funds out of its students opportunistically and it's genuinely interested in having its students reach their educational goals. I've attended four post-secondary institutions and can honestly say that my experience with TRU-OL was the best by far."
It was TRU-OL's institutional ethic and the distance education model that helped Drouillard realize not only his path towards career advancement but also other personal goals.
"Thanks to the flexibility of Open Learning, I was able to work full-time and write a nationally published book, Landlording in Canada (see Drouillard's interview with Global TV), while working towards a degree," Drouillard reflects.
While working as a licensed realtor, Drouillard endeavoured to continue his education and eventually work towards law school. And so, in 2003 while working full-time for Sutton Group Medallion Realty in Surrey, BC, Drouillard began his jaunt with distance education at the University of British Columbia where he received a diploma in Urban Land Economics. After completing this credential, and while in the midst of starting his own business as an independent contractor supplying property management services and publishing his first book, Drouillard began working towards a Bachelor of Business in Real Estate through TRU-OL. However, his plan changed upon gaining acceptance into law school at the University of Victoria, as he no longer needed to complete a degree and chose to switch to a diploma program instead.
"If anyone wonders what you can do with a Diploma in General Studies well, it got me into law school," Drouillard said, explaining that his next step, and a direct result of his educational achievements with TRU-OL, will be articling at a corporate law firm in downtown Vancouver.
Michael Drouillard
Victoria, British Columbia