Laura's Story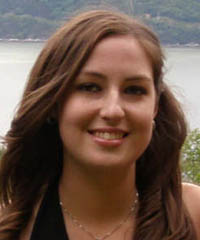 "You set your own schedule, do things as fast or as slow as you want and in most cases you don't have to worry about deadlines."
Focus, determination and a whole lot of organization can take you far even if you never leave your small hometown, population 800. So is the story of Clinton, BC, resident and Open Learning graduate Laura Moskaluk. She progressed from working as a cashier at Save On Foods to working as an Insurance Representative and graduating with a Diploma in Management Studies just a few years later.
"Before I enrolled (in TRU-OL) I hadn't gone to school or had any other education since high school… since 2003," Moskaluk said, explaining that once enrolled in a program with TRU-OL she dedicated most of her time to school, family responsibilities and her job as an Insurance representative.
"After that I was taking courses for Insurance to get my licenses along with my regular TRU-OL courses."
Despite shaky nerves at jumping back into the education scene in January 2006, three years since her last classroom experience, Moskaluk found herself adapting to the open learning form of education.
"It was hard engaging in an open style of learning at first because you have to create your own schedule and prioritize tasks," Moskaluk said. "After I had been doing it for a while it got easier… I took lower level courses at first to get used to the process and… as I progressed I took higher level courses. Doing it this way made me feel more prepared for the harder classes."
Through trial and error, she was able to determine not only how to restructure her OL education to work for her, but also how to better adjust her own schedule and develop ways to balance her work and personal time with her school activities.
"I definitely think it is more efficient to do course work through this kind of distance learning," Moskaluk said. "You set your own schedule, do things as fast or as slow as you want and in most cases you don't have to worry about deadlines."
The flexibility inherent in open learning allowed Moskaluk to hold a part-time job, as she could complete her coursework at any time of the day and set her own deadlines.
"I liked the online courses the best; they are fast and efficient," Moskaluk said. "It was easy to contact my OL Faculty Member, plus I got to interact with other students on the discussion board and email them."
TRU-OL's distance and online classes fit into Moskaluk's lifestyle and allowed her to complete her diploma in just two and a half years, a faster pace than other forms of post-secondary education may have allowed. Now, after graduating with a Diploma in Management Studies, she has great expectations for herself and her future. TRU-OL may even see Moskaluk again in the near future, as her plans include a continually evolving education, and perhaps a bachelor's degree.
Laura Moskaluk
Clinton, British Columbia