Keith's Story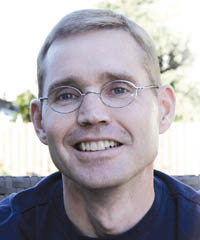 "My OL education will make me better at what I do, as I have learned skills that I am able to bring to the workplace immediately."
Time is a terrible thing to waste, especially when that time was spent building an education and gaining valuable work and life experience.
After a number of years of working in an administrative capacity with the local government in Prince George, BC, Keith Meldrum made the decision to go back to school and attain his degree. However, he did not want all that he had learned from his prior education, nor that which he'd gained in the 15 years that passed since he'd last been a student, to go unnoticed and unrecognized.
"I did not want to start my post-secondary education all over again," Meldrum said. "Also, I was not willing to forego the two and a half years of post-secondary education I had put into my Engineering diploma."
Meldrum's desire to return to school and gain his degree was further complicated by his busy lifestyle. Married, with a family, and working full-time as Chief Communications Officer for the Prince George Fire Rescue Service (which means he's on call 24 hours a day, seven days a week), meant traditional campus-based classes were impractical for him. Yet Meldrum was determined to gain a formal education in business management and strengthen his career, so he looked for a program that he could complete via distance and that would recognize his past post-secondary credits.
"I learned about Thompson Rivers University, Open Learning's Bachelor of Technology, Trades and Technology Leadership program through a monthly e-newsletter sent out by my professional association - the Applied Science Technologists and Technicians of BC," Meldrum said. "This program was what I was looking for; it would recognize the two years of my Engineering diploma."
While originally unsure if distance learning would work for him, Meldrum found that it best fit his busy lifestyle as it allowed him to begin courses when it was conducive to his schedule and work at his own pace.
"The web-based delivery format makes learning and studying very easy and access to the course instructors via TRU email is very good," Meldrum said. "I have found all of the instructors to be very responsive and provide excellent feedback and the online discussion forums provide a good opportunity to interact with my fellow students.
"My OL education will make me better at what I do, as I have learned skills that I am able to bring to the workplace immediately and as such, find that the education is instantly applicable as compared to theoretical."
Keith Meldrum
Prince George, British Columbia