Student pairs trades with academics to create stability in career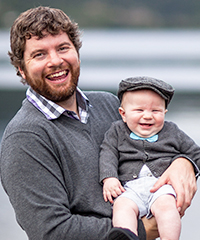 Greg Ryan
Pity today's beleaguered high school student. Faced with the overwhelming decision of what to do with their lives, it can seem there are two camps: trades or university. Often, these two options are presented as entirely separate paths that shall never cross, much less meet in the middle.
Greg Ryan, a heavy-duty equipment technician, truck transport mechanic and Open Learning student, would like that to change.
After spending his early career working in the oil industry in Fort McMurray, he returned home to Atlantic Canada and began teaching apprentices at a local college in 2011. He soon realized that without a degree, he would hit a ceiling.
"As much as trades are respected because of the money we generate, people don't respect our education," Ryan says. Yet he wasn't willing to stay in one position until retirement, and was looking to grow his career without pausing his career.
"Right now trades is hot, and the pendulum is swinging in our favour," Ryan says. "But I have 20 to 25 years before I can retire, and the pendulum is surely going to swing the other way, and I want a Plan B."
In his case, Plan B comes in the form of Open Learning's Bachelor of Technology, Trades and Technology Leadership degree. Designed for people with a recognized trades certification, the program accepts credit for the learning students have already achieved in their career. This block of transfer credit can dramatically reduce the number of courses required to graduate; in Ryan's case, he has just 16 courses to complete.
His transition from trades to online academia as a mature, working student has been helped by OL's unpaced courses, which can be shelved during busy teaching periods, landscaping projects and childcare (Ryan has a young son and his wife, who is expecting another child, also works full-time).
Though there have been some transitions that the traditional first-year student wouldn't encounter. One of his advisors reviewed his course lineup and suggested that since he didn't have a lot of traditional university experience, that he take English Composition.
"I love your advisors and how personal they are. I was losing marks because I didn't know how to write a paper using APA format, and they suggested that I take English Composition," he says. "I asked why I would do that, because it sounds like an awful course. They said, 'This will make your life easier.' And they were right. When you're connecting a drive axle, commas don't matter. When your prof tells you to research a topic, you need to know how to cite your references."
Dissecting the intricacies of the comma is a long way from the six-figure salary Ryan was earning in Fort McMurray a decade ago. But as he tries to impress upon the high school students that he speaks to in classrooms, while a career in the trades offers both money and security, there's no reason why it shouldn't also be a springboard to other things.
"So few institutions and so few people respect tradespeople for the education they've achieved," Ryan says. "The fact that Open Learning recognizes that I have business skills, budgeting skills, and gives me credit for what I've learned; I'm so proud to be an Open Learning student and to be in this program."
Greg Ryan
Newfoundland