Bachelor of Technology, Trades and Technology Leadership floats career for injured boat builder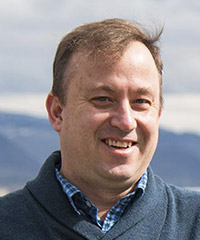 Eric Clausen
Having a relevant degree has increased my confidence in interpersonal dealings and given me the knowledge base to support my ideas.
For Eric Clausen, graduating from the Bachelor of Technology, Trades and Technology Leadership (BTTTL) degree led to otherwise impossible opportunities—such as a leadership role with a major BC employer, and law school.
"An understanding of the relationships in commerce and between businesses prepared me to interact in a knowledgeable and professional manner," he says.
Clausen grew up on BC's west coast. His environment and his creative and problem-solving skills led him to a Red Seal boatbuilder trade qualification in 1999, then work at a shipyard on Malcolm Island. As the commercial fishing industry declined, he transitioned to employment with BC Ferries, where he assisted with vessel operation and maintenance, working primarily in engineering.
In 2012, however, he suffered a workplace injury and could no longer engage in physically demanding work. Consequently, WorkSafeBC offered him a maximum of two years vocational training.
"My livelihood was at stake," Clausen recalled. "TRU offered prior credit for my trade qualification that fit within the scope of WorkSafeBC's time limits."
With that in mind, he applied and was accepted to the BTTTL program. He was pleased with what he discovered.
"OL courses are delivered with all of the support and expertise one would expect. The Open Learning Faculty Members have credentials from some of the most reputable universities in the world, and the courses reflect this," he says, adding, "I was challenged and encouraged by the OL course content and found the undergrad law courses to be especially worthwhile."
Although he was recovering from multiple surgeries, OL helped make it possible for Clausen to work through the full courseload he needed to maintain to finish his studies in time.
"The academic advisors were instrumental in my completion of the program within the two- year period," he says.
His BTTTL credential also meant he was able to resume work with BC Ferries in a corporate position.
"My degree was recognized by my employer as being substantive and applicable to business."
Clausen also prepared for the LSAT and was a successful applicant to TRU Law. He is particularly interested in maritime and admiralty law.
"Open Learning's Bachelor of Technology, Trades and Technology Leadership program made it possible," he says.
Now in his first year of law school, he also appreciates that TRU, during its assessment of his prior experience, recognized his trade qualification and awarded him 60 academic credits towards completion of the BTTTL.
"People returning to school later in life have valuable knowledge and experience that should count for credit where applicable," he concludes.
Read more about Eric Clausen in Charting an unconventional path to law school.