Custom course design helps patch a career shift into the medical field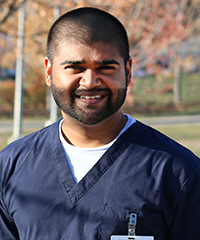 Dave Sahadeo
University isn't for everyone. For others, university just isn't for them immediately after high school.
As an 18-year-old, Dave Sahadeo had only a vague concept of the sort of career he wanted, and no interest in post-secondary education. Yet 10 years later, he is now happily planning to devote the next nine years of his life to academia: after he finishes his undergraduate degree, he wants to go on to med school to specialize in surgery
It took a job that wasn't a good fit to radically change his aspirations and focus. He was working at a tech retailer and did well there, receiving a series of promotions and eventually moving into a corporate position. But a downturn in the economy helped him realize the business world wasn't for him.
"I considered trades and health care, but I thought that of the two, health care offered the most job stability – people will always need it, regardless of the economy – and also offered the satisfaction of helping others," Sahadeo says.
He decided to pursue respiratory therapy, which required moving from the lower mainland to Kamloops and enrolling in night school to repeat all Grade 11 and 12 math and science prerequisites (the respiratory therapy program requires that these prereqs have been completed in the last five years).
"Night school was such a positive experience that I began to consider going on to medical school," he says. "I knew I could do the work, and that a background in respiratory therapy will be helpful if I specialize in surgery."
Today he's a very busy student, with the sort of schedule that would challenge the most seasoned of multitaskers. He's enrolled in a full-time course load on campus at TRU and takes courses and labs online through Open Learning in order to graduate sooner and complete the necessary prerequisites for med school; he is also a leader in the Supplemental Learning program for Anatomy and Physiology on campus and serves as the student representative on the board of directors for the Canadian Society of Respiratory Therapists.
"Essentially I'm trying to complete a four-year science degree in three years," he says, while also completing the Respiratory Therapy Dual Credit Diploma/Bachelor of health Science program and the 12 extra science courses necessary to prepare for the MCAT (the entrance examination for med school). That means occasionally juggling his online class deadlines with campus deadlines.
"When I have a timetable conflict, I just take the extra class through Open Learning so I can still get everything done on my timeline. That's a huge benefit because now I don't need to come back to TRU for another year or two after my program to get all of the courses done," he says.
"Time management, and being able to prioritize, is huge. But this is my main focus, and I'm really motivated to get it done, and that makes it easier."