Dawn's Story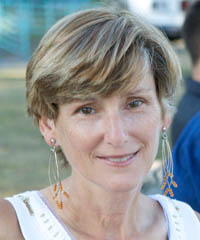 "I was determined not to quit and was able to complete the course, despite my medical challenges."
Fate is a funny thing that often seems to work against us, but those with a more sanguine disposition define fate as something that puts us at the right place even in the direst of circumstances.
Such is Dawn Palmer's story.
Even in 1999, when Palmer first immersed herself in distance education her circumstances weren't completely conducive to a devoted educational endeavour. At the time, a single mother of two young children, Palmer needed to study from home.
"I have studied everywhere: in my car during soccer practices, at an ice rink waiting for my son's hockey game to start, on a bench prior to my daughter's field hockey game," Palmer said. "You have to be extremely creative and organized with your leisure time."
Through such creativity, Palmer was able to juggle her two children, two step-children, her extracurricular activities and a demanding full-time job with her studies despite the work related challenges she faced. But it wasn't until seven years into her distance education that Palmer encountered her most trying tribulation. "The most difficult personal challenge that I faced was when I was diagnosed with breast cancer in 2006," Palmer recalls.
Enrolled in a course and nearing the end of her Bachelor of Arts, General Studies degree through Thompson Rivers University, Open Learning (TRU-OL), Palmer chose to make her circumstances work for her despite the severity of her situation.
In order to complete her education through TRU-OL, Palmer extended her course, which allowed her to get the work done while she underwent chemotherapy, a mastectomy and radiation. As a result of her perseverance, Palmer was able to complete the course by the end of her treatments in October 2007.
While such health circumstances may have made it impossible for some people to continue with their educational goals, Palmer was able to make her situation as a distance learner work.
"I am incredibly grateful that I was able to obtain a course extension when I was undergoing breast cancer treatments," Palmer said. "I was determined not to quit and was able to complete the course, despite my medical challenges."
While completing her degree in July 2009 was a challenging venture, Palmer describes it as "one of the most rewarding experiences" in her life. "Learning is never ending and being able to study at your own pace, with supportive tutors by your side, is an ideal way to achieve both career and educational goals," Palmer said.
And Palmer will continue to learn. Currently working as Director of Human Resource Consulting Services for the Provincial Health Services Authority, Palmer plans to pursue a Masters in Human Resources.
Dawn Palmer
Burnaby, British Columbia