Carla's Story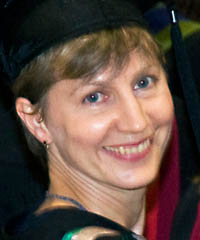 "Earning my degree has been my ambition since I went back to school full-time in 2002 with the goal to switch careers."
The two and a half hour drive that brought 81-year-old Anna Granberg to Kamloops on October 2, 2008, to watch her "baby daughter" graduate proves that tenacity doesn't fall far from the tree.
This exact tenaciousness helped Carla Granberg devote 27 years of her life to the pursuit of higher education and ultimately, the receipt of her Bachelor of Commerce degree at Thompson Rivers University (TRU)'s fall convocation.
"My standard byline to my kids had always been: don't take 27 years to get your bachelor's degree, earn your degree while you are young and in your twenties," Granberg mused. "Having said that, although the path has been long and somewhat arduous, I am glad I made the journey and reached the destination."
Granberg's route to her current career as a Software Analyst for Thompson Rivers University was not a direct one, but it was a journey of great discovery and experience that was bolstered by tremendous support and courage.
"Up until 2002, I worked in the health care industry," Granberg said. "Returning to school in 2002 for the CSOM (Computer Systems: Operations and Management) diploma program and moving into the Information Technology (IT) industry was the beginning of a complete career switch for me."
Before completing her CSOM diploma through TRU in 2005, Granberg had already devoted 14 years towards three post-secondary certificates (Office Administration, Qualified Administrative Assistant and Health Care Management Level 2) as well as a Diploma in Management Studies. Academic recognition was the original motivation that led Granberg to enrol in the OLA in the 1990's.
Through Open Learning her academic advisors were able and willing to provide her with a lot of support with regards to finding various options for transferring credits and gaining academic recognition for the Certificate in Office Administration she had already completed. Even after completing three certificates and one diploma, Granberg was not satisfied and so she returned to school to set the gears towards her final goal in motion.
"Earning my degree has been my ambition since I went back to school full-time in 2002 with the goal to switch careers," she said. Granberg methodically worked towards her degree by first gaining her CSOM diploma at TRU and then transferring those credits along with her Management Studies credits, towards a Bachelor of Commerce degree through TRU-OL. By 2010, Granberg received her Information Systems Professional designation, a professional credential that is recognized by law in Canada, through the Canadian Information Processing Society.
Carla Granberg
Kamloops, British Columbia