ENPY technologist adds Bachelor of Health Science to stack of academic accomplishments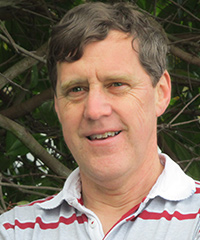 Bruce Goddard
Having a degree takes my career up a level, and means I'm able to explore other options – maybe teaching, or working in a parallel field for research or equipment companies.
As an Electroneurophysiology Technologist (ENPY), Bruce Goddard conducts tests that measure the electrical activity of the human nervous system. This means his days are filled with a veritable alphabet of acronyms: EEGs, EPs, EMGs, VEPs, BAEPs, SEPs.
In October 2015, when he crossed the stage at the Thompson Rivers University convocation ceremony, Goddard added another set of initials to his repertoire: BHSc.
The Bachelor of Health Science degree (BHSc) offered through Open Learning is designed for people like Goddard who hold a certificate or diploma in the health care field and don't want to start a degree from scratch.
"There are only 50 of us in BC who do what I do, and only 350 or so in Canada, so it's a very small field," Goddard says. In essence, Goddard and other ENPY technologists assist physicians to diagnose disorders of the eyes, ears, spinal cord and brain, which can include multiple sclerosis, ALS, epilepsy and narcolepsy. (You may be interested to know that Garfield, of cartoon fame, is not just a sleepy kitty. In Goddard's professional opinion, he very likely has narcolepsy.)
His career has taken him across the country – to Halifax, Kamloops, and then Nanaimo after receiving job offers from the Vancouver Island Health Authority. Yet highly specialized professional credentials can make it harder to take on something new; when Goddard explored the possibility of taking on a teaching role, he found that his pay would be 25% less without a degree.
This, coupled with the other advantages of future career options, led him to start the BHSc program in 2009. "It took me about five years to complete," Goddard says. "I took one course at a time, which helped me keep my focus on the course, family and work, and I took a year off in 2010 when I started a new job, which let me manage the move and get settled."
It was a busy time. Goddard continued to work full-time and maintained his seat on three ENPY-related boards – one provincial, one national and an advisory position at BCIT – while completing two additional ENP credentials (Goddard now has four speciality certifications in total).
"I did have trouble balancing all my board commitments sometimes. There were quite a few late nights in there, especially with paced courses," Goddard says. "Since Open Learning programs are adaptable, people can go through and juggle work and life, but if you can cut down on extra activities, that can be very helpful."
But as a committed lifelong learner, Goddard enjoyed the opportunity to learn new material. "My diploma and four other certifications were very finely targeted, and the degree is more generalized," he said. "You're able to adapt your learning to focus on the courses that pique your interest. Since my previous education met the math, English and science requirements of the degree, I was able to focus more on leadership and business management courses."
So what's up next for this lifelong learner? "Maybe a master's program," he muses. "I've been told to take a year off, or my punishment might be taking my wife to IKEA for an extended (and probably expensive) visit."
Though for now, after five years of schooling, he isn't rushing into anything – maybe take a little time to spend with his wife and young daughter, who will be happy to have fewer textbooks floating around, at least for the time being.