Accomplished angler ties a knot in her career goals with business certificate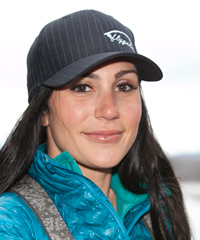 April Vokey
I definitely have taken some of the strategies that I learned in the (business) class and applied them into real life and into my business.
Success is best measured by self-fulfillment. One would therefore assume that a list of accomplishments including appearing on the cover of approximately 13 magazines, authoring columns for numerous publications, owning a profitable business that requires travel to exotic world destinations, being signed to author a book and star in a reality TV show and being a sportswomen sponsored by Patagonia, would tip the scales on self-fulfillment and therefore success. However, one is not April Vokey, a determined and multi-faceted woman who seeks self-fulfillment within all aspects of her life.
Vokey, who is a fishing guide and the owner of Fly Gal Ventures (a fly fishing guiding company based in Chiliwack, BC), is one of those fortunate people who "can't wait to wake up in the morning to get back to work" because everything she loves to do is related to her career. Yet, she still seeks to better her personal success. She will do this through educational advancement.
"One of my biggest regrets in life is that I never finished my business degree upon leaving high school," Vokey said. "It has been an obstacle for me in more ways than I could have imagined and I vowed to one day complete it."
While she dabbled in a few post-secondary courses after high school and received a certificate in music, she never actualized what she desired for her personal educational achievement.
"Education was one of the final checks I needed to mark off on my list," Vokey said further explaining that while her business has become quite successful, she felt that her confidence would improve if she held a degree in business. After just one course in business through Thompson Rivers University, Open Learning (TRU-OL), Vokey saw the positive impact post-secondary education could have on her career.
"I took a business management class and it really helped me to relate to the people who work with me and work for me," Vokey said. "I definitely have taken some of the strategies that I learned in the class and applied them into real life and into my business."
But where does she find the time to fit studies into the busy schedule required of a business owner? Vokey's days are full with guiding or teaching on the water and then move directly into her home office where she works until midnight and then gets up at six am to do it all over again.
"Being so busy, the only way that I could truly get my education and finish my degree was to pursue online education options," Vokey explained. "I decided that I would take my time on the road – whether it be in airplanes, taxis, hotel rooms – to complete this education."
With the help of a bit of technology, Vokey can even combine some of her time spent fishing with her coursework. She simply takes course disks and transfers them from her computer to her iPhone.
"I can not only fish, but have my education in my ear at the same time," Vokey said. "You're not going to get that sort of education by sitting in a classroom."
And get that education through online and distance studies, Vokey has done. In June 2012, after transferring nine credits from her previous post-secondary studies at Kwantlen Polytechnic university and completing six credits with TRU-OL, Vokey graduated with a Certificate in Business Skills. However her journey with Open Learning did not end there. With visions of a degree dancing in her head, Vokey will continue her studies with Open Learning until she gets the degree in business she is determined to have.
April Vokey
Chilliwack, British Columbia