Program Advising
I've been admitted to an Open Learning program – now what?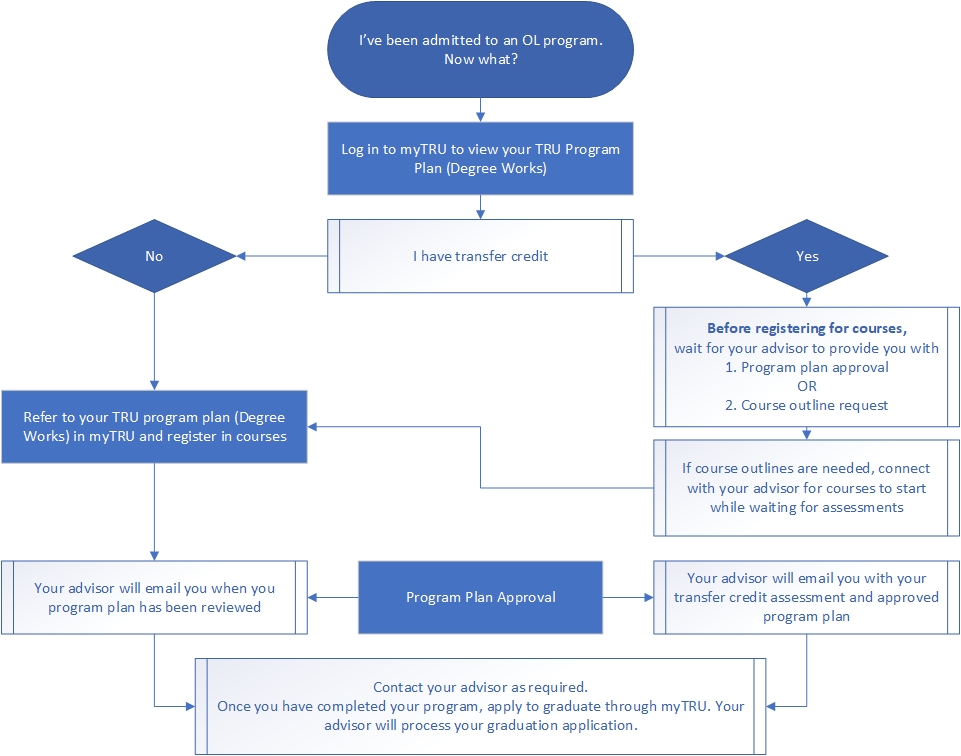 Advisor and Student Responsibilities
Through coaching and academic planning, TRU Advisors empower students to become lifelong learners and assist them in developing the skills they need to achieve their goals.
Student Learning Outcomes:
Develop a learning plan and understand how you will reach your goal
Identify resources to assist you during your studies
Understand how TRU policies and procedures affect you as a student
Advisor Responsibilities
Provide information about TRU programs and courses
Evaluate transcripts and create program plans for students
Know and interpret graduation requirements
Respond to program questions by email, phone or in-person
Encourage students to meet their goals and provide tools and resources to help
Refer students to other TRU resources as needed
Guide students through TRU processes
Maintain confidentiality
Student Responsibilities
Be prepared for your advising appointment with your questions or points of clarification
Access TRU resources; they are here to help you succeed! See your advisor to discuss supports and referrals
Explore academic options and be open-minded about choices, goals, and back-up plans
Understand responsibilities attached to any funding or loans you are receiving
Be aware of key dates at TRU, in your own life, and in regard to any funding you may be receiving
Develop decision making skills. Be in control of your education!
When should I contact my Advisors?
Contact us when you need:
Help with course selection and program planning
A Letter of Permission (LOP) request
When you have finished your final course for graduation
If you want to take a TRU campus course
If you need a Confirmation of Enrolment or a Funding letter
Need assistance understanding the difference between PLAR Credit & Transfer Credit
Who is my advisor?
The Advisor A team manages Business, Management Studies, Real Estate, Tourism and Water Treatment programs.
The Advisor B team manages Science, Nursing, Computing Science and Veterinary Technology programs.
The Advisor C team manages Arts, Fine Arts, Design, Music, General Studies, Adult Basic Education programs, and Graduate Certificate in Online Teaching and Learning programs.
The Advisor D team manages Health Sciences, Social Work, and Technology programs.
A Guide to Advising - from A-Z
Active Status
Course Delivery Method: Online versus Print
Course Formats: Self-Paced versus Paced
Course Needs Approval
Course Welcome Letter Email
Detailed Course Descriptions
Enrolling in a Course versus Enrolling in a Program
Extensions
Fees – Extensions, Re-application
Full-Time versus Part-Time Status
Grade Point Average (GPA)
Graduation and Convocation
Important Dates
International Transcript/Course Assessment
IT Issues
Letters of Permission (LOP)
Prior Learning Assessment & Recognition (PLAR) Credits
Recommended Prerequisite versus Required Prerequisite
Residency Requirement
Resuming your Studies
Changing your Program or Adding an Additional Program
Taking TRU Campus Courses
Transfer Credit
TRU Program Plan (Degree Works)
Updating Personal Information
Upper level (UL) versus Lower level (LL)