Medical Laboratory Assistant Certificate
Interested in a career in health care? The Medical Laboratory Assistant certificate can help you get there.
In the MLA certificate program, you are trained to perform the practical components of collecting, sorting and preparing patient samples for further testing and analysis. The majority of this training is completed online, so you can study at a time and place that works for you.
The program consists of five theory courses, a five-day workshop, and a clinical practicum conducted in a hospital or laboratory under criteria developed by TRU. Combined, these provide the theory and skills required for you to function as an MLA.
You have a maximum of 30 weeks to complete each course and an overall maximum of two years to complete the entire program. You are, however, encouraged to finish in under one year. The entire program is equivalent to 20–24 weeks of full-time study. No extensions are granted.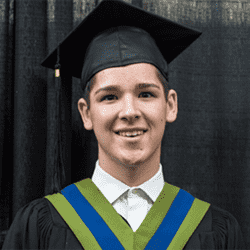 Nicholas, MLA grad
Many students are intimidated by the online aspect and not feeling motivated enough, however that all changes when your first textbook arrives in the mail.
Careers
This program can lead to rewarding employment in a health care setting. As an MLA, you will collect patient samples in a variety of settings, including:
Canadian blood services
Community health clinics
Hospitals
Insurance companies
Private labs
Program requirements
When applying to this program, please complete a Program Admission Form.
Admission requirements
Grade 12 or equivalent: order BC high school transcripts online through the BC Ministry of Education and have them sent directly to OL Admissions
Basic computer skills with typing at 40 words per minute (WPM) on a five-minute test: set up up a typing test through the TRU Assessment Centre
Certain admission requirements may be waived upon permission from the Academic Director or designate.
Additional requirements
Residency requirements
A minimum of 6 TRU credits (distance or on-campus)
Certificate requirements
18 credits total, as follows:
Optional course
MDLB 1611, Pre-Analytical Procedures for Histopathology (3)
Student Responsibility
Consult with your program advisor to ensure that the courses you select are appropriate for your program of study and educational goals. If you proceed otherwise, you may find that a course does not meet program requirements and its credits may not applied toward your chosen credential, or you may be required to pay an additional transcript assessment fee.
TRU provides liability coverage for students on unpaid practicum placements. Note that workplace safety insurance varies by province/territory. If you are a non-BC student, check regarding this coverage in your home province/territory.