Research Initiatives
PLIRC Research Database
The PLIRC Research Database is now openly available for researchers in the field of Prior Learning Assessment and Recognition (PLAR). The Database, which provides full-text versions of research-related documents, is intended as a tool for scholars, practitioners and policy-makers.
The Database was made possible by the donation of basic software from Observal, a database recently established by the European University Continuing Education Network (EUCEN), to the Canadian Institute for Recognizing Learning (CIRL) who in turn contributed the software to PLIRC. Thompson Rivers University has adapted the Database to PLIRC's specification and provides on-going financial support for the Database.
Populating the Database and on-going maintenance is the shared responsibility of PLIRC-affiliated researchers and the broader community interested in ensuring that this remains a high quality resource for the field of PLAR.
PLIRC Book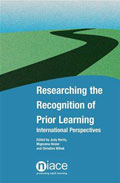 The book entitled Researching Prior Learning contains contributions from all PLIRC Board members. Edited by Drs. Judy Harris, Migonne Brieir and Christine Wihak, this book is an authoritative, up-to-date overview of international research practice in RPL aimed at researchers, policy-makers, post-graduate students and practitioners in education and other professional fields, especially those concerned with access, widening participation and work-based learning. It provides a comprehensive account of current research in the UK, Canada, Sweden, Australia, South Africa, the USA and other European Union (EU) and Organisation for Economic Co-operation and Development (OECD) countries. Scholars from each country or jurisdiction were invited to address key questions: Who is doing research? How are they doing it and why? What questions are being asked?
Designed to consolidate international approaches and identify research gaps, possibilities and emerging questions to support the development of innovative research and scholarship into the theory and practice of RPL over the next decade, this book lays the groundwork for the development of RPL as a community of scholarship.
The book is available for purchase from NIACE