Winners Teaching Excellence Awards
Teaching Excellence Awards for Open Learning Faculty Members
TRU-OL annually recognizes up to two individuals who represent the best qualities of our Open Learning Faculty Members. Award recipients receive an engraved plaque plus a monetary award towards professional development activities or materials of their choice related to their work as a TRU Open Learning Faculty Member.
We congratulate our Open Learning Faculty Member Winners!
Ron Lakes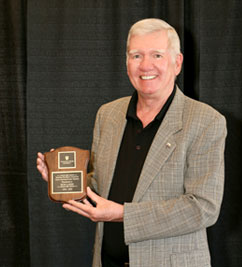 Ron Lakes follows a simple, yet effective (based on glowing student reviews) teaching philosophy; he puts himself in his student's shoes. As an Open Learning Faculty Member, teaching Business Administration and Management courses, Lakes always ponders, "what support would I require (if I were a student) in order to successfully complete and enjoy the course."
Lakes also believes communication is key to a student's success and ensures he maintains contact with each and every student at least once a month throughout each course. He not only strives to maintain contact but also to respond to questions and return assignments within 24 hours or less. "I strongly believe that responding quickly to questions and assignments goes a long way to maintaining, and hopefully increasing, a student's motivation to continue progressing through the course."
The vast majority of students in all of Lakes' courses seem to agree that he is (to paraphrase) an effective, supportive, efficient and approachable teacher. Here is a comment from one student that demonstrates just how successful and impactful Lakes' teaching philosophy is, "Mr. Ron Lakes is one of the most helpful, supportive and motivating teachers I have ever taken a course with. I feel privileged for having him teaching me."
John O'Brien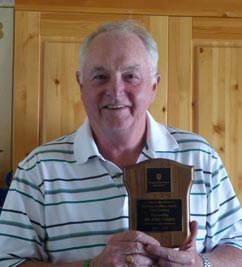 John O'Brien is an Accounting, Business and Mathematics faculty member in Open Learning with a wealth of business and distance teaching experience. He is innovative in his approach to teaching and genuinely cares about student success. With the goal of improving his course completion rates, in 2011 John overhauled and expanded his student feedback process. To make the concepts and formulas he teaches as meaningful as possible, he asks students to look at how they can incorporate them into their everyday lives.
John understands the importance of a timely response or a gentle nudge, and being sympathetic to students falling behind. Students appreciate the time he takes to listen to their questions and concerns, and the encouragement he offers along with solutions. John has led OL faculty workshops on motivating students as a way of sharing his passion for student success.
Keith Whitmore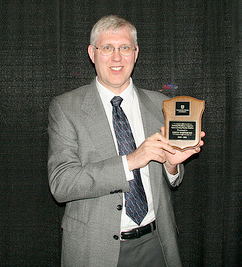 Keith Whitmore has a philosophy for his role as an Open Learning Faculty Member (OLFM) for TRU's Open Learning Division. That philosophy is for helping students and remembering that they are why OLFM's exist. Whitmore continues to enrol in courses not only to continue learning new things but also to reinforce the student perspective that allows him to connect with the students he tutors and empathize with them. He recognizes that there are many different students and many styles of learning and as such, that no one approach works for everyone. This enables him to be flexible and able to accommodate those differences.
Whitmore has an extensive list of thankful students whom he has successfully tutored and who appreciate his quick assignment returns and thorough feedback in addition to his availability for any questions or concerns they might have and his hard-working and dedicated attitude. By providing specific examples and suggested solutions to the problems his students were having with their assignments, Whitmore has instilled a sense of confidence in the people he has tutored, both in their own abilities and in the Open Learning Division itself.
Ann Pollock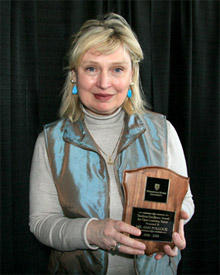 Ann Pollock is an art curator, writer, broadcaster, and educator. After completing postgraduate studies in Museum Management at the National Gallery of Canada under a Canada Council award, and producing the Jock Macdonald Retrospective exhibition and publication for that institution, she has been responsible for many national and international exhibitions and publications, both as Curator for the Vancouver Art Gallery, and the Fine Arts Gallery at UBC., as well as collaboratively with several other institutions including Presentation House Gallery, Istituto Italiano di Cultura, Western Front, and the Winnipeg Art Gallery.
Ann has acted as a curatorial consultant for public art projects with four installations in Vancouver, including an ambitious sculpture project by Tom Dean. Her broadcast features have been showcased on the CBC and ABC (Australia) among several other countries, as well as at writer's festivals and in The Malahat Review.
Ann has taught with UBC, SFU, and BCOU, plus lectured on projects for many institutions, and was responsible for developing and directing the department of convergent media for Sydney College of the Arts, Australia. She is linked to TRU where her course on creative and strategic thinking for TRU-OL received an international Exemplary Course Award in 2003 for writing, design, and teaching.
John Marasigan
An Open Learning Faculty Member since February, 1993, John Marasigan knows he can have a tremendous impact on his students' lives and this is a truth that has guided him since he entered the teaching profession in the 1960s as a secondary school teacher.
"The teacher is a catalyst for change, for growth, for appreciation of what is positive and beautiful both inside and outside of a person," says John. He adds, "This is how I regard each of my students — as a person with dignity, promise, uniqueness."
It is principles like these that have allowed John to view his chosen profession as more than a job with a salary, but rather as a "way of life; it is living itself."
But perhaps the true indicators of John's passion for teaching are from his students themselves. His students are people of a variety of ages and experiences, who are working through the various challenges of pursuing further education. Many appreciate how John has not forgotten what it is like to be a student and therefore is patient and tries to understand questions from the students' point of view.
"He answered emails very quickly and was always happy to hear from me on the telephone," writes one nominator, who adds John's "grading process was extremely fair," and "he would always give valid reasoning behind a grade or mark. He was also more than willing to discuss how the mark could be improved. I found I was challenged to get good grades, which improved my scholastic techniques for other classes as well."
John has completed eight (8) degrees and specializations. In July of 2008, John was honoured by TRU OL as the first recipient of the Open Learning Faculty Member Outstanding Service Award.