Student Awards
Neil Russell Student Leadership Award
The Neil Russell Student Leadership Award honours TRU students who have demonstrated leadership and have made outstanding contributions to TRU, their communities and/or the society-at-large. This award is given in recognition of Neil Russell, former TRU VP Student Affairs and VP Academic, for his dedication to student achievement and leadership.
Congratulations to Jessica Seeney, winner of the 2021 Neil Russell Student Leadership Award.
Jessica was nominated by Chelsea Corsi and Susan Butland and is recognized for her depth of character, integrity, and dedication, and knowledge of marginalized groups. She has contributed to the betterment of TRU as a Student Wellness Ambassador Team (SWAT) member and the community as a volunteer at numerous agencies.
More information about this award
The successful candidate will receive a monetary award of $1000 and will be honoured at the Distinguished Alumni Dinner.
Note: A student may not nominate himself/herself for this award. Nominators must be a faculty or staff member of Thompson Rivers University.
Application
A complete application package must include the following completed documents and be sent to Lolina Koopmans at lead@tru.ca no later than the first Wednesday in March by 4:00 pm.
Nominator Form along with two, 300-500 word responses to the information requested on the nominator form

Co-Nominator Form along with a 300-500 word response to the information requested on the co-nominator form

Nominee form along with a 300-500 word response to the information requested on the nominee form
TRU Peer Leader of the Month Recognition Award
The TRU Peer Leader of the Month Award recognizes one or two Peer Leader(s) per month from September to April of each academic year for contributions they have made to their mentees, peer leader group, the TRU community, and/or the broader Kamloops community. This award recognizes the diverse contributions made by peer leaders and rewards students who exemplify attributes such as passion, leadership, resilience, excellence, creativity, and empathy.
More information about this award
Application
If you are a Peer Leader Coordinator and have questions regarding nominating a peer leader, please contact Lolina Koopmans at lead@tru.ca.
Nominate a Peer Leader
TRU Peer Leaders of the Month
April 2021
Congratulations to Nico Bosworth, Orientation and Transitions Mentor, for being recognized as April's Peer Mentor of the Month! Nico has done an outstanding job balancing everything as an OT Mentor since September. He has taken a lead on virtual events - from Orientation to Speed-friending. Nico is kind, reliable, hardworking and an empathetic individual, who genuinely cares about helping others and being involved in the campus community. Be sure to congratulate him virtually!
March 2021
Urvi is known for her ability to lead a team of leaders. Within her team of Resident Advisors, Urvi has helped coordinate activities with each of her colleagues, building strong work and personal relationships with each, as well as taken on additional tasks like social media management, extra shifts, and programming. Through her excellent time management skills, Urvi has masterfully demonstrated how she balances schooling, her Resident Advisor role, as well as her own personal responsibilities. Urvi is a great support to TRU Residences and continues to drive passion and enthusiasm for her role as a Resident Advisor.
February 2021
Alex has involved herself with the Career and Experiential Learning department with many projects such as social media promotion, food donation distribution, and content creation. She stepped out of her comfort zone to participate in Facebook and Instagram lives and always made herself available to tackle last minute projects the team was working on. Alex is first to volunteer her time and challenge herself by learning new skills and does so with enthusiastic positivity and a big smile displaying a genuine earnestness to support TRU's students and community.
January 2021
Congratulations to Sarah Cowger of the Student Wellness Ambassador Team (SWAT), for being recognized as January's Peer Mentor of the Month. Sarah continually goes above and beyond in her role, specifically managing social media platforms with creativity, insight, and accountability. Sarah's dedication has resulted in a substantial increase in the Wellness Centre's followers and her content has been shared by other Canadian universities! It is Sarah's openness and perseverance that makes her valued member of the SWAT. Please join us in congratulating Sarah in the comments below.
December 2020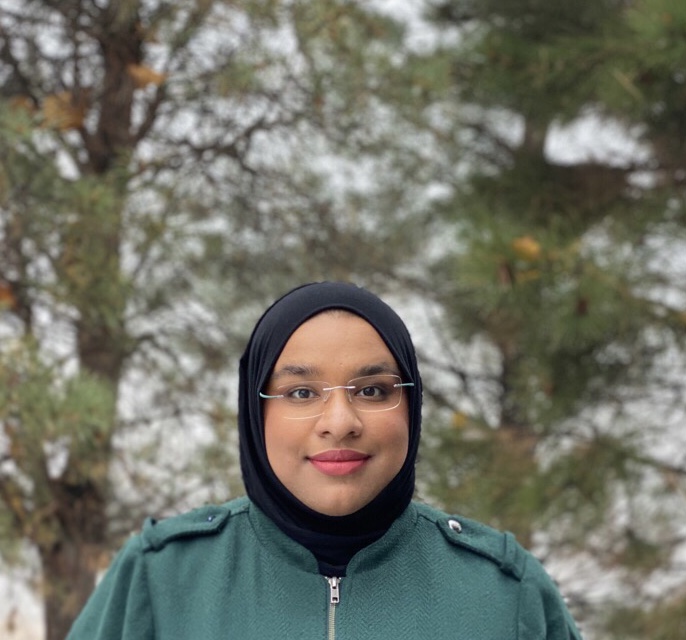 Amna is a deeply committed nursing student, storyteller and an all-around individual. Amna works collaboratively with other TRU departments to develop meaningful stories that interest students. This semester, Amna has taken the initiative on several projects, such as interviewing faculty to commemorate both Remembrance Day and Year of the Nurse and creating video resources for students. Amna is very keen about her work, and the Student Storytellers are grateful for the many bright ideas she brings to the table.
November 2020
Congratulations to Sara Turko, Safety Ambassador, for being recognized as November's Peer Mentor of the Month. As a Safety Ambassador, Sara carries out her work with consistency, professionalism and competence. When faced with extenuating situations, she follows the appropriate procedures rationally and thoughtfully to keep campus safe. Sara also goes above and beyond to communicate with her team members and coordinate responses to common challenges.The Office of Safety and Emergency Management values Sara's contributions to campus safety.
October 2020
Kayla exemplifies many of the attributes that make a great peer mentor, especially her willingness to go above and beyond when giving back to her TRU community. Kayla is a great mentor to new-to-TRU students and a fantastic leader within the O&T team. Kayla is keen to assist with any opportunities that come her way, such as planning programs and training fellow team members. Kayla is a kind and compassionate leader, and the O&T team appreciates her positive outlook.