Culinary Arts Menu
Chef in Residence
Jared Summers is the Executive Chef and Partner of The Noble Pig Brewhouse and Underbelly restaurants, both in downtown Kamloops. Cooking professionally for over 25 years, Jared brought his passion for local, seasonal and responsibly sourced ingredients to Kamloops in 2011 to join the Noble Pig team.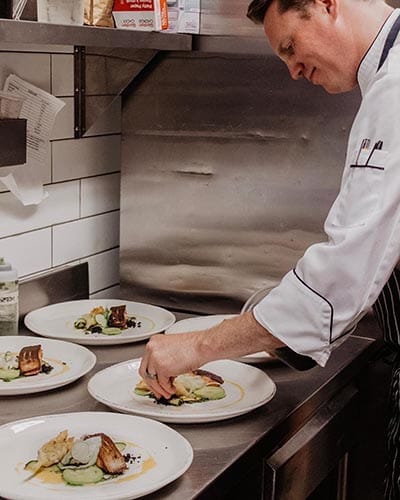 Since then, both The Pig and Underbelly have been recognized as leaders in the BC interior food scene. They have received multiple awards, including Business of the Year and Service Provider of the Year at the 2022 Kamloops Chamber of Commerce Gala Awards. Jared continues to strive to create fresh, vibrant and honest cuisine while celebrating local ingredients and the people behind them.
Jared started teaching with TRU Culinary Arts in the fall of 2022. From the first week he was an absolute natural with the students. Our Accolades instructor Adam Florence became a dad and decided to take parental leave for the winter semester which left an opening for our first Chef in Residence while he is away.
We are excited to see what fresh ideas Jared will bring to Accolades guests and hospitality students serving them. It's going to be an amazing experience all round.