Latest Updates
Below are recent newsletters and announcements, related to the return to campus and COVID-19 safety, that are relevant to TRU students.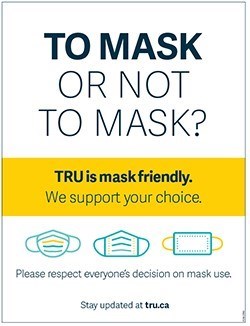 Update on mask mandate
March 11, 2022
Dear TRU Community,
Provincial Health Officer Dr. Bonnie Henry has announced that BC is lifting its mask mandate for indoor public spaces.
TRU is following the provincial health guidance and is transitioning to a mask-optional environment. Starting Monday, March 14, employees, students, and members of the public are no longer required to wear face masks on our campuses.
Although masks will no longer be mandatory, those who feel they need the additional layer of protection are encouraged to continue wearing them. Please be kind and supportive during this sudden shift for us all and respect the individual right of those choosing to wear a mask — or not.
TRU is mask friendly. We support your choice.
We will be updating our web pages and signage on campus in the days to come to reflect these changes. Thank you for everything that you've done to help keep our TRU community safe.
---
Post-secondary town hall with Dr. Bonnie Henry and Dr. Réka Gustafson
Feb. 14, 2022
A recording is now available of the virtual town hall meeting held Feb. 9 with representatives from the Office of the Provincial Health Officer, the BC Centre for Disease Control, the Vancouver Coastal Health Authority, and BC's COVID-19 immunization program. The call was held to discuss current public health guidance for BC's post-secondary institutions. The video description includes details on the Q and A.
---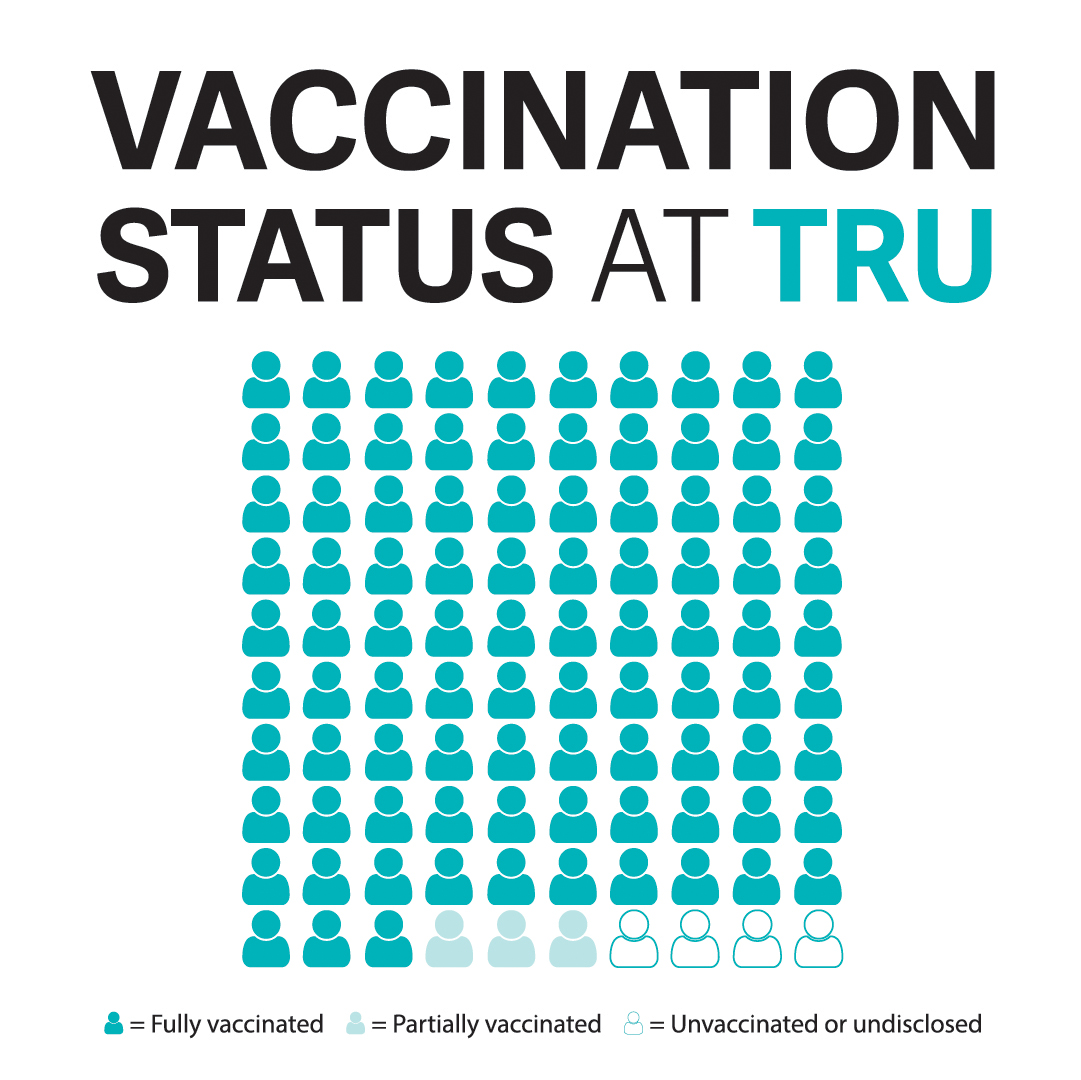 TRU community vaccination rates as of Jan. 28, 2022
Jan. 31, 2022
Knowing that vaccination is the most effective action to prevent the spread of COVID-19, TRU continues to require that all faculty, students and staff self-declare their vaccination status. New members of our community who joined TRU this semester have been asked to self-declare. As of Jan. 28, the response rate for our on-campus faculty, staff and students is 90 percent. Of those declarations, 93 percent indicated they are fully vaccinated (95 percent for faculty/staff and 92 percent for students). Despite a slightly lower response rate, which reflects that we are still collecting data from our new members, our total vaccination rate for our on-campus community is up from 92 to 93 percent. To self-declare or update your status, see our Vaccine Declaration page.
---
Plans for January 2022 – Jan. 5 update
Jan. 5, 2022
Dear Students,
Weyt-kp,
In acknowledgement of Dr. Bonnie Henry's update on Tuesday, Jan. 4 and the questions it raises amongst our community, TRU remains committed to delivering in-person learning and supporting in-office work this semester. The Provincial Health Office continues to strongly encourage post-secondary institutions to continue with their planned face-to-face programming.
As such, we expect our faculty to proceed with delivery of their course material as was approved prior to the winter break, and for our core student services to be in-person as much as possible.
We each share responsibilities to keep our community safe. Please get vaccinated if able, including your booster when it's offered. Masks are still required in all indoor settings. Medical-grade masks are required in and provided for medical, clinical and research settings (some scenarios require N-95 masks, otherwise non-medical masks are appropriate). All asymptomatic students, faculty and staff are welcome to visit our free on-campus rapid testing clinics. Even if your symptoms are mild, you are strongly encouraged to stay home and monitor your symptoms. Call 811 or visit the BC Centre for Disease Control website for more information.
Thank you for your continued flexibility, patience and understanding as we resume on- campus teaching and learning during this uncertain time. We look forward to welcoming you to campus next week and supporting you to have a safe and successful semester.
Kukwstsétselp,
Donna Murnaghan
Provost & Vice-President Academic (Interim)
---