Media Production Services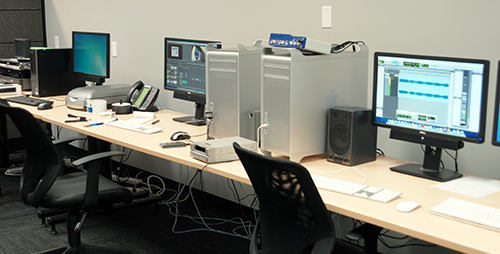 Digital audio/video production and editing
Media Production Services has multiple stations available for editing your media projects here on campus. There are three Mac G5 computers and one PC. We have iMovie, iDVD, Final Cut 5 and X, Adobe Premiere CC, Avid Media Composer 6.1 and Windows MovieMaker software for video edting. For audio editing we have Pro Tools 10 and 11 and Adobe Audition CC.
Book a time so we can assist you in completing your final project. With some instruction you could be editing your own materials. Or, if the project is more complex, we can do the editing with/for you.
Please contact us well in advance of your production deadline to ensure workstations will be available for you.
Video and audio recording equipment is available to loan out from Media Services .
We also do:
Webcasting of live events
Video to web
Special event production
Graphic design
Digital format conversions
Tape to CD/DVD transfers
CD/DVD duplication
Digital photography
Photo and slide scanning
Design and media production consultation