Health & Wellness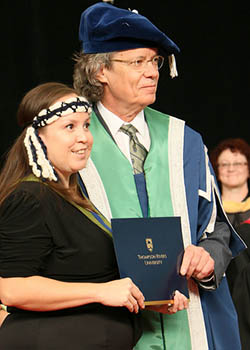 Weytk! Welcome to TRU. At TRU you will find small class sizes, personal attention and practical learning experiences in every program—all on a beautiful campus located in the Secwepemc territory of Kamloops, BC. We are committed to creating an environment that encourages students to develop a network of supports and friendships.
TRU offers a variety of services that support students through their social, personal and academic experiences. This support is accessible to all students and it is often the key to success. We invite and encourage students to take advantage of these resources.
University of Choice for Aboriginal Students
With 10 percent—roughly 1,000 Aboriginal students on campus—it is clear that TRU is the University of Choice for aboriginal students. Whether upgrading high school courses, or completing a trades or degree program, we focus on student strengths and offer a variety of services to help students succeed in their chosen program. It is our aim to include Aboriginal culture, history and knowledge in curricula, research and classroom activities.
Download

Quick Guide to Student Services
All in one handy PDF: Academic advising, counselling, wellness, accessibility services, Aboriginal services, student awards, supplemental learning, student success courses, writing centre, and career education.