Peer Mentor Programs
Peer mentorship programs are a way for you to develop your skills and engage with campus life while supporting your peers.
In peer mentor programs, you have an opportunity to access valuable training, partake in professional development, gain hands-on experience, and give back to your peers and campus community. These positions also look great on a resumé and are a lot of fun!
If you are interested in volunteering for one of these programs, please contact the program coordinator for more information.
Academic and Learning Support
Are you passionate about learning and helping others? Do your friends often ask for your help with papers and assignments? Do you want to explore what tutoring and facilitating are all about? How about working on your coaching, tutoring and leadership skills?
Math Centre Tutors
PACE Leaders
Supplemental Learning Leaders
Writing Centre Tutors
Personal and Career Development
Are your friends often confiding in you and turning to you for advice about life and career? Are you keen to learn about health, wellness, and even career paths? Do you like planning for the future and maintaining a healthy lifestyle? How about learning more about how you can support others' well-being and life's journey?
Career Mentoring Program
SWAT Student Wellness Ambassador Team
Study Abroad Ambassadors
TRU Residences Resident Advisors
TRU Rez Resident Advisors
Engagement and Campus Life
Are you the go-to person when your friends want to know what's happening? Do you like being connected? Do you like marketing and promoting? How about honing your communication, interpersonal and marketing skills?
Aboriginal Mentors
The TRU Aboriginal Mentor Program supports entry level Aboriginal students in their transitions to post-secondary student life. This is done through matching mentees with an Aboriginal mentor who will work one-to-one and/or in a group setting and through participation in various events, workshops, and activities. Aboriginal mentors can come from various backgrounds and programs of study, typically with at least 2 years of post-secondary experience. Selection, training, and on-going support is given by the Aboriginal Mentor Coordinator. This program is meant to enrich the experience and education here at TRU for students.
Contact
Vernie Clement, Aboriginal Mentor & Community Coordinator
Email: vclement@tru.ca
Phone: 250-852-7838
In person: Cplul'kwt'en (GP 226, House 5)
Web page: Aboriginal Mentors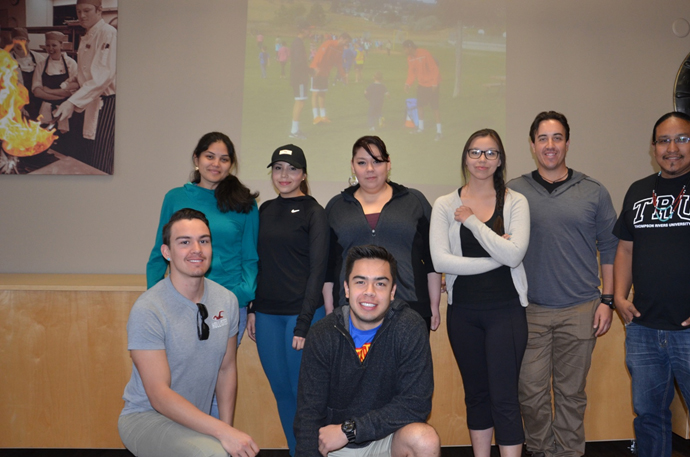 Orientation and Transition Leaders
Orientation volunteers take place in many aspects of the Orientation process, including setting up, managing the flow of events, and largely guiding and talking with new-to-TRU students. Whatever you're interested in, there's something for you! Volunteering allows you to meet and share your stories with these students, but also build your own skills and experience in volunteering. You have the opportunity to connect with new students who can learn from your experience at TRU. Recruitment takes place in March of each year in preparation for the fall Orientation, and all participants receive a certificate of recognition.
Contact
Julie Taylor, Orientation and Transition Coordinator
Email: orientation@tru.ca
Phone: 250-371-5942 or mobile: 250-879-0844
Social Media Ambassadors
Contact
Suraj Shah
Phone: 250-371-5528
In person: Old Main 1155
Future Students Ambassadors
Student Recruitment Ambassadors connect with future students who are exploring their post-secondary options. Ambassadors bring TRU to life by sharing their TRU story and helping to make the post-secondary search and decision process easier for the future students. Ambassadors lead campus tours; assist with recruitment events such as Open House; and participate in student call campaigns and online information sessions. Ambassadors develop their public speaking, communication, and leaderships skills and gain volunteer hours that can be used on a resumé. Volunteer opportunities are available to students in any year of study and required commitment varies by availability.
Contact
Holly McLean, Manager, Student Recruitment
Email: hmclean@tru.ca
Phone: 250-828-5006
In person: Old Main 1468