Business Menu
SoBE Student Associate
The School of Business and Economics (SoBE) Student Associate program is designed for a select group of business students to help enhance the SoBE student experience on and off-campus.
We are looking for SoBE's Student Associates (SSAs) to provide key support during SoBE events, produce engaging content on SoBE's social media pages, and whatever else possible to create a holistic and engaging experience for our student community on campus and around the world.
We encourage students with a strong academic record, critical thinking skills, communication skills, organizational skills, and leadership skills to apply. Upon completion of the program, SoBE Student Associate will receive a financial award, and gain professional skills that will aid them in the future.
SSA duties may include:
Social Media
Connect with faculty and students to interview them for stories (updates on research, special achievements).
Complete 1 blog post per month and promote it on social media in creative formats, including graphics and video/audio
Provide content for 1 'day in the life' social media takeover during the semester
Maintain a personal presence on Twitter, Facebook, Instagram, and LinkedIn, and be comfortable responding to inquiries, questions, and discussions as directed by SOBE Supervisory Staff, (i.e. hashtags, branded pages, and incoming student groups)
Provide content for important days and events around campus
Attend other SoBE and TRU events and help promote them on social media
Events
Help generate ideas for and coordinate monthly SoBE events
Provide assistance for SoBE events planned by SoBE faculty and/or staff
Connect with SoBE-related TRUSU Clubs
General:
Work closely with staff, faculty, other SSAs
Relay questions, concerns, and ideas to the SSA Coordinator, Communications & Engagement Coordinator, and Events & Marketing Assistant.
Attend bi-weekly, 1-hour meetings with the SoBE SSA Team
Attend a monthly one-on-one meeting with the SOBE Supervisory Staff, where you can discuss ideas, feedback, and receive coaching
Communicate with the SoBE SSA Team via email, MS Teams, and in person
Complete a bio for the TRU website and SoBE social media
Use your existing connections and your networking skills to build and strengthen SOBE's partnership with clubs and other organizations
Uphold TRU's COVID-19 guidelines and maintain professional conduct within TRU and the Kamloops community
Provide assistance with other duties as requested by the SOBE Supervisory Staff
Skills and Qualifications
Must be a full-time student (minimum of nine credits undergrad courses or six credits graduate courses) at TRU for the semester appointed as SSA
Must maintain a good academic standard throughout the semester
Be able to commit to 65 hours over the semester which may include up to 10 hours in a given week (as discussed with your supervisor ahead of time)
Demonstrated experience with event planning and/or
Active social media presence and experience with digital publishing platforms, including but not limited to, Facebook, Twitter, Instagram, LinkedIn, and Youtube. Bonus if you are active on WeChat.
Basic knowledge of social media, graphic design, photography, and video production
Strong interpersonal, verbal, and written communications skills
Project management skills such as organization, file, and document management T
Training (Mandatory)
You must attend a minimum of 7 hours of training that will be provided (details to be shared with the successful candidate(s)
Benefits and Opportunities
Financial award of $1,000
Increase exposure to TRU faculty, alumni, and the business community
Professional development (including a recommendation letter upon request)
Make an impact as a voice of TRU and influence prospective students' decision to apply and attend TRU
Become a SoBE Student Associate
Recruitment of SoBE Student Associates is now on for the Winter 2022 Semester. Apply here
For more information about becoming a Future Student Associate, email the SoBE Communications and Events Office at SoBEevents@tru.ca.
Fall 2021 SoBE Student Associates
Stephanie Waters
Stephanie is a third-year BBA student, with a major in Supply Chain Management and minor in Project Management. She has a passion for event planning and bringing representation to organizations that aid minority communities. Outside of her studies, she also works in Public Service and Procurement Canada where she connects with a wide demographic of suppliers and organizations to assist them in becoming a supplier of the Federal Government.
Her advice to students is "to make the most of the many services offered by TRU to help you be successful. Whether that be the Math, Economics, and Writing help centres, Accessibility services, or the office hours provided by faculty. These programs are in place to support students, which means they are there for you!".

In her free time, she enjoys exploring the outdoors of British Columbia with her Border Collie, Rally.
You can connect with Stephanie on Facebook and Instagram.
Genovive Gboun
Genovive Gboun is a second-year Post-Baccalaureate student in Supply Chain Management. She is passionate about event management and activities that promote culture. She has experience in organizing multicultural events, training, and capacity building that empowers youths and young women.

Her advice to students is "to see every opening as an opportunity to serve humanity, contribute to building a diverse, strong, and vibrant university community and excel in any chosen career".

Genovive loves research and can be found on campus at the lab, reading.

You can connect with Genovive on Facebook and LinkedIn.
Dayna Koroll
Dayna is a second-year MBA student currently working on her thesis. She is passionate about sustainability and her current research is on ethical and sustainable business practices of international supply chains. This fall she will be helping engage students on social media about SoBE events and graduate studies. Dayna aims to bring creative and innovative ideas forward to help promote brand awareness of TRU's Graduate program and provide tips and tricks to students to excel in their academic studies.

Dayna's advice to her peers is: "Utilize on-campus services, like the Wellness Centre, to ensure you're keeping a good balance of mental and emotional health during these challenging times."

On campus, you can usually find Dayna at the House of Learning Library or in Old Main working on assignments or chatting with friends.
You can connect with Dayna on Facebook and Instagram.
Nishtha Malhotra
Nishtha is a first-year student from India and is completing a Post-Baccalaureate Diploma in Marketing. Nishtha is very active on campus as one of the current Social Media Ambassadors for TRU World and also as a member of the TRU Marketing club. She is a blogger, a writer, and a content creator by hobby.

Nishtha's advice to her peers is "The only way you'll be able to reach your best potential, is by not limiting yourself. So, do not hesitate or be doubtful about what you can or cannot do. Go out, put your best foot forward and transform into a better version of your life."

If you're looking for Nishtha on campus, you'll either find her at Starbucks with her Mocha Cookie Crumble in Old Main or at McGill Residence.
You can connect with Nishtha on LinkedIn and on Instagram.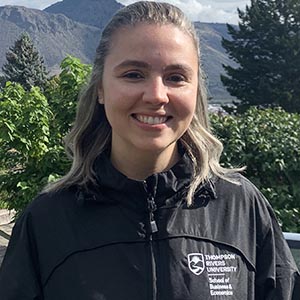 Michelle Amaral
Michelle is a second-year Post-Baccalaureate in Human Resource Management student, as well as the Co-President of the Human Resource Management Club, and a CPHR Student Ambassador. She was also previously a Social Media Ambassador for TRU World.

Michelle is originally from Brazil but started her TRU journey studying virtually from New Zealand. Michelle loves meeting students, sharing her experiences, and providing support to help students grow. One of her favourite books is Dare to Lead by Brené Brown, and her favorite quote is "Daring leaders work to make sure people can be themselves and feel a sense of belonging." And that's exactly what she tries to do when interacting with people!

Michelle's advice to her peers is: "Always have the courage to start something new, and don't wait until you're 100% ready. You're capable of doing incredible things, but you must believe in yourself. Dare to live the life of your dreams."

When she is on campus, you can find Michelle at Starbucks grabbing a coffee with friends or working out at TCC.
You can connect with Michelle on LinkedIn and on Instagram.
Karim Rashik
Karim is a MEEM graduate program student who is in his final semester. Originally from Bangladesh, Karim loves studying at TRU, especially in the School of Business and Economics. He has been involved in various TRU club activities, including helping to plan this year's MBA games, and is excited to be back on campus. Karim loves meeting new people and is always ready to help.
Karim's advice to his peers is: "Explore more and don't be afraid of taking calculated chances. Engage more in exploring yourself and take the opportunity when it presents itself."
If you are looking for Karim on campus, you will likely find him volunteering at an event or planning soccer games with his friends.
You can connect with Karem on Facebook and Instagram.
---
More information
Keisha Morong
Coordinator - SoBE Graduate Programs, Student Services, and Advising
kmorong@tru.ca