Thank Your Donor
Congratulations!
Many of the bursaries, scholarships and awards students receive at Thompson Rivers University are made possible through the generosity and kindness of our numerous donors. Most donors appreciate knowing first-hand that their donation is having a positive impact in the life of a real student.
On your behalf, we will forward a thank-you card to the donor who contributed your award, letting them know the impact that the award has had in your life. If you are a recipient of multiple awards, please use a separate card for each donor contact. Additional cards are available at Student Awards & Financial Aid.
Please take a few minutes to hand-write a thank you message in the blank Thank You card provided.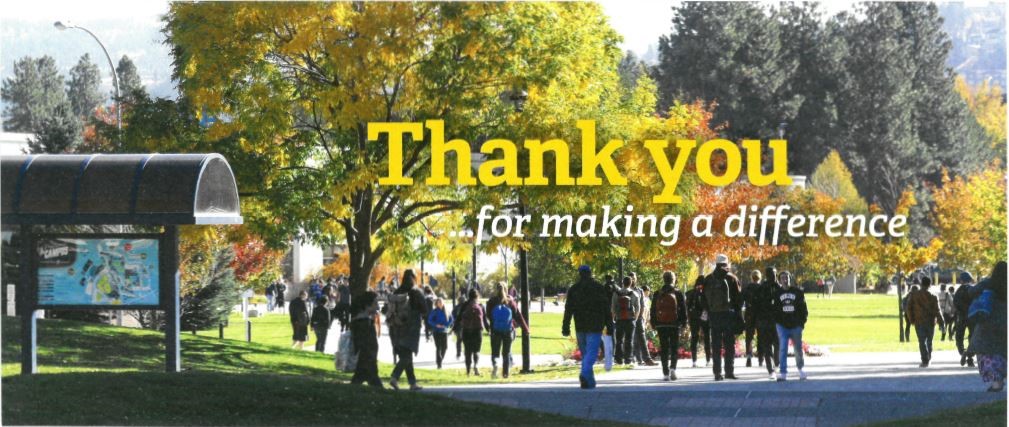 Things you can include:
Your name and the name of the specific award (mandatory)
Information about yourself: program of study, hometown, family background, etc.
Why you picked TRU
What winning this award means to you in helping you start or continue your university education
Your future educational/career goals
Additional Tips:
Be sincere.
Use formal salutations (Mr., Mrs., etc.).
Take care to write legibly.
Ensure the notecard is the correct way (the Thank You logo is the front of the card).
Be sure to sign your name, as well as print your name underneath it.
Don't be afraid to show your personality.
Say THANK YOU again.
Before you submit your card, did you:
Spell the donor's name correctly?
Include the title of the specific award?
Made sure you had no spelling or grammatical errors?
To help students we have provided two Thank You Samples. These samples are only a guide to help you compose your message; your message does not have to follow this format.