Arts Menu
Student Success
Communication courses 'just the perfect ones'
Like many university students, Taylor Rae spent her first year exploring. She liked the sound of some of the communications courses, and discovered they were just right for her.
"Out of all the courses I took — communication, journalism, tourism courses — they were just the perfect ones."
Taylor is now in her fourth year, majoring in communication, taking the public relations stream. She's grown to have a strong appreciation for TRU's instructors and small classes.
"I've rarely had a teacher here that I didn't find that I enjoyed their classes, or that their teaching style didn't work for me. The class sizes are nice for sure. You get to learn a lot and it's very hands-on, which is how I learn best."
What really makes TRU stand out for her is the high international student population.
"You get to see so many different cultures. I did a ton of group assignments with international students and they were quite different in what they brought to the table."
Taylor is not sure yet whether she wants to pursue a career or post-graduate work, but either way she feels she is well prepared.
"This university in general offers so much for all students that it's crazy not to have a great resumé when you graduate."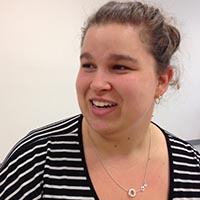 It's crazy not to have a great resumé when you graduate. Taylor Rae