Geography Alumni: Where Are They Now?
Are you one of our alumni?
Tell us what you are doing, and we'll add your story.
Fill in the form
Katryna Barone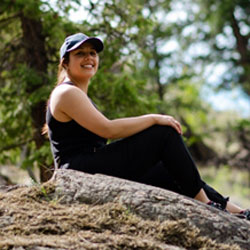 Born and raised in Kamloops B.C., I graduated from TRU's Bachelors of Arts program with a major in geography in June 2019. During the final semester of my degree, I got the chance to teach a lab for the Introduction to Physical Geography class. I also got to work as a Teaching Assistant and Work-Study student for the geography department the semester before that.
Through TRU's co-op program, I spent two summers in Revelstoke B.C., with Parks Canada as a Bear Awareness and Education student. I worked in both Mt. Revelstoke and Glacier National Parks, and got to live among the mountains at Rogers Pass. This was a fantastic opportunity that allowed me to work outside every day, hike every weekend, and make new friends from all across the country.
After graduating in June, I took off on a cross-Canada road trip with my best friend (and fellow geography graduate). We spent four months living in a minivan, and drove as far north as Kluane National Park in the Yukon Territory, and as far east as Cape Spear, Newfoundland. Now back home, I am actively looking for work in my field.
Education: Bachelor of Arts in geography and Environmental Studies from TRU (2019)
Samantha Biggs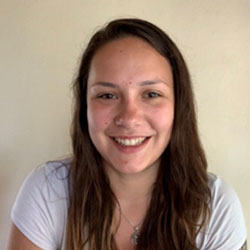 I was able to get into the Ministry of Transportation and Infrastructure through the Technician Entry Level (TELP) program. I was offered a job in the lovely city of Vernon, BC. After the thorough hiring process, I was placed in the Development Services department of the Ministry, which is any Human Geographers' dream.
My day-to-day work deals with issuing permits alongside any Highway in my district, facilitating subdivisions in areas outside of municipalities, and assisting in the development of areas surrounding our Highways. There is a wonderful mix of working from a desk and going out into the field to look at the proposed development.
Advice to future graduates: My advice is to listen when alumni come tell you about opportunities, such as programs like TELP. I was able to beat out hundreds of other applicants by listening to the people who have done this before and utilizing the resources that were available to me.
Education: Bachelor of Arts in geography and Environmental Studies from TRU (2019)
Employment: Assistant Development Services Technician, Ministry of Transportation and Infrastructure
Paige Kinley Hauser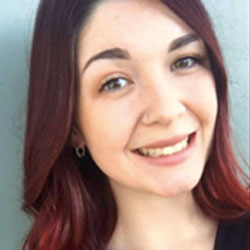 I currently live in Merritt and commute to Kamloops for school. I graduated with a degree in Physical Geography and Environmental Studies. I was accepted into the Bachelor of Education program this September and will graduate as a certified teacher in June of 2021. I am qualified to teach Social Studies as my teachable subject in a high school setting because of my Geography degree.
My experience in Geography gave me an appreciation for teaching students about the natural environment, mainly how to preserve it. I also believe outdoor education is an essential skill a child should acquire. I will try to take learning outside the classroom whenever possible.
I plan on pursuing a Master's in Education once I have a few years of teaching under my belt.
Advice to future graduates: My advice to future geography graduates is that it is okay not to have it figured out. I changed my career path in year three. There are plenty of options out there, try to narrow in on something you love, and your career will develop naturally.
Education: Bachelor of Arts in geography and Environmental Studies from TRU (2019); currently enrolled in the TRU Bachelor of Education Program.
Selena Schut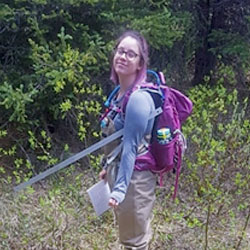 I am currently pursuing a Master of Science at the University of Saskatchewan. My research is based out of Kananaskis Country in Alberta and looks at the relationship between groundwater and peatlands in the mountains. I get to hike for my research during the summer, but I still enjoy going on hikes and spending time at the lake.
Advice to future graduates: Take risks. Apply for the job that requires you to move, send the email to the professor at another university to ask about opportunities. Being over-eager can be a good thing.
Education: Bachelor of Arts in geography and Environmental Studies from TRU (2019; Physical Geography Major, English Minor), currently pursuing Master of Science at the University of Saskatchewan.
Nathan Bymoen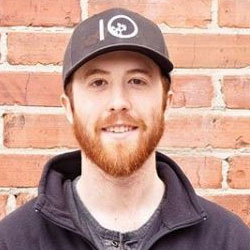 I currently live and work in Kamloops. My job as a project manager at Lightship involves some travel. Still, I spend most of my time in Kamloops with family and friends, balancing work and recreational activities such as hockey and music. My professional role mostly focuses on helping organizations implement web mapping and light-weight GIS systems to aid in data collection, field operations, and emergency management. It's been a fantastic employment opportunity, allowing for team-based work that relies on personal accountability. I've had the pleasure of meeting and working with a large number of people from a variety of industries who all see the value in GIS and want to develop an increased geospatial awareness within their jobs.
Advice to future graduates: Advice to future graduates: My best advice is to use time wisely - especially if you are lucky enough to find 'extra' time throughout the day. My previous jobs didn't always apply directly to my professional or personal interests. Still, it was surprising how often there were opportunities to develop both social and technical skills when I made myself available. When seeking jobs, I also reached out to several local professionals who were working in positions that I was interested in - they were always more than happy to let me take them for a coffee and ask them questions. In terms of grad school, it is something that I am interested in but simply haven't considered seriously at this point in my life. I consider myself fortunate to be working in a job that I enjoy, and I'm looking forward to seeing how I can make the most of the next opportunities it provides.
Education: Bachelor of Arts in geography and Environmental Studies from TRU (2018)
Employment: Project Manager at Lightship Works
Ty Helgason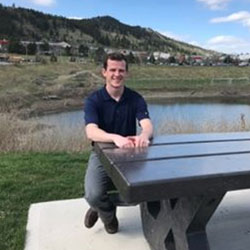 My first job was working for the city in Fort St. John, and I currently work for the city of Kamloops on issues related to Housing and Homelessness. I monitor the progress made with each of the 11 sub-projects that are currently receiving funding from the federal government. The city receives two funding streams, one to alleviate aboriginal homelessness and the other for designated community homelessness. Funnily enough, one of my fellow TRU Geography alumni, Jen Casorso (2005), also worked in this position before myself.
Though I just recently graduated, I still miss university, but being able to work on campus at the Tournament Capital Center has allowed my lifestyle to remain relatively similar. I currently have no plan to return to school for my masters; it is not entirely out of the picture.
Advice to future graduates: I encourage future geography graduates to look towards municipalities when looking for a job after school. They provide excellent summer jobs and entry-level positions that your geography background will benefit greatly.
Education: Bachelor of Arts in geography and Environmental Studies from TRU (2018)
Employment: Project manager for Housing and Homelessness in the City of Kamloops
Claire Irvine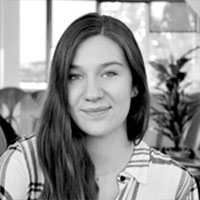 I moved to Kamloops in 2007, after having grown up in the mountain town of Revelstoke BC. With love for small cities, I have only ever worked for locally owned businesses. Through this, I have found that a lot of "saving the world" begins in our community. In my personal life, I am a climate change activist and am passionate about living a low-waste lifestyle and encourage others to take simple steps to reduce their trash-print as well.
Advice to future graduates: From my experience and limited knowledge, my advice would be to make yourself known by your professors (hopefully on good terms). Ask them lots of questions. Try doing a Directed Study with a professor - working one on one with them creates rapport for when you need a reference. Don't be afraid to ask silly questions.
Moreover, if you need momentum to complete things, consider applying to a Master's program as soon as you can before graduating. But if you can create momentum on your own and want to take some time to breathe between degrees, do that. There is no "wrong time" to learn.
Education: Bachelor of Arts with Honors in geography and Environmental Studies from TRU (2018), Certificate in Leadership in Environmental Sustainability
Employment: I have taken these past ten months to rest after 5.5 years at TRU and am currently a manager at a local brewery. I will be pursuing a Master of Science in Environmental Studies.
Joey Tasker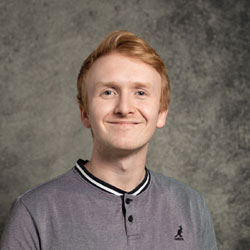 Currently, I am completing the Technician Entry Level (TELP) program for the Ministry of Transportation and Infrastructure, working as an Operations Technician in Fort St. John, BC. In my role with the Ministry, I help to ensure the Road Maintenance Contractor is fulfilling their contract requirements with the Government of BC. I do this by monitoring and reporting road conditions and identifying areas of concern, while often auditing the contractor for their previous work completed to ensure quality standards are being met.
Advice to future graduates: I highly recommend looking into the TELP program. It allows new grads to be immediately put into a good government job where you learn so much in a working environment, and get to work with many great and knowledgeable people who want to see you succeed. The interview process is long, but lots of fun. In many interviews I had, I believed that being friendly, confident in your abilities, and professional seems the most effective strategy in moving forward towards being offered employment.
Education: Bachelor of Arts in geography and Environmental Studies from TRU (2019) with minor in Environmental Economics and Sustainable Development
Employment: District Operations Technician, Ministry of Transportation & Infrastructure
Sarah Cooke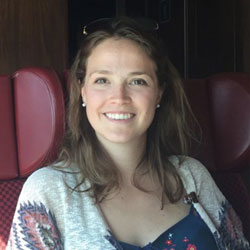 I live in Kamloops with my fiancé, Christian. I started the current job I am in last January (2018) as a full-time Spatial Data Analyst. My job consists of many things, but I'll try to give you the gist of it. I was hired to primarily support the creation of a GIS framework for the health, safety and permitting side of the business. One of my main tasks is to digitize licensed mine areas for the mines of BC and to come up with a functional spatial database to hold this information and tie it back to the tabular data we already had. I've had a hand in standardizing the spatial data that gets submitted to the ministry. I facilitate some GIS training for our staff all over the province, particularly the mine inspectors, so that they understand how GIS can support their work and how it can be utilized out in the field. I create web maps and apps and get to write some Python and SQL code every once in a while.
Education: Bachelor of Arts in geography from TRU with Co-op distinction (2016) and Bachelor of Science (Geomatics) from the University of Gävle in Sweden, certificates in Global Competency and in Leader in Environmental Sustainability
Employment: Senior Aggregate Resource Specialist with the Ministry of Transportation & Infrastructure
Chad Lishman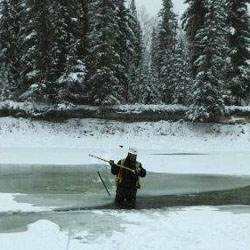 I started my career working for TRU as a graduate student in the Master of Science Environmental Science program, with a focus on hydrology. I worked for two years as a lab instructor and research scientist studying forest hydrology. I worked for Kala Geosciences Ltd. as a technical assistant in Kamloops for approximately one year.
In May 2012, I moved up to Fort St. John to work as a project scientist for Eco-web Ecological Consulting Ltd. I have worked on various environmental projects for clients that include academic (universities), First Nations, government ministries, the oil and gas exploration industry and private companies.
Throughout my career, I have been involved in the hydrology field, conducting numerous surface hydrology projects, such as academic forest hydrology research, watershed modeling, throughfall and interception loss modeling, rainfall and evaporation modeling, stream surveys, hydrometric surveys and fish and fish habitat assessments.
Also, I have conducted groundwater investigations such as yield tests, installation of groundwater monitoring wells, monitoring programs, wellhead protection programs, chemical assessments, water quantity and quality. I have also delved into contaminated sites, onsite wastewater disposal systems, Schedule A's and pre-site construction projects.
Currently, my role as the supervisor for the hydrological division allows me to be involved with a broader variety of projects, including fish and fish habitat assessments, hydrometric surveys, environmental monitoring, watershed analysis, water licences, Section 8's and 9's, developing zero-withdrawal thresholds, stream rehabilitation and bio-engineering.
I received my Professional Agrologist (P.Ag.) designation with the British Columbia Institute of Agrologists in November of 2012.
Education: Bachelor of Arts in geography from TRU (2009) and Master of Science in Environmental Science from TRU (2015)
Employment: Hydrological supervisor with Eco-Web Ecological Consulting Ltd.
Steven Lee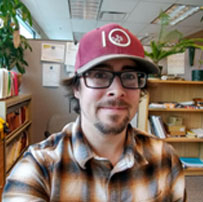 I've lived in Kamloops since 2003 and am lucky to have been able to start building a career at home. After graduation from TRU I temporarily worked as an environmental scientist with Golder Associates in Edmonton. I'm currently in my fourth year with the Ministry of Transportation here in Kamloops. I spent my first three years in a Project Management role. In late 2017 I transitioned into our Geotechnical and Materials Engineering department. My current role is to explore the province in search of quality aggregates to be used on our road construction projects. Once we've discovered and tested the material, I then manage the development of the land into gravel pits. I'm lucky to have a great blend of both fieldwork and office work at my job. I feel privileged to be a part of this Ministry, as I'm constantly learning new things from my colleagues while assisting in the delivery of major infrastructure improvement projects that are close to my home.
I'm currently involved in several of the highway widening projects between Kamloops and the Alberta border on the TransCanada Highway. Every day at work is different, and I look forward to managing some of my own projects in the future.
Advice to future graduates: I strongly encourage students to participate with TRUGS both as a learning opportunity and on a social level. I've been fortunate to re-connect with former classmates who are now colleagues or industry associates. The relationships I made during my time as a student have been instrumental in my career development.
I'm proud to work as a public servant and I encourage all undergraduate students to consider pursuing employment with the government in the future. The ministry offers an outstanding work/life balance and a very comfortable work environment to its employees.
Education: Bachelor of Arts in geography from TRU (2014) and Bachelor of Science (Geomatics) from the University of Gävle in Sweden
Employment: Senior Aggregate Resource Specialist with the Ministry of Transportation & Infrastructure
Amanda Aldrich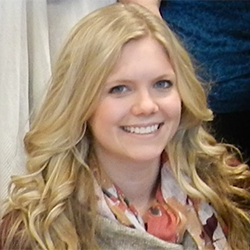 I currently live in beautiful Kamloops and work in the Thompson Nicola District with the Ministry of Transportation and Infrastructure as a development approvals technician. I have been with MoTI since 2012 when I was hired through the Technician Entry Level Program. The ministry plays an integral role in promoting economic growth while meeting the social needs within the province of BC through the development approvals program, which it administers.
My position is responsible for maintaining and rehabilitating public highways, ensuring development meets the land use and zoning bylaws. It ensures suitable access, highway dedications or construction are obtained for subdivisions in rural areas. I work co-operatively with other levels of government and network with other ministries to ensure MoTI policies, legislation and regulations are met. Many of the skills I use on a daily basis are built from the foundation of what I learned during my time at TRU working towards my Batchelor of Arts degree with a major in geography.
Working in public service has offered me many opportunities to explore my interests, further my education and grow in my career.
Education: Bachelor of Arts in major in geography from TRU (2012)
Employment: Development approvals technician with BC Ministry of Transportation and Infrastructure
Megan Cullinane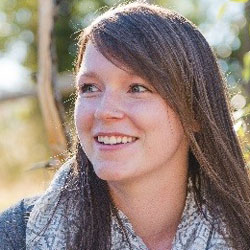 I started with the Ministry of Transportation and Infrastructure in Kamloops in 2012 through the Technical Entry Level Program (TELP) as a development approvals technician. After getting to know some of the different positions available within the ministry, I expressed an interest in the First Nations Relations group. I took an opportunity as a First Nations Coordinator. The support to explore different career paths within the BC Public Service is one of the many things I love about my job.
There are two main components to my position as a First Nations Coordinator. First, I assist in the negotiation of property acquisition and disposition through First Nations reserves. As part of this work, I get to conduct property research and coordinate with First Nations communities, appraisers, surveyors, and all levels of government. Many courses I took at TRU helped prepare me for this aspect of the job, particularly human geography, environmental economics, and mapping/GIS courses.
The second component of my position is to coordinate First Nations consultation on behalf of the ministry, for projects and other files. The focus on aboriginal content in several historical geography courses, coupled with the skills I developed in collaboration, communication, and critical thinking throughout my degree, helped to ease the transition into this position.
Education: Bachelor of Arts in geography from TRU (2012)
Employment: First Nations Coordinator for the Ministry of Transportation and Infrastructure
Samantha Kinniburgh (Parobec)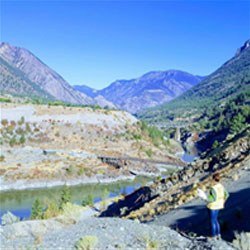 Born and raised in Winnipeg, MB, I moved to Kamloops in 2005 and have lived here ever since. With strong encouragement from former TRU Geography Alum Nicole Hansen, I applied and was accepted into the Technician Entry Level Program (TELP) through the Ministry of Transportation and Infrastructure in my fourth year at TRU. I started working in Project Management in 2012 until 2015, with a four-month stint in Programming and Partnerships, then was hired into the Aggregate Resource Management unit in March of 2015, where I've been ever since.
My job involves applying for land to use as aggregate resources for the province, arranging archaeological assessments, testing and developing potential sources and reclaiming pits to restore the mined areas for other uses once they are no longer viable for aggregate extraction. I am able to use my knowledge gained from my coursework at TRU (geomorphology, geology and hydrology) to help in my daily assessments of current and proposed aggregate sources. I enjoy the map analysis and field testing I get to do, and how familiar it feels to the lab work I have done previously as a student. It helps with job confidence immensely! Geography was my passion at University, and I feel so fortunate to be able to use my degree in my career.
Advice to future graduates: I would whole-heartedly recommend a career in the public service as it has a great work-life balance, student loan repayment grants and pension program. When in school, don't be afraid to take chances on classes that seem difficult, or group projects if you would prefer to work alone. These experiences add layers to your flexibility and personal growth while being an excellent precursor to experiencing a real-life work environment (deadlines, difficult people and unforeseen challenges). Also, network! I used to hate the word and the idea, but if you don't put yourself out there and introduce yourself whether in person at a talk or event or by email to follow up, you risk missing out on people who can give you a hand or offer some advice to help get you into a career you might not have thought possible.
Education: Bachelor of Arts with concentrations in geology and natural resource sciences from TRU (2012)
Employment: Senior Aggregate Resource Specialist, Ministry of Transportation and Infrastructure
Robert Maciak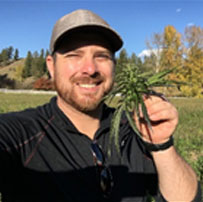 Throughout my undergraduate and graduate studies, I worked at Agriculture and Agri-Food's Grasslands Applied Technology Centre in Kamloops on a part-time contractual basis. This experience helped me transition into two full-time positions at the facility after graduation as a biophysical research technologist with a watershed evaluation study, and eventually, an economist with the policy development team.
After working with the Government of Canada for nearly six years, I started a consulting company and quickly received some small contracts through the Fraser Basin Council. Shortly after that, I won a contract with the Ajax Mine project to complete a couple of studies for their environmental impact assessment. After three months of working as a consultant for the company, I was offered a full-time position, which led to a fruitful seven-year career in the mining industry.
I never anticipated working in the mining industry while attending TRU, but thoroughly enjoyed it and much appreciated the skills and knowledge I developed during that time. The technical expertise of the professionals I had the privilege of working with daily was astounding. My roles in the industry included Environmental Scientist, Environmental Manager, Special Projects Manager, and Sr. Project Manager - Permitting and Development. I have been fortunate to work on fantastic mining projects with incredible people across Western Canada in British Columbia, the Yukon, and northern Saskatchewan.
While I will always love the mining industry, I am an entrepreneur at heart and have managed several small companies throughout my adult life. Most recently, I have founded an industrial hemp company in southern British Columbia. Our goal is to become an industry-leading producer of Canadian grown organic hemp and value-added hemp-derived products (http://www.pacificnorthhemp.com/).
Education: Bachelor of Arts in geography from TRU (2009), Master of Science in Environmental Science from TRU (2012)
Employment: Environmental scientist, special projects manager, with KGHM Ajax mine project. Founder of Pacific North Hemp.
Jennifer Powers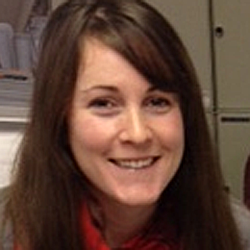 I began working for the Ministry of Transportation and Infrastructure under the Technician Entry Level Program in August of 2012. I relocated to the beautiful town of Chilliwack, nestled in the Fraser Valley about one hour east of Vancouver.
I work with developers, First Nations, municipalities, all levels of government and regular everyday people. I help facilitate development while ensuring that the safety and integrity of the highway are upheld. I assist in designing accesses and making important decisions regarding land use. I frequently research properties, review geotechnical reports and drainage plans, assess properties for potential hazards, and review engineering drawings.
The job is diverse, and I find myself continually learning as I move forward with my career. Many of the new hires into the TELP program have geography backgrounds and are well suited to positions within this ministry. My geography degree from TRU has served me well throughout my career and enabled me to find meaningful employment very quickly.
Education: Bachelor of Arts in geography from TRU (2012)
Employment: Area development and operations technician with BC Ministry of Transportation and Infrastructure
Lisa Gordon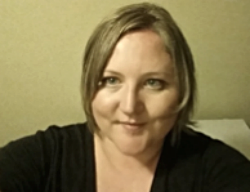 Finding a job after graduation can be a daunting task. After graduating from TRU in 2011 with a BA in geography, I enrolled in a few extra courses and continued my part-time position as an SL Leader while I applied for every position I could. After a few months, I accepted a part-time position as a GIS technician with a forestry company. In May 2012, I was offered a contract position for six months with the Ministry of Transportation and Infrastructure in Quesnel as a development approvals technician doing subdivision review and issuing permits for works within the highway right-of-way. When my contract ended, there was a hiring freeze with the BC Government, so I accepted an eight-month contract as a GIS Technician with West Fraser Mills in Quesnel.
In August 2013, I accepted a position with the District of Squamish as a development technician. In my current role, I do a little bit of everything. My primary role involves the review of subdivision proposals, from small two-lot subdivisions to large 750-lot subdivisions, for compliance with district bylaws and provincial legislation. Development in Squamish has many interesting challenges, including high-risk flood areas, large debris flow hazards and steep hillside development challenges. I liaise with internal and external stakeholders, review geotechnical and environmental reports, draft and review land development agreements and covenants, conduct field reviews and then determine the conditions for subdivision approval. I also review re-zoning proposals, OCP amendments, development permit proposals, temporary use permits and development variance permits and make recommendations to council on those projects. As one of the fastest-growing communities in BC, Squamish is an exciting and busy place to be working in land development!
After two years with the District of Squamish, I have just accepted a position with Alberta Transportation as a development and planning technologist, and I am excited to take on this new challenge.
I want to encourage new graduates to take risks, consider taking positions in less desirable locations or consider taking contract positions. Every little bit of experience you gain counts and will put you in a great position to land the job you want.
Education: Bachelor of Arts in geography from TRU (2011)
Employment: Development technician with District of Squamish, has accepted position as development and planning technologist with Alberta Transportation
Nicole Hansen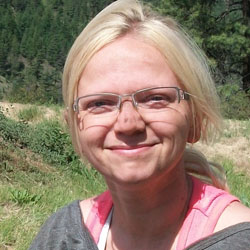 I have an Order in Council signed by the Lieutenant Governor that gives me the authority under Section 77.2 of the Land Title Act to approve (or not approve) subdivision of land outside of incorporated areas in the Province of BC. I spend a lot of time in the office meeting with stakeholders and clients, but I always get to visit every property proposed for subdivision.
Infield inspections I look for evidence of geotechnical concern, archaeological impact, flood hazards, access and safety issues. I review professional engineered reports addressing any of the concerns listed above.
I currently live in Fort St. John (woohoo!) and I have jurisdiction over the Peace District that expands from Tumbler Ridge in the south to just east of McKenzie, and to the Yukon and Alberta borders. I moved to Fort St. John for career advancement and, within one year, received two promotions. I want to encourage geography graduates to explore the province and not restrict themselves to one geographic area — opportunity is everywhere!
My previous role was senior district development technician for the same ministry. I granted approvals on behalf of the minister related to permitting, zoning and subdivision. I also managed high profile development projects on behalf of the Peace District, including cross-provincial border liquid natural gas pipelines, Site C dam, wind farms, electrical transmission lines, and mines.
Education: Bachelor of Arts in geography, minor in geology and archaeology, Global Competency Certificate from TRU (2011), non-degree seeking graduate student in archaeology at University of Montana
Employment: Provincial approving officer, BC Ministry of Transportation and Infrastructure
Kyle Nadler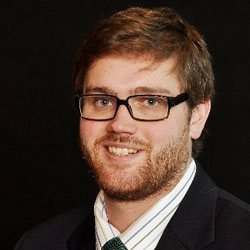 After graduation, I was immediately hired by McElhanney as a GIS specialist in Fort St John. McElhanney Land Surveys is a longstanding professional land surveying company providing geomatics services to the oil and gas sector in western Canada. My day-to-day activities involved modelling, analyzing, managing, translating and displaying geospatial data. Additionally, I developed specialized computer software routines, maintained and developed web-based GIS applications for British Columbia, and performed database management, design and custodial duties.
I held that position for three years until I was promoted and transferred to our Calgary corporate office, where I am the team lead of corporate GIS services. Now I lead a small team of other GIS professionals to develop and implement a centralized and coordinated approach to spatial data management, automation and data delivery on a company-wide scale.
Currently, my primary focus is on providing GIS services to the pipeline industry and developing and deploying focused GIS applications to provide geospatial decision-making tools for our clients. TRU provided me with the analytical and critical thinking skills that I need every day. Thanks to co-op opportunities and the double degree program TRU established with the University of Gävle in Sweden, I have the sound technical background that many employers in this industry want.
Education: Bachelor of Arts in geography from TRU (2011), Bachelor of Science in geomatics from the University of Gävle in Sweden
Employment: Corporate team lead, GIS, at McElhanney Land Surveys Ltd
Adam Courtenay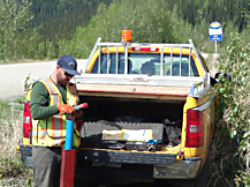 I graduated from TRU in December 2010 and landed my first full-time employment with Imperial Metals Corporation on Dec. 15, 2010, where I worked as an environmental/GIS technician for one and a half years at Red Chris Mine, located in northern BC. In May 2012, I was hired through the Ministry of Transportation and Infrastructure's Technician Entry Level Position (TELP) Program as a geotechnical assistant in the engineering department in the Prince George office.
My role has both a field and office component to it, which includes soil and rock logging, data collection, slope profiling, data analyses, drilling contracts, report writing, creating site plans and air photo interpretation. I am either completing geotechnical investigations for future highway passing lanes, four-lanning and bridge projects, or out in the field collecting instrumentation data from active landslides.
The office component of my job consists of organizing geotechnical investigations (drills, excavators, utility locates, traffic control), creating site plans, and analyzing data into plots and graphs and presenting my findings to the engineers. An essential and exciting part of my job is being called out to assess landslides that have affected or are threatening highway infrastructure.
In April 2015, I was awarded a new position as a Geotech coordinator for the same department. This new position allows me to mentor new staff and to delegate some of my tasks. I am currently working on standardizing a new drilling contract and soil and rock logs for our department within the ministry.
I am currently working towards a Professional Geoscience designation (P.Geo) with the Association of Professional Engineers and Geoscientists of BC (APEGBC).
Education: Bachelor of Arts in geography from TRU (2010)
Employment: Geotechnical coordinator with Ministry of Transportation and Infrastructure
Adam McKee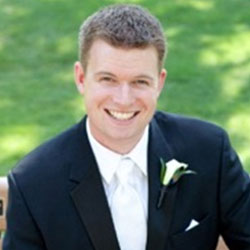 As a graduate student at TRU, I was given the opportunity to instruct first-, second-, and third-year geography labs for two years. This was a fantastic experience that reinforced the knowledge I gained during my undergraduate degree. After graduation from TRU, I was lucky enough to be able to pursue a career in Kamloops. After a six-month stint testing ore viability for mining projects, I started my career in the utilities sector and currently work for BC Hydro.
Six months after graduation, I was hired by Corix Utilities into a planning and scheduling role on the BC Hydro Smart Meter Project. I was responsible for deployment planning for the Southern Interior of the province over a two-year period. Aside from resource planning, I was tasked with stakeholder liaising, which included working with numerous First Nation communities throughout the Southern Interior. Upon completion of the Smart Meter Project, I left Corix and was hired by BC Hydro shortly after that.
I am lucky to work for an organization that offers a fantastic work/life balance, along with a great working environment. For two years, I worked in a position coordinating customer-driven work that did not require tailored design solutions. I am currently in a design representative role doing design work on BC Hydro's distribution system. From site checking hydro infrastructure and liaising with customers in the field to designing projects in the office, BC Hydro design is exciting, challenging and a lot of fun.
Education: Bachelor of Arts in geography and geoarchaeology from TRU (2008), Master of Science in Environmental Science from TRU (2010)
Employment: Design representative for BC Hydro
Anna-Maria Keyter (Viaud)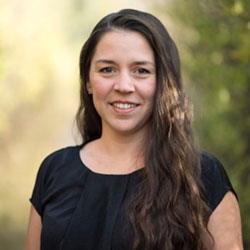 After graduating from the geography program in June 2010, I worked a few part-time jobs over the summer, and in the fall, I worked in road construction to make some money to go travelling. I travelled around South America for two months then moved to Calgary in February 2011, where I still currently live.
I applied for many jobs and never heard anything back from the applications but ended up getting a phone call from Golder because my TRU career mentor from Golder had sent in a reference for me. My first position was as an entry-level Report Production Coordinator - editing and finalizing reports to be sent to the client, but after seven months, a field position opened up.
I worked as an Environmental Scientist doing site remediation for four years. The job consisted of taking groundwater and surface water samples, collecting soil samples during test pitting and drilling investigations, and leading remedial excavations, i.e. cleaning up farmers' fields where pump jacks used to extract oil.
After four years, in 2015, I decided to make a change into the Water Resources Engineering division at Golder to work in hydrology. I worked around Alberta as a field technician taking discharge measurements, measuring water levels, conducting bathymetric surveys on rivers, lakes and reservoirs, collecting water quality samples. I was trained to operate UAVs for aerial surveys, all the while boating, argo-ing, off-roading, hiking, and flying around Alberta. It was a fun adventure!
Four years later, in 2019, I asked to be based out of the office in Calgary order to be home more regularly to be able to participate in the activities I love and start a family. I am currently a project manager and coordinator for hydrometric field programs for oil sands and oil and gas sites throughout Alberta. I manage field crews and coordinate fieldwork as well as complete hydrometric monitoring reports and data analysis, along with participating in client relations and financial tracking.
Education: Bachelor of Arts in geography from TRU (2010), Agrology technologist in training with Alberta Institute of Agrologists
Employment: Water resources technician with Golder Associates
Jake Hughson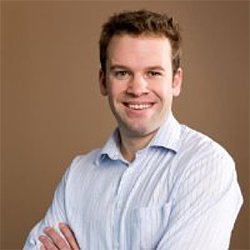 I joined Urban Systems as a junior planner shortly after graduating from TRU in 2009. Urban Systems is a multi-disciplinary consulting firm with over 400 employees and 13 offices across four provinces. We are a privately owned company and have been recognized as one of the best workplaces in Canada 10 times since 2006. Since joining Urban Systems, I have had the opportunity to work with an exceptional team of professionals, including (but not limited to) fellow planners, engineers, architects, designers, economists, agrologists and biologists.
In 2010, I moved from Kamloops to Fort St. John. Since then, I have helped build and maintain strong working relationships with local government and First Nation clients in the Yukon and across Northern BC. I have led a variety of traditional land use planning and assignments — including the development of half a dozen official community plans and zoning bylaws — and am now a registered professional planner and a fully certified member of the Canadian Institute of Planners.
Increasingly, my colleagues and I are being called upon to act as trusted advisors on an ever-expanding range of issues. For instance, I have helped several communities respond to impacts associated with large scale resource developments such as the Site C hydroelectric project on the Peace River and natural gas development occurring throughout the Horn River basin. I have also helped several communities establish economic development strategies and conducted comprehensive reviews of their governance structures. Currently, I am working as a negotiator for several of our Treaty 8 First Nation clients on significant settlements with both the provincial and federal crown.
Education: Bachelor of Arts in major in geography and minor in economics from TRU (2009)
Employment: Community planner and client lead
Brad Brasseur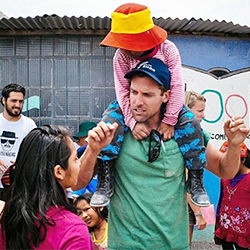 After I graduated from TRU with my major in Geography in 2008, I moved to Belgium and completed my Masters in International Political Economy at the University of Kent in Brussels. In Belgium, I worked for two and a half years with a global diplomatic think-tank called the EastWest Institute on a project promoting diplomacy between active Pakistani-Afghan Ministers, parliamentarians, former Taliban, and ISI members. I ended up publishing a few articles on Afghanistan-Pakistan, including Recognizing the Durand Line - A Way Forward for Afghanistan and Pakistan. I also worked on an initiative called the Amu Darya Basin Network, which identified the seeds of possible conflict, through encouraging co-operation on the water in Central Asia.
I left EWI to work more in the field, and I accepted a 10-month community development job funded by the Canadian International Development Agency in eastern Ukraine just before the conflict broke out. After the CIDA project, I travelled to South and Central America, eventually reaching over 80 countries visited in my life, and fell in love with Latin America. I ended up moving to Peru to work as the director of development and communications for a grassroots education NGO in Arequipa.
Today I am still involved with HOOP as a member of the general assembly but have since moved to Lima after accepting the communications coordinator position to work with world-renowned economist Hernando de Soto and the Institute for Liberty and Democracy. At the ILD, we specialize in the informal economy and helping the poor have equal access to secure rights to their real property and business assets.
Education: Bachelor of Arts in geography from TRU (2008), Master of Arts (International Political Economy) at University of Kent in Brussels
Employment: Communications Coordinator
Katie Burles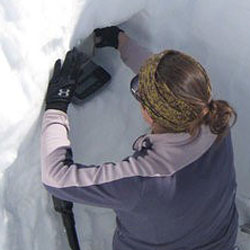 I grew up exploring small creeks and swimming in the vast lakes of the South Thompson watershed near Chase. Being immersed in these settings sparked my curiosity for the natural world and inspired a life-long pursuit of learning about geography and geology. Before joining the College of the Rockies science faculty in 2015, I worked as an environmental consultant, public servant, and program manager of a not-for-profit organization.
In these roles, I have worked on a variety of surficial geology, watershed governance and planning, hydrology, and geomorphology projects. As a passionate educator, I feel an immense responsibility to teach communities about their local, regional, and global watersheds.
Conducting field-based research and monitoring has provided me with many opportunities to explore remote areas of the Yukon, BC, and Alberta during all four seasons. This only fuels my desire to spend more time in the outdoors and show my young son the wonders of the natural world. When I'm not in my waders fishing, you can find me canoeing, hiking, and gardening.
Advice to future graduates: Put the time and effort into preparing for job interviews.
Education: Bachelor of Arts in geography from TRU (2008), Master of Science from University of Lethbridge, Provincial Instructors Diploma Program through Vancouver Community College
Employment: Geography and geology instructor at College of the Rockies in Cranbrook
Jen Casorso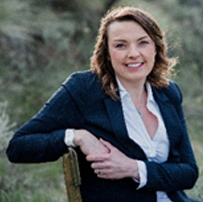 I am now a mother of 2 kids and get to travel the country for work. The work that I am currently doing has me looking at systems theory, non-profit, social innovation, as well as the context of how the local government can provide support. I believe that social change occurs when government, the private sector, Indigenous groups, non-profit organizations, foundations, and concerned citizens listen to one another and work together.
While at TRU I had the opportunity to work with TRUGS and am still friends with the people that I graduated with. The department has a great faculty and the work-study program provided me with a number of opportunities to gain work experience while completing my degree.
One of the projects that I am currently working on is in response to the Opioid Crisis, building with the community of Vernon, a Harm Reduction and Opiod Response Strategy. This involves working with not only social service organizations but also working with people who are active in their addiction, in recovery, and their family members. I am also working with the community of Sicamous to developing affordable housing, and though it has been a long tough process, it is very rewarding being able to see changes across the province starting to occur.
A highlight of my undergrad at TRU included a 9-week archaeology/anthropology field school in Hope along the Fraser River where I helped excavate pit-houses on Greenwood Island to determine if they were pre- or post- European contact.
Advice to future graduates: Interface with the public. You do some work with this in school but never enough to teach you tools / techniques to have conversations and resolve conflict in a meaningful and proactive way. Having a geography degree gives you an advantage in being able to view situations from multiple perspectives.
Education: Bachelor of Arts in geography from TRU (2005); Masters of Arts in Community Development at the University of Victoria (2019)
Employment history: BC government position doing Strategic Land Use Planning with First Nations Communities in BC; contract with Interior Community Services to do socio-economic demographics research and asset mapping about children under 6 and their families; Worked for the City of Kamloops (2009-2018) as the Social and Community Development Supervisor working at implementing city social plan; since 2018, Urban Matters – community contribution company (parent company of Urban Systems - focused on convening, consulting, and creating solutions on complex social issues with communities across Canada).